To begin, what you are about to read will not be commonplace – Sam will generally be the more cynical, the more unpredictable, and the slightly harder to please. However, for the moment I'm going to borrow the tough critic hat from Sam and just throw this out there: 2008 films suck…so far. That said, I'll validate and excuse that claim a bit. First off, I expect big things from the rest of the year; it's not looking like another 2007, but there's plenty to be excited for. (The Dark Knight is mere weeks away!) Secondly, I haven't been able to see some of the films Sam promises are among the year's best (Flight of the Red Balloon, Summer Palace, and Ballast), nor have I been able to see some (Redbelt, The Foot Fist Way) that looked to be up my alley. On top of that, even though I have it sitting right here next to me, I somehow forgot to watch Love Songs until just now, meaning it's too late.
A lot of films have disappointed, few have overwhelmed, and I can't help but feel like I've been cheated thus far. I feel that the ten following films definitely deserve to be acknowledged as quality films and of the year 2008, but that few outside this list merit much consideration or praise at all. Runners-up worth mentioning? Sure, there are a couple: Wanted was a helluva lot of fun; Kung Fu Panda is one of the best American-made, non-Pixar animated films in recent memory; and Taxi to the Dark Side provided filmmakers a much-needed reminder of what can be borne out of passion and fury. And yet, this year also brought us such festering disease vessels as Strange Wilderness, Prom Night, Jumper, and In the Name of the King: A Dungeon Siege Tale. True, nobody expected much out of these films. But hand-to-my-heart, I didn't know even bad flicks could get this bad.
---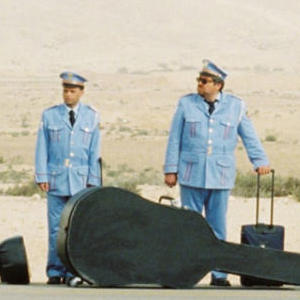 The Band's Visit is a touching and hopeful exploration of cultural relations in the hotbed that is the present-day Middle East. The film focuses on and glorifies the small moments that define us. Through nothing more than personal interaction, director Eran Kolirin crafts a subtly humorous social commentary on conditions in the Middle East; but, more than that, he delivers hope that things can be better. During a time when tension in the Middle East is at its highest, The Band's Visit, which was banned in Egypt due to such conflicts, beautifully shows that regardless of race, religion or creed, what unites us is our humanity.
This newest Apatow production proves that Seth Rogen is not the only former Freaks And Geeks cast member with major star potential. In fact, Jason Segal manages to outshine any Rogen effort to date, both in his performance and his wonderful screenplay. Segal's writing, like that of Rogen's, attempts a razor's edge balance between the feelings of the heart and those of the dick, but manages to do so with a bit less pulp. And as Knocked Up was one of the best films of 2007, Nicholas Stoller's Forgetting Sarah Marshall is destined to shine brighter in what appears to be a weaker year in my book.
Two words: Colin Farrell. He absolutely owns In Bruges, delivering a career-best performance, proving that he has serious comic chops, and managing to get us to care about a man-child who always does and says the wrong thing. This story of two hit men on "vacation" in Bruges features an equally comic and taut script by newcomer Martin McDonagh, beautiful cinematography of the city, and a fantastic score that puts a strikingly understated frame on this utterly unique and layered tale.
Being the best superhero flick/blockbuster to be released this year doesn't guarantee Iron Man a spot on my list. However, Downey's pitch-perfect performance, and John Favreau's restrained sensibilities a director, resulted in a film reminiscent of Christopher Nolan's Batman Begins, albeit a lesser version. That reminds me, did I mention how electrifying The Dark Knight is sure to be? Yes? Okay then. Anyway, while not the most mind-blowing action flick you're bound to see, it is the best you will see until July 16, and even a lesser Batman Begins is worthy of some praise.
Gus Van Sant returned to form with a meditative coming-of-age story about a boy whose childhood is slowly stolen over the course of a few days. Deliberately paced, Paranoid Park plays out as if centered within the suffering boy's mind, a technique that aids Van Sant's thematic observations. Beautiful in its monotony, exuberant in its misery, this film helps to remind us of one of the oft-forgotten requisites of film – visual splendor. returned to form with a meditative coming-of-age story about a boy whose childhood is slowly stolen over the course of a few days. Deliberately paced, Paranoid Park plays out as if centered within the suffering boy's mind, a technique that aids Van Sant's thematic observations. Beautiful in its monotony, exuberant in its misery, this film helps to remind us of one of the oft-forgotten requisites of film – visual splendor.
Reprise, the second best film of the year, was number one on my list until this past weekend (if that gives you an indication what my number one might be). A uniquely moving story about two friends whose pursuits of greatness result in vastly different lives, director Joachim Trier explores the common themes (and definitions) of love, friendship, success, and individuality, but does so with such affection for his characters and imbues the story with so much post-modern realism that it becomes impossible for us to not become whole-heartedly invested in these characters' outcomes. More than anything else, Reprise is a study in the maturation of a pair (plus a couple others) of ambitious if pretentious young men who learn some of life's most important lessons while learning about themselves.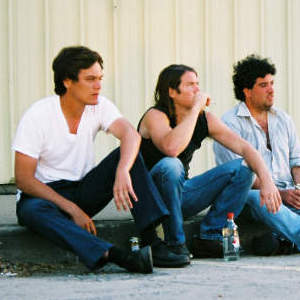 As the first film I have seen to come anywhere near creating a milieu in the same vein as David Gordon Green's George Washington, Jeff Nichols' Shotgun Stories deserves a look. The fact that that Shotgun Stories turns out to be a good, near-great film—and a classic morality fable, a la East of Eden—makes it one of the best three or four films so far in 2008. At the center of the film is Michael Shannon (the best under-the-radar actor in the business), giving an unnerving lead performance as a man forever in danger of boiling over. However, the icing on the cake is the tragic, yet ultimately hopeful performance by first-timer Douglas Ligon, as Shannon's black-sheep brother.
Jim Broadbent's powerhouse performance in director Anand Tucker's latest is enough of a reason to recommend When Did You Last see Your Father? However, the film is not simply an acting showcase, but rather an episodic, mostly saccharine-free study of the delicate relationship between fathers and sons. Based on Blake Morrison's autobiography of the same name, Broadbent lights up the screen as an inexcusable but entirely lovable and forgivable father who consistently destroys those who love him most, not due to his inability to love, but because he loves too much.
Although Lucía Puenzo's XXY is not the most subtle film you will ever see, it does have some important things to say and questions to ask. It's restrained enough to avoid exploitation (its protagonist is a hermaphrodite), but also not afraid to address the complications that unavoidably accompany its topic. What makes the film truly worth of your time is the entirely committed and complex lead performance by Ines Efron as a girl/boy trying to figure out exactly who and what s/he is, what s/he wants to be, and what s/he could be. The subplots become a bit preachy, but the film is well worth your time.
I must relegate myself to siding with general consensus as to the best film of 2008. Andrew Stanton (Finding Nemo) has once again crafted a groundbreaking animated film of epic proportions. I have no reservations in positing that WALL•E will end up being the most beautiful film of the year, and one of the most beautiful films of the past decade. Stanton manages to imbue his robot leads with such humanity, both in motion and in their emotions, that it's impossible to not fall in love with this love story. WALL•E is the penultimate animated film, a movie so alive that I can't imagine the kind of person capable of keeping a straight face throughout its runtime.
More than simply being beautiful and enjoyable, however, WALL•E has taken animated film to an entirely new level; it is the La Dolce Vita of animated films. It's breathtaking, groundbreaking, and ultimately, and most uniquely, fully cinematic. For many, the brilliance of WALL•E will pass straight through the retina without recognition, so for those of you who haven't yet seen it, I offer this advice: Savor every moment, relish the subtlety and precision of the animation, heed the environmental warnings (seriously, folks), and embrace the nostalgic moods constructed by Thomas Newman's brilliant, awards-worthy score. Most importantly, try to let yourself recapture the wonder that once permeated your every trip to the theater. If you manage any of these, you won't be disappointed and may find the best film of 2008. If you can manage them all, you might just rekindle the ashes of childhood you thought had blown away for good.