Our new monthly music feature, Rooted & Restless, finds country music aficionados Josh Hurst and Jonathan Keefe wading into all things Americana, expanding the definition of 'country' to incorporate all the permutations that the genre has opened itself up to, especially in recent years. We feel that there are quite enough dividing lines being drawn right now; as such, Rooted & Restless is about striving to view borderlessness as a source of strength — or, to quote Hurst, about "music that is at once rooted in a particular tradition, but also eager to glimpse the future — grounded in a familiar grammar, but not beholden to it." For our third issue, focused on April releases, the boys are as restless as ever: Included here in are no less than two albums with guests numbering in the double-digits (Luther Dickinson's Solstice and Brooks & Dunn's [terrible, awful] Reboot), plus a Kicking the Canon piece on Tom Waits's 1999 gem Mule Variations, which just turned 20 last month, and which Hurst contends is the bawler-brawler's "most robust and explicit engagement with American roots lineages." On the more 'trad' side of things, we've got a new album from country royalty — which just might also be her best (Reba McEntire's Stronger Than the Truth); a Jason Isbell-produced maybe-breakthrough for an under-appreciated contemporary folkie (Josh Ritter's Fever Breaks); and the latest entrant in the countrypolitan renaissance (John Paul White's The Hurting Kind).
---
Luther Dickinson has spent more than 30 years as a session player, singer/songwriter, record producer, and ringleader of the North Mississippi All Stars — so by now, he's accumulated a contact list that would be the envy of anyone in roots-rock. He leverages his community to noble effect on Solstice, an Americana revue devoted to lifting up the sound of women's voices. Credited to Dickinson and Sisters of the Strawberry Moon, Solstice never feels like a grand statement; from its patchwork of quirky material to its endearingly ramshackle, homemade production style, it's an album that crackles with friendship and spontaneity, the sound of a loose and low-key jam session. And yet its pleasures abound: You'll hear charismatic turns from under-appreciated powerhouses like Amy Helm, Amy LaVere, the Como Mamas, Sharde Thomas, and especially the brilliant star wattage of Birds of Chicago singer Allison Russell, whose phrasing of words like "Saskatchewan" and "Stevie Wonder" emanates joy and are the very kind of grace notes that Solstice highlights so ably. Dickinson deserves credit for convening this line-up and for being egoless enough to relegate his own voice to some occasional harmonies, but even from his vantage point in the backseat, he's clearly driving the project: Not many producers would have an American roots aesthetic porous enough to encompass the fife-and-drums blues of "Fly With Me," sung with zippy energy by Thomas; the bordertown slow dance "Hallelujah (I'ma Dreamer)," crooned with moonlit romance by LaVere; the simmering organ and languid grooves of "Sing to Me," a woodwind-enhanced slow burn from Helm; and the rattling, raucous a capella gospel of the Como Mamas' "Search Me," which ends the set the on just the right note: In stark celebration of the sound of a woman's voice. Josh Hurst
---
Reba McEntire cemented her status as country music royalty over the last decade — though, to her infinite credit, she's quick to correct anyone who refers to her as "The Queen of Country Music" that, in fact, Kitty Wells earned that honorific long ago. McEntire's output during this period can most charitably be described as "spotty," but like so many veteran artists, she's become an icon more for what her career as a whole represents, rather than for the quality of her most recent work. Her past few albums were marred by poor song selection and trend-chasing production: her rendition of Beyonce's "If I Were a Boy" was her most horrific mis-step since her unlistenable album of Motown covers. But McEntire is savvy enough to know that, even for an artist of her stature, country radio is unlikely to give her the time of day. And on Stronger Than the Truth, since she's not bearing the burden of kowtowing to radio programmers, McEntire enjoys the freedom to lean hard into her love for, and facility with, traditional country music. This album is easily her most stone-country record since the mid-1980s, but that isn't what makes it perhaps the finest album of her career. Instead, it's the exceptional set of songs she's chosen to record: This is an album that trades in quintessential genre tropes of love and loss, filtered through the lived-in experiences of McEntire's age. Always a distinctive vocal stylist, McEntire has rarely embraced how her voice has changed over the years, and certainly not to the extent that she does over the course of this album. She couldn't have recorded the devastating title track, or "Tammy Wynette Kind of Pain" (co-written by Brandy Clark, and it shows), to the same effect a decade ago; she's now able to bring a gravitas to her performances that suggests that the emotional stakes are higher at this stage in her life. "Your Heart" and "The Clown" mine similar territory, and even the album's more upbeat material — "No U in Oklahoma" is a riveting slice of authentic Western swing — is tempered by a trenchant sadness. McEntire has confronted devastation before — For My Broken Heart was, prior to this release, the obvious choice for her career best — but she's never sounded more vulnerable or empathetic, and she's honestly never sounded better. Jonathan Keefe
---
Few contemporary folk artists balance a reverence for that genre's traditional forms with an ear for pop hooks as well as Josh Ritter. Perhaps what's most surprising about the arc of Ritter's career, then, is that he has remained a relatively unheralded artist even as the sprawling tent of Americana has unfurled over the last decade. Ritter's latest, Fever Breaks, could reverse that trend, in that it finds the singer-songwriter produced by Americana stalwart Jason Isbell, and backed by Isbell's band, the 400 Unit. As a bid for the greater commercial success that the quality of his work has long deserved, Fever Breaks offers plenty of potential points-of-entry for listeners who are already fans of acts like Isbell, Brandi Carlile, or Anderson East. "Old Black Magic" is easily the heftiest and most propulsive single of Ritter's career, showcasing the raspier elements of his voice that he typically avoids while embracing the clever turns-of-phrase that he's best known for. AAA radio is currently in a state of flux, in terms of its core identity, so it's encouraging that "Old Black Magic" has managed to score some airplay alongside acts like Vampire Weekend and Elle King, who had previously been tagged for the modern rock format. Isbell's production choices rarely deviate from his own Dave Cobb aesthetic, though the album's overall sound is far less polished than were Something More Than Free or The Nashville Sound. Amanda Shires, in particular, is given ample room to contribute fiddle sections that enhance Ritter's songs. And those songs are as sharply written, and keenly observed, as any in Ritter's catalogue. Like any true folkie, Ritter isn't afraid of overtly political material: "All Some Kind of Dream" is easily the best song that has yet been penned about the current policy of placing migrant children into concentration camps, while "Torch Committee" is both a withering condemnation and a wiseass satire of the politics of division. Isbell's role as producer may make Fever Breaks sound more widely accessible, but it's the quality of Ritter's songwriting that is, as always, the selling point. JK
---
Maybe it's a response to the meat-and-potatoes austerity of guys like Chris Stapleton and Jason Isbell; or maybe it's simply a case of history being cyclical. Whatever the reason, there's been a low-key renaissance of the classic "countrypolitan" sounds, which posits simply that the directness and plainspeak that are at the core of country songwriting can be well-served by lavish studio productions, even symphonic opulence. There was Alison Krauss' Windy City in 2017, and Ashley Monroe's Sparrow just a year later. Now comes The Hurting Kind, from John Paul White — and if his take on Nashville studio craft isn't quite as plush as those other records, it's certainly full-bodied and lovingly textured. Guitars and drums share space with twinkling piano, high-and-lonesome pedal steel, and on a few songs, some subtle string cues; these arrangements are employed not to submerge or dilute the brazen emotion in White's writing, but rather to draw it to the surface. It's a work of excavation, and White rises to the occasion with some of the sharpest writing of his career, finding space for creative expression even in shopworn tropes: "I Wish I Could Write You a Song" plays like the writers-blocked negative of Elton John's "Your Song," and Lee Ann Womack stops by to trade lines in an elegant and quietly devastating duet of two ill-fated lovers, "This Isn't Gonna End Well" — the whole story given away right there in the title. White's playing with familiar forms, but also showing how well he understands what traditional country craft is good for — namely, capturing emotional acuity with storytelling that's sharp-edged and close-to-the-bone. The title track is one of the best examples, recounting a love that's left the narrator battered and bruised but unwilling to walk away. And in the opening "The Good Old Days," the singer traces his long road through ruin without anything like remorse. "Tell me what's so good about the good old days?" he shrugs — but of course, the triumph of The Hurting Kind is how it shows how much the language of the past still helps us make sense of the bleary present. JH
---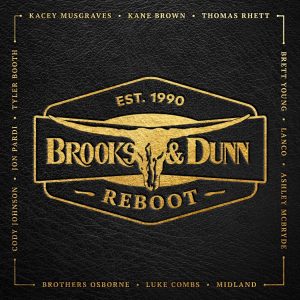 The idea isn't terrible: Having balanced unprecedented commercial status with critical and industry respect, Brooks & Dunn wanted to take an opportunity to reflect on their career, which was just canonized with their induction into the Country Music Hall of Fame. The timing may be apt, but the resulting album, Reboot, is a full-on disaster. The duo enlisted current A-listers and up-and-coming artists to join them in re-recording some of their most enduring singles, and while the song selections themselves are all obvious choices for an ostensible greatest hits collection, those songs are only intermittently matched with a Nextgen act whose style, or whose POV, makes for an effective collaboration. The worst offenders are, unsurprisingly, two of country radio's most popular men. Brett Young mewls and yelps like a wounded woodland creature on his own material, and he's a sad little raccoon who gets completely run-over by the arrangement on "Ain't Nothin' 'Bout You," which boasts one of Ronnie Dunn's most forceful vocal performances. Dunn's most show-offy vocal turn has always been on the duo's cover of "My Maria," and Thomas Rhett is woefully overmatched by that song's ambitious melody and range, and the song simply doesn't fit his whatever-Bruno-Mars-was-doing-five-years-ago aesthetic. But the misfires aren't limited to the genre's lesser talents. Kacey Musgraves is in fine voice on her rendition of "Neon Moon," but the decision to transform that song from a pure honky-tonk weeper into a midtempo country disco track — similar to, but far less successful than, a genre hybrid like "High Horse" from Golden Hour — fights against the song's tone. Luke Combs fully holds his own with Dunn on "Brand New Man," but that track is indicative of the album's other greatest liability: It sounds wretched. Nashville long ago lost the Loudness War, but the engineering on Reboot is an all-in-the-red nightmare in which not a single instrument rings true to its full, natural tone. Brooks & Dunn's catalogue stands among the best-produced and best-sounding of its era, and to hear their singles engineered in such a way that it sounds like they were performed by a local bar band who can play most of the right notes but who never learned how to set their gear up anywhere beyond the garage where they practice is indefensible. Even when Brooks & Dunn's collaborators are on-point — other than Combs, Ashley McBryde, Midland, and Brothers Osborne are the set's standouts — Reboot fails everyone involved. JK
---
Kicking the Canon | Album Selection
---
There are a couple of ways to apprehend Mule Variations, the twelfth studio album from Tom Waits and the second to be co-written almost entirely by Waits and his wife, Kathleen Brennan. Skeptics might say it's Waits-by-the-numbers, the closest he's ever come to formula or repetition. Then again, it's also the closest thing there is to a comprehensive survey of Waits's talents; of all his record, it's the one that best encapsulates his many gifts. You can hear his roots as a straight-faced piano crooner in "Take It With Me," and vestiges of his wild Rain Dogs era in the clatter of "Filipino Box Spring Hog." Clamorous percussion and impressionistic effects betray the lingering earthiness of Bone Machine, while theatrical flourishes presage the hellish vaudeville of Blood Money and Alice. You'll even find his best-ever spoken word piece here, a dementedly paranoid character sketch called "What's He Building?" But the buried lede is that Mule Variations is also Waits's most robust and explicit engagement with American roots lineages. (The Grammy voters, in a rare instance of thoughtfulness, christened this the year's Best Contemporary Folk Album.) Sometimes, the connection is esoteric: Between Waits's nasally drawl and the mud-covered studio effects, "Lowside of the Road" doesn't feel like an authentic Delta blues so much as a cubist abstraction. But in other instances, Waits plays it relatively straight: He works up a full head of steam on "Get Behind the Mule," an exercise in groove that's decorated with mouth harp from Charles Musselwhite, while "House Where Nobody Lives," a creaky piano melodrama, has the clean lines and stark emotion of a standard.
Perhaps these connections to regional vernaculars explain the undeniable warmth and humanism that emanate from Mule Variations; the open secret about Tom Waits is that his misanthropic streak is counterbalanced by his resilient romanticism, and this album beats with a sense of compassion that sets it apart from the deathly rattle of Bone Machine. Which isn't to say there aren't grotesqueries here ("Eyeball Kid"), as well as acerbic humor ("Big in Japan," a showbiz send-up set to nimble James Brown funk), but also some of Waits' gentlest ballads. It's no wonder that the wistful "Pony" has since been covered by everyone from Sara Watkins to Ramblin' Jack Elliott, while "Hold On" betrays an affection for downtrodden people and big-hearted anthems. The album-closing "Come on Up to the House" takes a passing shot at wannabe martyrs ("Come down from the cross, we can use the wood"), but its rolling piano lines signify as gospel — and if it isn't exactly pious, it does scan as sincere. But then, you could say that about Mule Variations as a whole. There's obvious fondness for roots idioms here, to the point that weird sketches like "Chocolate Jesus" don't feel like larks or spoofs so much as little snippets of local color. Note also that Waits's studio crew includes Primus's Les Claypool, long-time Waits cohort Marc Ribot, country stalwart Smokey Hormel, and revered bluesman John Hammond, Jr., for whom Waits would later produce the howling Wicked Grin. This is roots music as filtered through one of rock's most active and distinguished imaginations — and its vision is nothing if not inclusive. JH