SoundCloud junkies Paul Attard and Joe Biglin run down some rap releases from the month of July in the latest What Would Meek Do?. This eleventh official issue (part of a special double issue, with the second one arriving shortly) features takes on a plethora of rising talent, ranging from more lyrical stylings (Maxo Kream's Brandon Banks and YBN Cordae's The Lost Boy) to the more ignorant (Yung Bans' Misunderstood, DoWop's Cappin' Ain't Dead, and Young Dolph and Key Glock's Dum and Dummer), with a drive-by takedown thrown into the mix (Iggy Azalea's In My Defense). For our Kicking the Canon pick this issue, we had oldhead Jack Lent stop by to school us on the very beginnings of hip-hop history: with Grandmaster Flash and the Furious Five's The Message.
---
Brandon Banks is to Maxo Kream what Culture was to the Migos a few years back: a major step forward in terms of personal growth and artistry that signals the growing ambitions of each respective artist. While Maxo's last project, Punken, was a serviceable collection of Huston-flavored trap anthems, the responsibility and undertaking of a major-label debut has clearly inspired the young MC to widen his horizons. Lyrically, he's as on-point as ever. But he has more on his mind than his usual crime-breaking antics: "Dairy Ashford Bastard" reflects on his troubled relationship with his father, taking into account the sacrifices he's made for his family while also still holding him accountable for his misdeeds ("He cheated on my mom a lot, called her a ho, called her a bitch"). He recognizes his father as an abuser, and as a failure as a provider and — maybe most importantly — as a flawed individual, complicating the usual 'Dear Mama' narrative most rappers trot out for empty pathos. Kream certainly isn't just content with sticking to downtrodden bars about his daddy issues either, whipping out a collection of Mike Dean-produced bangers ("Meet Again," 8 Figures," and "3AM") that play closer to his strengths. But above all else, Brandon Banks serves as the first defining statement from the underground artist that's been slowly improving his craft over the last few years, and one who isn't willing to sacrifice his morals in the process. Kream even ominously states, on the aforementioned "Meet Again," that he'd "Rather be carried by 6 before I'm judged by 12" — a sentiment so ardently loyal that you can't help but root for Maxo. Paul Attard
---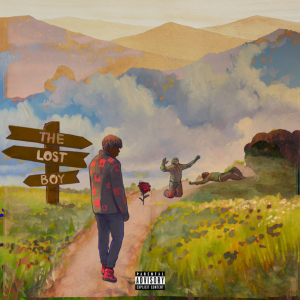 Imagine old Kanye — heart-on-his-sleeve, pink polo Kanye — mixed with the fiery upstart Kendrick Lamar of Section.80. That's the intersection where you'll find YBN Cordae, a rapper whos loves to enumerate his blessings. "Thanksgiving" details a domestic scene a la "Family Business"; "Family Matters" runs through the laundry list of an embattled family ("her baby dad beat her ass"), tilling the sam ground as Kendrick's "Sing to Me (I'm Dying of Thirst)," while also dredging up the problematic aspects of a male making money off observed female trauma. Cordae does a whole lot of signaling here, as he tries to become that wholesome, technically-gifted rapper that's here to 'save the culture' — but without the gravitas that such a rapper usually is imbued with. Listening to The Lost Boy is like enduring the brash sentimentality of a track like Kanye's "Roses," but without the rest of the Kanye persona that makes that song come off. "Sweet Lawd" and "Grandma's House" even directly plagiarize skits from The College Dropout, but still fail to capture the multidimensional, po-mo genre transcendence, wit, and humor of Kanye's mid-Aughts work. The Lost Boy benefits greatly from the presence of Cordae contemporaries Pusha, Anderson .Paak, Chance, although the sheer absurdity of .Paak's verse, and the pathos of Push's ("Let me tell you how I started in this rap shit / Eighth-grade back-flipping on the mattress"), also overshadow the headliner here. "I think I could do better, but I still / I want this forever," Cordae gently opines on "Been Around," a bit of word-salad in the place where a Kendrick or a Common would provide something more concrete and immediate. "Broke as Fuck" and "Have Mercy," both solo tracks that embrace and simultaneously parody SoundCloud-isms, standout the most on The Lost Boy because the rapper's full skillset is finally on display—both tracks are performed with verve, with inspired lyricism, and non-obvious instrumentals (aka dropping the whole of-the-moment gospel hook). As does the collaboration with Meek Mill (of all people), whose wailing on "We Gon' Make It" strengthens the melodrama of Cordae's lyrics. This is the work of a young person brimming with the desire to say something important, but someone who doesn't know what that thing is yet. Joe Biglin
---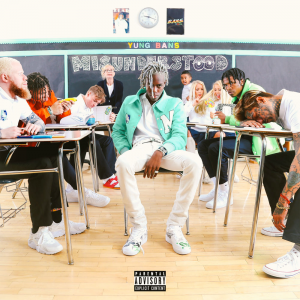 The last year or so has been bad for the mumble rap scene: from XXXTentacion's passing in 2018 to the convictions of Lil Durk, Kodak Black, and YNW Melly. One could also include Yung Bans in that cohort, a bubblegum trapper currently on house arrest from murder charges at age 15. On Misunderstood, though, Bans is as confident as his overblown Twitter persona might suggest: "Bitch I came from nothin' / turned it into somethin'" he croons on "Ready Set Go," right before fellow embattled street rapper 03 Greedo joins in and pulverizes the subsequent verse. Over a five-volume mixtape series, Bans has carved out a lane for himself, by taking, as his twin loadstones, the works of Young Thug and Future; now, he's woven 19 emotionally direct tracks into a kind of trap opera. Misunderstood has plenty of the oddball experiments that Bans has gained notoriety for, but with amped-up production (despite the necessarily home-recorded nature of this set) — songs like "Too Many Times" and "Hold Up," the latter featuring Gunna and Thug delicately trading flow atop an instrumental that we'll call this album's piano sonata. There's a pervasive melancholy to be found in all the ways that Bans desperately reconfigures his voice on "Prada Zombie," as he ultimately begs the listener to seriously consider the assertion that he's "the chosen one." And yet at the drop of a hat Bans can stop breaking hearts and deliver eminently playful bangers like "Blah Blah Blah" and "Going Berzurk," the latter an aria which peaks as Bans transforms the rote ad-lib "skrrt skrrt" into a falsetto ode to "sippin' syrup." The trend of including a bevy of features on a rapper's proper debut album never overtakes the Bans narrative here, but rather the expert arranging of the various guests augments the star's performance: Lil Tjay's emotive crooning on "Touch the Stars," for instance, elevates Bans's simultaneously silly, sexy verse ("Shit wet / Swim in it like a shark"). Misunderstood's songwriting and arrangement are downright progressive, and that's never more apparent than it is during the mid-song changeup of "Shawty / In Love With All My Bitches": at first a prototypically jaunty SoundCloud track, things comes to an unexpected halt as an acoustic guitar arpeggio enters, down-tempo, and completely re-configures the triplet flows and autocroons into something you might hear on 2017's post-genre Beautiful Thugger Girls. Nick Mira, Wondagurl, and Take a Daytrip all co-produced tracks here, and their fingerprints are obvious — having produced for Juice WRLD, Sheck Wes, and Lil Yachty, they are all, also, no stranger to, well, other misunderstood rappers. And while some later tracks get a little too atmospheric and unruly (Nav feature incoming…), there's no question that the little pleasures Bans consistently produces on this album are unlike anyone else's who's currently working. Perhaps the most consequential artistry here can be found on "I Don't Even Crip," a deceptively simple anthem — simple in the sense that Bans sticks to one vocal inflection, a percussive shout. But the flow ultimately syncopates with Take a Daytrip's production, which somehow fuses the snare/bass of boom-bap with a trappy high hat, all set to a glitchy, ghostly instrumental that lags against the beat. In short, the song dances. And it begs you to dance. Found between tracks that practically bleed in their sentimentality, Bans's newfound emotional control has devastating power. Joe Biglin
---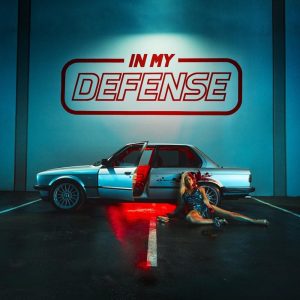 There's a lot one can be justifiably angry about when it comes to Iggy Azalea. Before issues of cultural appropriation started to rear their ugly head within the contemporary hip-hop landscape, Iggy was the queen of casually committing microaggressions. She adopted a more 'urban' accent when she rapped, attempted to play the victim of white-racism in rap, and even got in Twitter spats with fucking Q-Tip of all people; suffice to say, there's a reason we haven't heard much from her recently. In My Defense attempts to serve as a preservation of what little cultural clout the Australian instigator still has, nearly half-a-decade since she first blew up, with Iggy (in an act of hubris so grand it's borderline jaw-dropping) arguing that it's not her who's been wrong all these years, but the 'hating' public. Which all could possibly be fun, in a sorta campy way, if Iggy had any sense of humor throughout this whole lament. "Clap Back" has her reciting a litany of transgressions that she's supposedly committed ("'Cause I talk like this and my ass fat / They be saying Iggy tryna act black"), only for her to ignore the brunt of these issues and just stick with lame punch-lines: "They call me racist / Only thing I like is green and blue faces." When Iggy isn't responding to some ridiculous straw-man argument, grumbling about how she's a woefully misunderstood artist, she's aiming for radio play. And often the results are woefully trite and unoriginal: "Sally Walker" steals the beat from "Humble" and the piano melody found on Cardi B's "Money," and lacks the immediate swagger found on both of those tracks. "Freak of the Week" feels like the first draft of Megan Thee Stallion's "Big Ole Freak" (which has only about half as many groan-worthy one-liners), and is also the third song in the past 24 months to interpolate "Slob On My Knob" — which really just feels emblematic of how phoned-in the majority of this project is. Iggy even asks, on "Started" — another lame attempt at a retort against her enemies — "Do you hate that you love me or do you love that you hate me?" She expresses this sentiment with a self-aggrandizing menace, as if she's actually enamored with being this much of a cultural troublemaker. It's essentially the guilty pleading guilty to their crime, and I can't think of a more fitting punishment than continuing to be an irrelevant laughing-stock. Paul Attard
---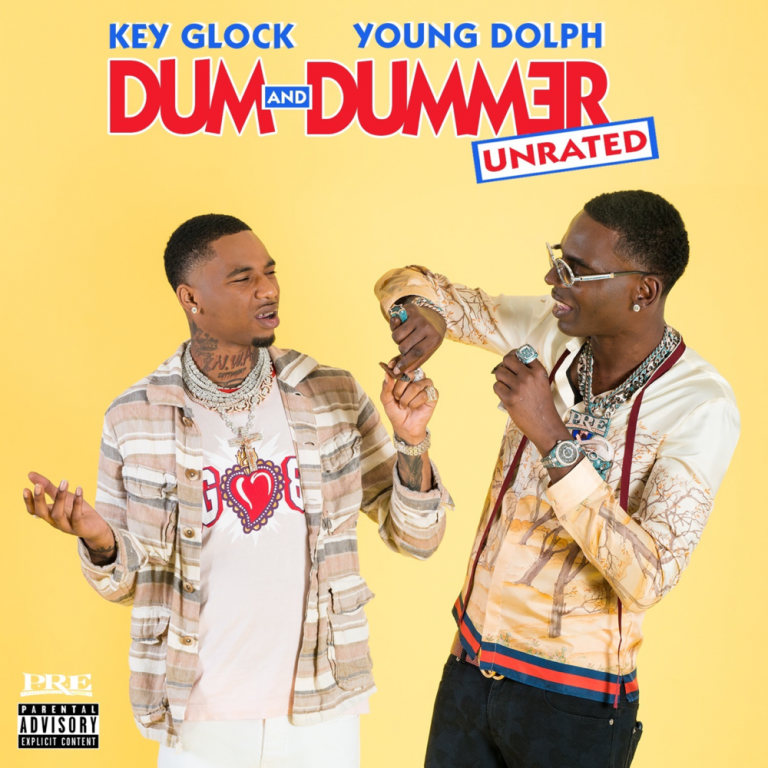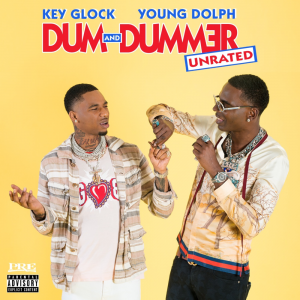 A 22-song mixtape called Dum and Dummer seems like a fairly innocuous proposition at this point in the rap game. If you were to tell me that Memphis's self-made independent icon Young Dolph was teaming up with Key Glock (who?) to make said mixtape, this wouldn't effect much of a response either. And yet Dum and Dummer makes for maybe some of the most fun that this critic has had all year. Despite the hour-long runtime, every track here is straightforward as hell. The beats are heavy, menacing trap confections, but eminently clean; every note of the wavering organ of "Black Loccs" or the harpsichord of "Pride" (as well as more typical synth instrumentation strewn about) clearly stands out. The bass lacks distortion. There's an underlying determination to each element of the music, all of which allows Dolph's monstrous cadence to grab listeners and keep them at attention. A particular late run of tracks ("Everybody Know" to "Dum and Dummer") tells a fractured story, hitting all the familiar beats of hood braggadocio. But moments that commit to the absurd ("Look in the mirror / My reflection a bag of money") consistently shine through. On penultimate track "Crashin' Out," Dolph maintains intensity but takes a probing, melodramatic view of his come up, centered around the cold-as-ice line, "I let my nuts hang, went out of town and went mobbin', ni**a / Think 'bout my childhood, all I remember is starving, ni**a." Key Glock, on the other hand, is something of a Stunna 4 Vegas to Dolph's DaBaby: he's both raspier and softer spoken, and sounds more like he won't put up with anyone's bullshit. But Glock also has the same underlying determination in his voice that Dolph does. Take "1 Hell of a Life," an early standout on which the duo trade bars and let their plodding deliveries contrast and swing over a stoney guitar riff; or consider how Glock smears his words in the hook of "Monster," trying to play the villain: "Just look at what God created / A monster, a motherfuckin' monster / Shout out to my grandma, she know she raised a hustler, yeah." Despite some of the big feelings and oversized presentation from these larger-than-life trappers, Dolph and Glock's album is richly subtle in its pleasures. Joe Biglin
---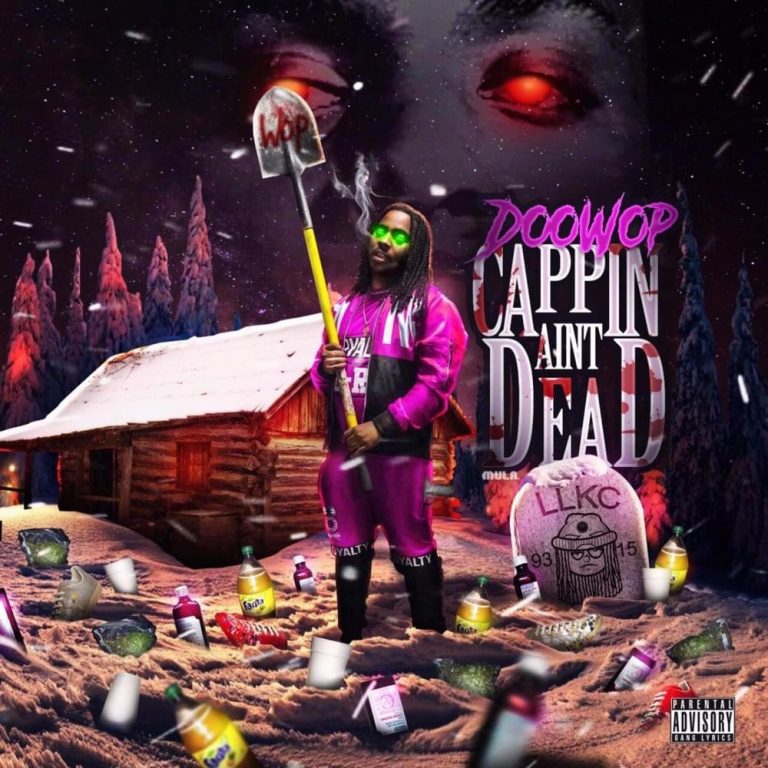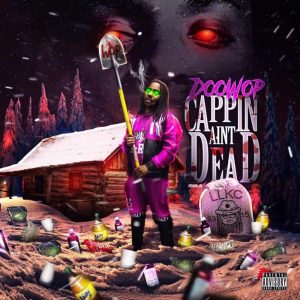 Tracing influence is a tricky proposition. It's rather easy to duck into any hip-hop forum and post away about how every young rapper with some skin in the game is a child of Future, Lil Wayne, Young Thug, or any other figure of rising popularity from the past decade or so. To actually prove such a direct connection becomes more complicated — just ask Gucci Mane, Jeezy, or T.I. to get an idea about how consistently history is in flux. DooWop is a case of an artist who isn't so much influenced by his particular mentor, but more a complete copy of everything about said mentor's general aesthetic. The 'master' in question is Chief Keef: DooWop carries the same vocal delivery, intonation, and lyrical ability (along with the same fondness for absurd cover art) as his so-called 'father.' (Sosa has DooWop signed to his Glory Boyz label, and even did nearly all of the production on Cappin' Aint Dead himself). That means there's generally a 1:1 ratio of hits to misses, often songs with decent ideas behind them that are lacking in the necessary formal execution. "Cap Flow" has featured guest Lil Uzi Vert practically stealing the show with his own verse before he starts trading bars with DooWop, who can barely keep up with his energetic contemporary. When Chief Keef himself shows up as a featured guest, on "My Woes," he drowns out his own artist with the sheer commanding prowess of his voice — and throws DooWop in the big pile of forgotten Sosa clones in the process. Paul Attard
---
Kicking the Canon | Album Selection
---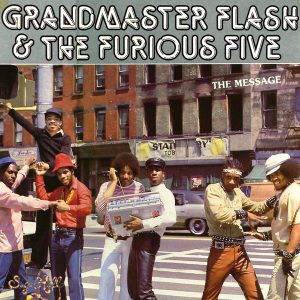 Grandmaster Flash and the Furious Five's The Message, released in 1982, is one of the most important albums in all of hip-hop. While coming in at only seven tracks, the release is surprisingly diverse in its instrumentation and its vocals: It starts with a few upbeat, feel-good disco-style singles that, musically, are about as emblematic of the '80s as possible, with heavy synths and voice modulators. Following the club-oriented stylings of the first half of the album, The Message transitions, over the course of the next three songs, into a progressively slower and more intimate affair. These later tracks dabble in what's now be considered the "slow jam" sub-genre, planting their flags more in a decidedly R&B camp, rather than that of disco or hip-hop. While the first six tracks should be appreciated for combining such a diverse collection of sounds and vibes, all in a fairly small amount of songs, the real reason The Message is on on any 'most influential' list has to be the inclusion of the titular final track. If one were to ask what the top three most influential songs in the history of hip-hop are, without question or doubt, "The Message" is on that list. This is the song that gave birth to the concept that hip-hop could be viewed as something more than just party anthems, as it had been up to this point. It could be politically and socially critical, it could be living poetry. It could even be used as a way to empower a people that felt powerless — and as a voice for the unheard, one suddenly blasting from every radio around the country.
"The Message" has a slower tempo than most of Flash and the Five's other tracks, and is near-simplistic in its instrumentation. This was almost certainly by design — a means of doing away with distraction, and to highlight the "message" behind Melle Mel's rapping. That message was one of description and observation of the life of the urban poor and the disenfranchised. Within six minutes, Melle Mel goes from rapping about the junkies and the system that created them to the sex workers that have no other options, to a broken education system, to the struggle of black unemployment, and, finally, to a skit where the Furious Five are driven up on by cops and arrested for simply being black men. The song is unapologetic in its brutally honest depiction of urban life, and that honesty made it impossible for the public to ignore. It became an instant classic, and it's no exaggeration to say that, without "The Message" opening the door for the critically charged poetic genre that is today's hip-hop, we might never have gotten Kendrick, Cole, Kanye, N.W.A., Pac, Outkast, or any of the other cultural icons who've come to prominence since. So if you consider yourself a true 'head,' go back to the roots and listen to "The Message." That's where it all started. Jack Lent