Our monthly music feature, Rooted & Restless, finds country music aficionados Josh Hurst and Jonathan Keefe wading into all things Americana, expanding the definition of 'country' to incorporate all the permutations that the genre has opened itself up to, especially in recent years. We feel that there are quite enough dividing lines being drawn right now; as such, Rooted & Restless is about striving to view borderlessness as a source of strength — or, to quote Hurst, about "music that is at once rooted in a particular tradition, but also eager to glimpse the future — grounded in a familiar grammar, but not beholden to it." | Our last issue of the year makes up for a missed month by being a bit beefier than usual: you'll find six new releases here, spanning from both October and November and including the new solo set from Miranda Lambert, a live album from Old Crow Medicine Show, and Luke Combs's sophomore effort. Perhaps even more importantly than those three, this issue features a trio of new albums from exceptional and less known in the mainstream woman artists: 25-year-old Kalie Shorr's debut, the John Prine co-signed Kelsey Waldon, and the latest from Allison Moorer, which Jon calls "handily" the country music album of the year. Lastly, for the month's Kicking the Canon pick, Josh looks to the late-in-life legacy building of Johnny Cash's 1994 Rick Rubin-produced American Recordings.
---
The most incisive and distinctive songwriter of her generation, Miranda Lambert has a track record to date—counting her three outings with Pistol Annies, a total of ten albums that range from great to canon-worthy—that leaves her with few true peers. It's less productive to talk about her work in relation to broader trends in country music or to compare her work to that of her contemporaries than it is to view it through the lens of her carefully constructed public persona, and to measure it by the quality of everything else she's done. To that end, her seventh album, Wildcard, is the first of her career in which the songwriting is merely consistently good. Genre purists will rankle at her collaboration with producer Jay Joyce, who shellacks the album with disparate influences: A bit of new wave here ("Mess With My Head"), some light blues inflections there ("Holy Water"), and '90s post-grunge for good measure ("Locomotive"). Joyce's creativity actually makes him an interesting choice for Lambert, who has never hewed to mainstream country's party line and has drawn heavily from the alt-country hinterlands from her first record onward. That his heavy hand at the mixing board pulls focus from Lambert's songs and performances would be a bigger liability throughout Wildcard were the songs up to Lambert's standards. But they simply are not. Lead single "It All Comes Out in the Wash" has a great concept, but it stretches its central metaphor too thin over the course of verses that amount to lists that are imbalanced between the literal and figurative. Lambert sinks her teeth into the lyrical hook of "Locomotive" ("He gives me wings"), but that hook is actually a mixed metaphor. One of her great strengths as a songwriter is her mastery of the natural meter of language; here, she too often repeats parts of phrases to create meaningless filler ("I let you mess with my, mess with my head / I let you mess with my, mess with my bed," to pick just one example) to pad her rhyme schemes. It's a trope she's rarely resorted to, and it makes too many of the songs scan as lazily written in comparison to, say, "Kerosene" or "Only Prettier" or "Vice." One of the better songs on the album, "Bluebird," even lifts an entire line wholesale from "Easy from Now On," which she covered on Crazy Ex-Girlfriend. And "Too Pretty for Prison" is a lesser iteration of former collaborator Brandy Clark's single, "Stripes." None of these songs are necessarily poor on their own merits, but a standout like "Dark Bars" draws into relief the discrepancy between Lambert's very best and what most of Wildcard offers in its place. It's a testament to Lambert's nearly unprecedented run that an album like Wildcard, a fine, catchy set considered in isolation, lands as a massive disappointment. Jonathan Keefe
---
Sooner or later, Luke Combs was bound to release an album called What You See Is What You Get — the old adage makes for a perfect mantra to encapsulate his cheerfully unfussy style. All 17 songs, which run just under an hour in total, arrive without subtext, narrative scaffolding, or conceptual thrust; nothing to hold them together save for their sheer agreeability, their allegiance to a certain kind of arena country that hit its commercial peak back in the '90s. There is certainly a case to be made that the down-to-earth Combs is savvier than he lets on, shrewdly stepping into a meat-and-potatoes country void that's largely been abdicated, so many of his peers moving either into austere Americana or R&B-inflected modernity. Combs specializes in honky tonk, power ballads, and good-natured boogies; in thunderous drums, red-hot electric guitars, and songs that wear their sentiments on their sleeves. His greatest gift may be in how he develops songwriting premises that telegraph their punchlines right out of the gate, but still manage to be modestly satisfying in their sturdy craft and earnest delivery. Opener "Beer Never Broke My Heart" runs through a litany of disappointments (women, politicians, football teams) before concluding that alcohol alone always does what it claims to — and just because it's obvious, doesn't mean it isn't true. The rest of the songs similarly traffic in familiar country tropes, from beat-up pickups to cowboy boots, and Combs delivers them with aw-shucks sincerity. "Even Though I'm Leaving," a tender ode to fatherhood, is written to be a tearjerker, but sung conversationally, and it's that casualness that makes the album go down easy. Which is not to say that it isn't also a bit of a slog, if for no other reason than its length and Combs's disinterest in straying too far from formal convention. It's a big album that somehow feels small, a testament to how little the country music machine asks of its men, particularly those inclined toward traditionalism, but nevertheless: Combs has found a thing that not a lot of people are doing these days, and he does it with confidence, charisma, and craft. Josh Hurst
---
Allison Moorer's last album, Down to Believing, which drilled into the messy cycle of grief, was arguably a career-best for the extraordinary singer-songwriter. Her latest, Blood, plumbs even greater depths and boasts even more scalpel-sharp songwriting; in what has been an exceptional year for country music, it's handily the album of the year. The album isn't simply "about" the well-known story of her parents' murder-suicide, which has intermittently bubbled up to the surface over the course of her career. Instead, Blood uses that autobiographical horror as a starting point, as Moorer wrestles with such heady topics as generational cycles of grief (on the stunning "Nightlight" and the title track) and the debilitating effects of long-term abuse (raucous lead single, "The Rock and the Hill"). What's most striking about the album is the complexity of Moorer's emotional palette: There isn't outright forgiveness for her father, but there's a stunning sense of grace in her attempts to understand him better. She avoids the temptation to paint him simply as a villain in a tragic narrative and, instead, captures the humanity in all four members of her family. The album's release is accompanied by a release of a memoir of the same title. The book goes into greater detail — and, though her insightful blog had already proven it, demonstrates the power of Moorer's prose — but Blood stands fully on its own as an album of rare power and depth. JK
---
Contrary to what the country airplay charts may tell you, the last decade has been a creatively fertile season for the women of Nashville: think of Kacey Musgraves's small-town cynicism, Miranda Lambert's kerosene-soaked rabble rousing, even the feisty, confessional songwriting of teenage Taylor Swift. You'll hear echoes of all three singer/songwriters on Open Book, an assured new album from Kalie Shorr. Just 25 years old, Shorr is young enough that she ostensibly could have been raised on the recorded output of those three women, and in many ways her songwriting bears the fruit of all the toil put in by her foremothers: It's an album that exults in the freedom to be both grounded in tradition yet unbeholden to it; as rooted and as restless as it wants to be. These songs are loaded with tang, from fleet-fingered guitar picking to high and lonesome pedal steel, but Shorr's traditionalism is filtered through chiming rock, petulant pop-punk, and, on curdled album closer "Angry Butterfly," something pretty close to grunge. Shorr's writing is confident and questioning in equal measure: "I'm an open book with an open ending," she declares on "Too Much to Say," and the whole album bears witness to a woman who knows who she is but is amenable to whatever forks in the road her life may take her down. A cheeky album highlight called "F U Forever" sounds harsher than any of Swift's legendarily resolute kiss-offs, yet its fury is channeled through careful craft; the song title promises cheerful vulgarity, but Shorr uses her profanity sparingly, in service of a brutally funny punchline at the song's close. "Gatsby" opens with moaning steel and sawing fiddle, suggesting straight-ahead honky-tonk but almost immediately thumbing country conservatism with riotous one-liners ("I don't really like dating assholes/But I do it 'cause I have a weird relationship with my dad"). These songs revel in ferocity, but Shorr spends just as much time exploring vulnerability as talking tough. "Messy" laments the collapse of a couple who kept things squeaky clean on the outside while letting resentments fester just below the surface; best of all is "Escape," about how everyone has their drug of choice but the best high of all is hitting the road and leaving all your problems behind. It's just one of many moments on Open Book to reveal a songwriter who's sure of her lineage, but discontented by sounding like anyone but herself. JH
---
For someone just in her early 30s, Kelsey Waldon sure seems to have mortality on her mind. "Only here for a moment, then we're gone," she shrugs in "White Noise/White Lines," a plainspoken proverb of impermanence. Just a few minutes later she offers a song called "My Epitaph," where she echoes the sentiments of Tanya Tucker, asking for love and recognition now, not just on the other side of the grave. Perhaps it was this hardscrabble songwriting that endeared Waldon to John Prine, who released White Noise/White Lines on his Oh Boy label imprint…the legendary auteur's first new artist signing in more than a decade. Certainly, the patron meshes perfectly with Waldon's tough, no-frills style, equally indebted to bluegrass and honky tonk, the mountain soul of Patty Loveless and the singer/songwriter idiosyncrasies of Prine himself, and of Dylan and Townes Van Zandt. Walden produced the record along with Dan Knobler, and together they've forged a sound that speaks knowingly to the singer-songwriter's roots in rural Kentucky; this is an album that's assured in its conjuring of high-and-lonesome bluegrass twang, gnarled rock and roll, and austere folk. There's room for surprises, too: "Sunday's Children" is insinuating, hard-edged funk, while "Very Old Barton" is an agreeably old-timey romp just saturated in pedal steel. You can hear Waldon's rural upbringing in her unerring Appalachian twang, and White Noise/White Lines presents a rich depiction of a community too often overlooked; she peppers her material with field recordings from some of the American Indian tribes with whom she shares a geographic point of origin, and in "Kentucky, 1988" she pens a loving but unsentimental tribute to a childhood that wasn't always smooth sailing ("when things got rough, we did not complain," she asserts). "No matter how far I get away / There's just some things that will never change," Waldon concedes, a concise summary for an album about origins, mortality, and all the things you can't escape from. JH
---
Many were surprised when Old Crow Medicine Show were inducted into the Grand Ole Opry, which has, of late, skewed heavily in favor of current commercial hit-makers, regardless of their ties to the genre's history. And though they've only flirted with mainstream success—thanks almost entirely to writing "Wagon Wheel," as close to a new genre standard as has been written in this century—OCMS made for an excellent addition to the Opry's roster, as they have long filtered a contemporary point-of-view through a vintage string-band aesthetic. Live at the Ryman proves their reverence for country music's "Mother Church," while serving a dual function for the band: It plays as a perfectly-curated "greatest hits" set for OCMS and also captures the raucous energy of their live performances, which has occasionally been lost on their studio recordings. The band doesn't shy away from their more ribald material—"Tell It to Me" remains a shit-kicking cautionary tale about the dangers of cocaine abuse, while "Brushy Mountain Conjugal Trailer" turns the Ryman stage into the setting for a prison riot—but also turns in a couple of spirited covers of classics. The rendition of "Will the Circle Be Unbroken" here, on which OCMS are joined by the criminally underrated Charlie Worsham, is a gospel rave-up for the ages — and of course, "Wagon Wheel" is a full-on singalong. Though they've rarely been credited as such, what Live proves is that OCMS remain perhaps the finest country band of their generation, and this set makes an essential addition to their catalogue either for their established fanbase…or for those who only know "Wagon Wheel." JK
---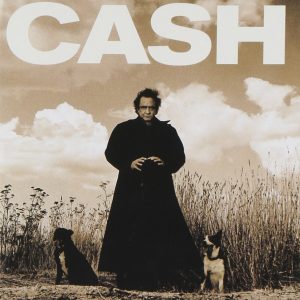 Nobody denies that Johnny Cash was a legend; his mythos looms large in Ken Burns's Country Music documentary, as good a bellwether as any for how Cash remains one of the genre's defining personalities. On what foundation does his legacy truly rest, though? For decades, the Man in Black was distinguished by his pitiless outlaw persona, his hell-raising origin story, and the addictive Tennessee two-step he perfected in early sessions for Sun Records and beyond. All of that remains an immutable part of Johnny Cash lore, yet for younger generations, the bulk of Cash's reputation rests on 1994's American Recordings, the first in what would become a series of austere collaborations with producer Rick Rubin. The album's backstory has itself become a kind of cliche; on the downward slope of his commercial and creative prime, and all but forgotten by country radio, Cash holed up in his rustic cabin with nothing more than an acoustic guitar and some simple recording equipment. Rubin may or may not have influenced Cash's selection of material, but the great reducer doesn't leave fingerprints anywhere on the recordings themselves, stark and simple and unadorned. If that backstory has been told to death, the album's influence probably can't be extolled quite enough: American Recordings may not have invented the back-to-basics ethos, but it certainly embodies it, and it casts a shadow over bedroom indie pop, the less-is-more approach of alt-country, even the unvarnished roots music productions of Joe Henry and T-Bone Burnett.
At the time of its release, American Recordings ratified Cash's image as someone who did things on his own terms, devoted to the song and unwilling to compromise to commercial interests; he'd long been abandoned by the country mainstream, but now shrugged his shoulders and acted like he didn't give a fuck, a gesture that defined him for a new generation of fans in much the same way his Folsom Prison set personified him earlier on. Cash and Rubin would go on to make additional albums in their American Recordings series, some of them literally recorded from the singer's deathbed; all of the albums have their moments, even some of the death-fetishizing later editions, but none are as faultless as this first volume, which finds Cash still on'ry, authoritative, and in robust voice. He opens the album with "Delia's Gone," a traditional murder ballad that's been recorded ad nauseam but has rarely sounded as hardscrabble or as unsparing as it does here. Cash takes a transformative approach to songs by iconoclasts like Leonard Cohen ("Bird on a Wire") and Tom Waits ("Down There by the Train"), sanding away artier edges into straight-laced cowboy poetry. By no means is this black-and-white recording devoid of liveliness or humor, either; the straight-man reading of Loudon Wainwright's "The Man Who Couldn't Cry" is a deadpan masterpiece, and there's obvious relish in how Cash takes the contours of "Tennessee Stud." American Recordings is an album that's very much intentional in its own myth-making: A number of songs look back on wasted youth and hard living, surveying the past with equal parts rue and self-assurance. The pinnacle is "The Beast in Me," a moment of sobering introspection penned for Cash by his one-time son-in-law, Nick Lowe; a song that peels back the tall tales and finds behind them a man of endlessly relatable regret and contrition. JH