Deftones
Deftones have somehow managed to remain relevant since they first emerged out of the nu-metal explosion of the late 1990s and early 2000s, but to associate them with such a short-lived genre that is riddled with criticism is to do the band a large injustice. Unlike many other acts of that era, Deftones have continued to evolve their sound and aesthetic in order to become the entity they are today. A seamless fusion of metal, hardcore, dream pop, shoegaze, and electronica contributes to the band's novel sound. In 2000, Deftones released White Pony, their third album, which has undoubtedly become their definitive release. Since then, the band has steadily released albums resulting in a total of 10 to date, with Ohms being their most recent. Following 2016's Gore, which many fans found to be an underwhelming and disjunct collection of songs, there was quite a lot of anticipation to hear which direction the band was heading in with Ohms.
There are elements here that fail to be initially engaging: The third track, "Urantia," opens with a punishing, heart-racing riff and quickly leaves the listener longing for that energy to continue as the song descends into a slower, dreamy groove. These parts feel unengaging upon first listen, but that's not the only thing this album has working against it: Deftones, although beyond impressive in their musicianship, have never been a band to dive into extremely technical or complex songwriting. Even so, many of the tracks on Ohms follow a fairly predictable song structure with plenty of repeating parts. This formulaic approach is not completely new for the band, but there is something on this record that makes Deftones sound less experimental and forward-thinking. The title track of the record follows a basic verse-pre-chorus-chorus flow without ever truly packing a punch, but thankfully "Ohms" is one of the least exciting tracks on this project. In some sections of the record, vocalist Chino Moreno's performance leaves something to be desired; his melodies occasionally so buried that they can feel like an afterthought.
In true Deftones fashion, Ohms takes time before it's full effect can genuinely set in. The initially disappointing decline of tracks such as "Urantia" and "Headless" end up serving as sonic textures that compliment the heavier parts. When all the energy (and then some) returns at the end of the former of these two, it's more satisfying than if it were to have relentlessly kept on from the start. Through this push and pull, the mellower aspects emerge as essential parts of these songs, ones that prove themselves as catchy before you know it. Despite Ohms being the band's tenth full-length album, their strategies for crafting unique songs have been far from exhausted. The last couple minutes of "The Spell of Mathematics" is a hypnotic trip, one featuring finger-snap/clapping sounds so warmly mixed that it makes it difficult to want the song to end. "Pompeji" employs something similar as the track closes, but this time an expansive soundscape is created by keyboardist Frank Delgado as he hangs on imposing, haunting notes interwoven with sounds of waves and seagulls. (Finger-snaps and beach sounds have an understandably cheesy connotation, but the way Deftones incorporate them on this album is both acute and artful.) "Radiant City," which may be the most important track of their past two albums, opens with an aggressive, nasty bass groove and never lets up. The chorus is an anguished blend of harsh vocals, thunderous guitars, and an oozing synth progression that bleeds a simple yet beautiful melody into the background.
Overall, Ohms is a fresh, classic, and decidedly mature addition to the Deftones catalog; the dualism of rage and meditativeness that has been so vital to the persona of the band still shines through, taking listeners on a sonic journey into some dark, surreal corners — and, ultimately,  producing songs that are deeply rewarding to listen to. Their countless, rich layers become all the more seductive with time, and not merely because one gets used to them: they're just simply a lot to take in at first. The allure of Deftones is their intoxicating mystique that keeps fans returning for more, even when the band throws the inevitable curveball. Ohms is not the group's most powerful, but it is a cohesive project that combines and utilizes some of the best elements of the band's work leading up to this point. Daniel Cicchelli
---
Fleet Foxes
While most of us have turned inward this year, Fleet Foxes have opened back up. Shore, the follow-up to their impenetrable, depressive third album, the long-awaited Crack-Up, cut the incubation period in half and delivered the most drastic departure from the trajectory of their first three. The group's opening act consisted of increasing abstraction, psychedelia, and obfuscation, but with Shore, Fleet Foxes have changed, stripping themselves occasionally of their folk roots in favor of glorious chamber pop, recruiting string and brass players, pianists, fellow singers like Uwade Akhere, Kevin Morby, Tim Bernardes, and hundreds of fan recordings featured in the massive "Can I Believe You?". Alluding to their pastoral roots while inviting global influence, Shore adds up to a rapturous, beautiful album, exciting from song-to-song and featuring Robin Pecknold's best vocal performance yet. After a sort of foreword led by Akhere, the album explodes into "Sunbind," an immediate entry in the list of Fleet Foxes' top songs, serving as a clear thesis of what's to come. Pecknold starts by introducing his past influences, eulogizing Richard Swift, John Prine, Bill Withers, and David Berman and assuring them he's "met the myth hanging heavy over [them]." It's in their memory he sings joyously of creating music and swimming in "Warm American Water."
It's expectedly clever and unexpectedly summer-y, an atmosphere sustained throughout the album. Typically fall guys, Fleet Foxes embrace the optimism of the instances furthest from their seasonal depression, singing "That's that, we're a long way from the past / I'll be better off in a year or in two" in "A Long Way Past the Past." They renounce their autumness further in "I'm Not My Season," a ballad continuing the deterministic ideas presented on Crack-Up, this time inverted and hopeful. "Cradling Mother, Cradling Woman" links back to screaming brass in Helplessness Blues and brings a dreamy quality as Pecknold lulls over babbling trumpets before abruptly starting "Shore," an art-pop epilogue impugning times he's fallen into the darkness. It's all so glossy, almost harshly pretty and perfect. While one may long for some of the crunch present in their earlier work, Fleet Foxes, vis-à-vis Shore, have opened doors facing forward in endless directions. Tanner Stechnij
---
Bright Eyes
After a nine-year absence, Bright Eyes returns with Down in the Weeds, Where the World Once Was, the group's ninth LP and a shining reminder of a largely dissipated mid-aughts indie folk/emo movement. If the album fails to reach the heights of Bright Eyes' mid-career peak, it at least toes an impressive line — this album is intentionally crafted to evoke nostalgia but never manages to feel like cheap glory days-chasing. Top to bottom, Down in the Weeds is a record full of classic Bright Eyes lyrics, with a dark emotional resonance informing expressions of not feeling or being good enough. "Dance and Sing" immediately recalls this familiar Bright Eyes mode: "Don't turn your cheek away / Please, don't resuscitate / Make an example out of me / Because all I can do is just dance on through / And sing." Lead single "Persona Non Grata" likewise makes evident this latest album's temperament from the beginning: "Now you / You wanna be true / To me once again / And you / Want me to be true / To you once again." It's an emotional and psychological framework that feels deeply familiar, and if that comes with a sense of retread, it also allows listeners to easily reintegrate to the band's particular language after such a long time away. But there's no escaping that this remains the album's downfall. Bright Eyes in 2020 sounds a lot like Bright Eyes in 2011; the band's work remains excellent but is undeniably stagnated. Bright Eyes' reunion had been highly anticipated for a long time, and in many ways the wait was indeed worth it, but while Conor Oberst has demonstrated growth and sonic evolution across his solo projects, it seems high time for the band to do the same. Andrew Bosma
---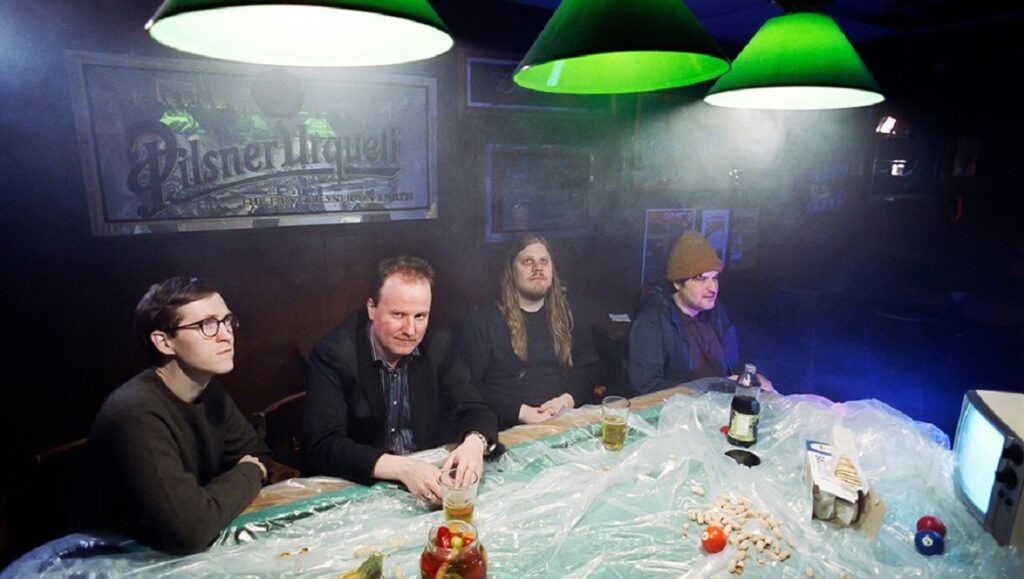 Protomartyr
Protomartyr's main draw has always been frontman Joe Casey. With all due respect to Greg Ahee's wonderfully oblique guitarwork, Casey's gruff sneer and erudite lyrics are what really set the Detroit post-punk band apart from their contemporaries. He kicks off their latest record, Ultimate Success Today, with a doom-laden  declaration: "This is the dawning of the day without end." It's a tone-setter that, of course, feels especially apt in the midst of a global pandemic whose indeterminate endpoint is perhaps its most frightening aspect.  In an interview with The Fader, Casey offered a useful counter to the notion that his songs often feel prescient: "I often say that if you want to be a psychic, just write about what's happening today … When it  happens again, people will say, 'Oh my, how did you know?'" His ostensible "prescience" is never more evident than on "Processed By The Boys," a treatise railing against the horrors of living under a police state. The song resonates deeply in a moment defined by months of sustained Black Lives Matter protests, but, just as "Day Without End" was conceived pre-COVID, it was actually written long before the inciting murders. This sort of circularity speaks precisely to the sentiment of a "day without end," an interminable stagnation, where nothing truly changes and there's no relief in sight. References to a modern surveillance state position the song firmly in the 21st century, but its haunting refrain ("Everybody's hunted with a smile / Being processed by the boys") would be just as appropriate 50 years ago.  
 Their fifth in a run of excellent records, Protomartyr aren't stepping far outside their usual box here, but Ultimate Success Today does toy with a few new ideas. The most conspicuous musical change is the addition of a wind and string section. The difference can be subtle — if one isn't paying close attention, the soft gurgle of a bass clarinet might be mistaken for a synth — but it ultimately pays off; there's an aura of grandness to this record, one no doubt accentuated by the rich arrangements, as well as the warm, expansive production choices of producer David Tolomei. Probably their most notable orchestral moment comes on the labor movement anthem "Michigan Hammers." Twice the song breaks down into beautiful, shimmering drones courtesy of the saxophones and cello; the bridge is especially stirring, with Ahee's glittering guitar joining the mix as Casey pays homage to an obscure moment in the Mexican-American war where a contingent of pack mules were thrown overboard and left to drown ("What a hardy mule / To work without reward / Carrying the load / 'Till they drop amongst the stones"). Ultimate Success Today is an appropriately bleak assessment of contemporary America, probably best summed up by a question posed on "Processed By The Boys": "When the ending comes is it gonna run at us like a wild-eyes animal?" No, he later responds, "Reality has a far duller edge." But the band still manages to end on a note of hope, albeit a somewhat perverse one. "It's time to say goodbye," Casey begins on "Worm In Heaven," with a soft bed of woodwinds supporting his "last words." At first, he seems to be clinging desperately to the tangibility of his existence ("I exist, I did / I was here, I was"), before giving in to the reality of his own demise, closing out with a string of negations ("Never never never never never never never was"). Nihilistic as this may sound, the song actually feels rather at peace with itself. There is a tranquility in remembering that, despite the interminable day that we appear to be living through, we do all have an end, and that ultimately we will all be nothing. Brendan Nagle
---
Sylvan Esso
Electro-pop duo Sylvan Esso returns with their third LP, Free Love, an expression of both the joyous heights and dark depths that love can bring. What's been clear, and remains so here, is that the duo of Nick Sanborn and Amelia Meath are proficient at creating a hell of a lot of sounds for only two people, thriving at expressing affect in a genre that often runs into the problem of feeling cold and emotionless. The group's songwriting is similarly (and welcomingly) dense, as Meath prefers penning songs that are about a lot of things. Take for example "Ring," a track which on the surface seems to be about the onset of tinnitus as a result of listening to your own music too loud through stage monitors on tour, but which upon deeper consideration blooms further ruminations, such as the idea of a long tour manifesting as a frustrating cycle of waking up, performing, hitting the road, and waking up again — "Highway, oh, highway / We play and play and play / Every day is another date." Elsewhere, a song about a hot summer day turns to a song about unexpected attention on "Ferris Wheel" ("It's the summer / got a lot to prove"), and "Frequency" uses a narrative about being in love with a radio DJ to reveal the details of Meath's previously closeted sexual orientation: "Oh, now feel that sound / Rushin' through the fields and flowers / Her voice comin' through my dial / She's the one, I swear to God." These layers are not just refreshing in their complexity and honesty, but they succeed in breaking through the barriers of emotional range too common in pop music. Sylvan Esso makes music that feels distinctly important, each sonic choice informed by a clear intentionality. Free Love is a substantial entry into the group's already-impressive catalog, and hopefully soon the songs here will be played live, how they're meant to be heard, turning a massive crowd into a tightly-packed dancefloor once again. Despite the circumstances of 2020, Sylvan Esso's energy clearly has not flagged, and so when that day of congregation returns, it seems certain that Sanborn and Meath will be there helping it happen. Andrew Bosma