Lana Del Rey
The prospect of a book of poetry from Lana Del Rey might seem, to anyone familiar with the songs that made her famous and her accompanying image, like a rupture in the delicate fabric of her chic Americana branding, taking her frequent references to the likes of T.S. Eliot and the romanticized artist's lifestyle a touch too far. The lyrical brilliance of her last album (Norman Fucking Rockwell) was met with appropriate critical recognition, but it's still not hard to see how such a literary turn might be perceived as gauche or pretentious coming from such a popular musician. However, any assumption that she wouldn't apply the same blunt introspection and confrontational sincerity to these poems as she does her music would be to underestimate Elizabeth Grant's intelligence. 
For the audiobook version, Lana Del Rey's largely subdued readings are backed by gentle guitars from Jack Antonoff; the marriage doesn't over-accentuate the poems' emotional content but rather works to unify the entire affair and make the record sound less like a reading and more like an intimate, improvisational lounge session. This is also due to the nature of the poems themselves, as their structure is unsurprisingly reminiscent of Beatnik-era literature and language — tangential in form, with an occasional emphasis on repeated phrases, and diaristic in nature. What could easily slip into narcissism is buoyed by often moving insights, even though the experience reflected may be alien to the listener. The best example is album centerpiece "Sportcruiser," on which Del Rey uses her trepidation during flight and sailing lessons as a metaphor for a general indecisiveness and specific emotional fragility, and ultimately acknowledging the metaphor itself as evidence of the singer-songwriter-poet's desire to make sense of her life as part of a larger whole. And in plenty of ways, Violet Bent Backwards Over the Grass is more of the self-awareness and uncompromising aesthetic ethos Del Rey has always presented — a performative critique of decadence and glamor from within. It's also a return to the abrasive, enticing contradictions of her earliest work, an orientation which tracks with the artist's PR of late as both the book and spoken word album follow a controversial Instagram statement which was most interesting as a rebuke to the critical ardor predicated by the tonal shift on her last record. In that wake, Del Rey sounds understandably restless on these readings; it might be the sound of a new kind of vulnerability for the singer. Alec Lane
---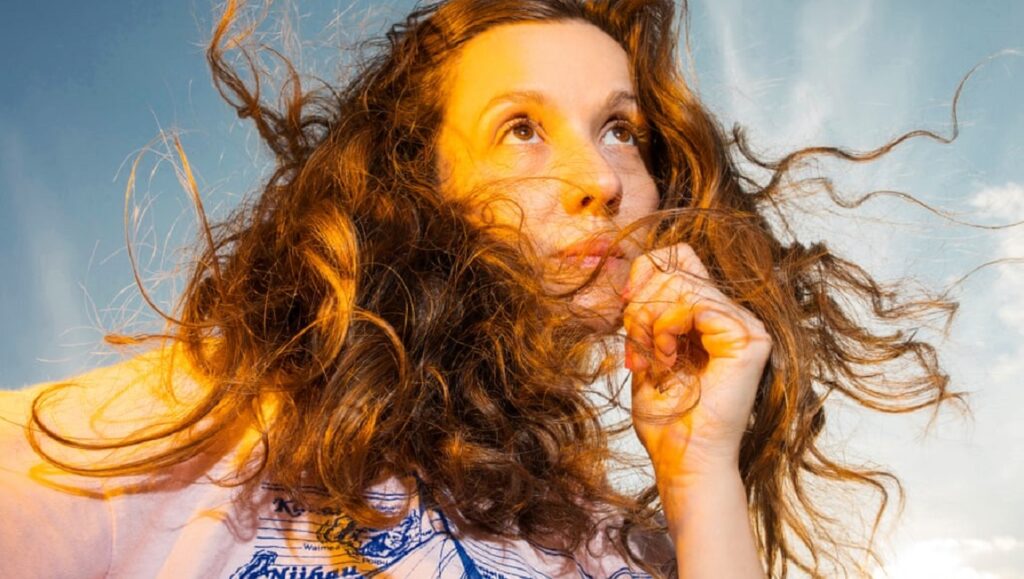 Jessy Lanza
While Hamilton, Ontario may not seem like the most fertile ground for cultivating an interest in dance music, the city is actually home to a rather robust club scene, one that Jessy Lanza got an early taste of thanks to her father's PA rental company. Lanza makes pop music, in the broadest sense, but she has always drawn on techno, footwork, and other electronic club music in a manner distinct from most of her peers. All The Time, her third straight collaboration with Junior Boys' Jeremy Greenspan (another Hamilton native), is denser in its sonic decoupage than either of her previous records: in some moments her new record even bears a resemblance to more rhythmic forms of sound collage. Many of these songs feel almost mosaic in their construction, shards of sound — synthesized squeals, GameBoy-esque blips, abstracted vocal samples — assembled as wonky beats and stuffed into pop song structures. At one point "Lick In Heaven" nearly loses form, as the bass drops out and we're left with modular synth flutters and soft, arhythmic drums, and then right as the song threatens to collapse, Lanza shifts back into gear and the dancing continues.  
Perhaps the most striking aspect of Lanza's songwriting is its dissonance. She's not necessarily one for harshness, but she plays discordant, sometimes atonal sounds against each other, building a sort of tension that one doesn't often hear in pop music. "Badly" stands out in that regard, opening with synth pads that don't match the key of Lanza's vocals, and later incorporating a buzzing drone over those same pads, enhancing the relief that follows with the soft and airy chorus. There's a fine line between an engaging tension and unpleasantness, but Lanza manages to toe it rather deftly, never letting things drift over into real turmoil. Her lyrics often reflect that subtly dissonant approach as well: "Like A Fire" at first seems desirous ("You know that I want your love / I don't think I've had enough"), but we eventually realize that the refrain ("You burned me like fire") is as bitter as it is lustful; the swirling chorus of "Lick In Heaven" ("Once I'm spinning / I can't stop spinning") speaks both to the liberation of losing oneself on the dance floor, as well as to the destructive compulsion of a spiraling rage. There is a subtle ambiguity to Lanza's writing, sonically and lyrically, that stands in contrast to the sugary, hedonistic tendencies of many oddball pop acts. Where the likes of PC Music or 100 Gecs often balance their relentless hooks with noisy production, Lanza does the opposite, crafting odd earworms within a more subdued style. And, lest my descriptions mislead you, I should make clear that All The Time is, above all, a delightful dance record. It's breezy and fun, and easy to get lost in, but the dark edge that Lanza brings rewards deeper listening as well. Brendan Nagle
---
The Flaming Lips
Rather remarkably, 2020 has brought us a new Flaming Lips album that is, in fact, pretty good! To think that this band once rode so high, a solid decade of music and accompanying promotion and touring that internet writers gobbled up without fail. This was because much of it was indeed quite good, though the merits of albums like Yoshimi Battles the Pink Robots and At War with the Mystics are not the sort that have much of a place in our streaming times. Indeed, bemoaning The Flaming Lips' present-day relevancy is an old person's game ("They made songs for arenas!" or "Their physical releases always came with a few surprises!"), but for a time, they seemed like a band that could continuously tweak and reinvent themselves just enough to remain interesting. Granted, success is not actually so far in The Lips' rearview — 2013's The Terror still holds up as a triumph of disturbed psychedelia, and their extensive contributions to the decadent pop masterwork Miley Cyrus & Her Dead Petz may very well reflect the last time the band was genuinely inspired. But in between these peaks, the decade has largely seen the band and its mastermind, Wayne Coyne, working through midlife crisis and reveling in encroaching legacy act status over the course of various, gimmick-heavy cover albums and two cruise control LPs. 
These were troublesome developments for an artist whose career has largely been built upon an aloof, whimsical neo-hippie persona; thus American Head, the band's sixteenth studio album (!!), enters the world on shaky ground. Conceived as a rumination on the band's "American roots," the album immediately courts skepticism while attempting to undercut it. As reflected in the songs, we might interpret this to mean that Coyne and his one enduring collaborator, Steven Drozd, are reassessing their decades-long project, reckoning with the aforementioned contexts that now color any of their output. Though none of that tension manifests so dramatically in American Head, which is a generally good-natured album recalling the band's most beloved output that manages to distinguish itself just enough. Maybe spurred on by contemporary political strife, or maybe, simply, inspired by the general passage of time, American Head finds Coyne and Drozd convincingly in the present. And this is precisely how this album is able to transcend the easy "back to basics" label, the songs leaning into what has been successful before — '60s pop melodies entwined with sweeping, spacey psych-rock jams, Coyne's nasally warble hanging above — but there is refreshing sincerity here. Coyne's lyrics don't speak to explicit ideological realities, and are in fact playfully evasive, cloaked in his acid head vernacular and various hallucinogenic tropes, but they appeal directly to the challenge of contending with our greatest existential concerns. In this way, American Head asserts that The Flaming Lips have more to say. 2020 might not find them doing something new, but it has the band (re)considering themselves in promising ways. M.G. Mailloux
---
Ellie Goulding
In the five years since her last album, the excellent Delirium, Ellie Goulding's position in the pop music stratosphere has remained anomalous and nebulous. The album's biggest hit, "Love Me Like You Do," didn't drum up streams for any of its other songs as much as it did the memory of one of the year's biggest (and most widely ridiculed) motion pictures, for which it was written. The song, a collaboration between multiple songwriters and producers (not including Goulding), is spectacular, but it doesn't reflect much on Goulding as an artist. Despite its inability to produce any other major hits, the album itself actually does — exuberantly so.
Brightest Blue, Goulding's latest record, seems to consciously distinguish between her abilities as a singer-songwriter and her place in the hit-making cycle. Though billed as a double album, the record's second disc is only a short collection of collaborative singles from the past three years; the majority of the first disc is written by Goulding and a consistent group of collaborators, and has virtually no features (the otherwise pleasant opener "Start" includes a verse from serpentwithfeet which is best forgotten). Offering some of the singer's most thematically focused songwriting to date, the album is an assortment of variations on the now ubiquitous pop music theme of self-love (especially as a contrast to unfulfilling relationships), treated to melodies that are by turns depressed and animated. This thematic focus, carried through the album by the singer's uniquely fragile sounding voice, ties the record together remarkably well against a good deal of stylistic variance. From soulful cuts like "How Deep is Too Deep," "Love I'm Given,"  and "Power" to the balladry of "Woman" and "Flux," the strength of Goulding's delivery accentuates the honesty in the lyrics, while also elevating the sometimes-fragmentary combination of genres into coruscating reflections on emotional turmoil. Taken song-for-song, the most stylistically distinct song is easily the biggest highlight: "Tides" gradually builds from the repetition of a single piano note and sub-bass to the chorus' double layer of vocal loops and massive drums which back a smooth refrain about the extraordinary highs of a new relationship. Much like the very best songs in the singer's catalog, the ephemeral metaphors incorporate the emotional totality of their real-life referents — the central analogy likens giving oneself over to emotion as "going against the tide," condensing the internal contradictions in pop music's ongoing negotiation of self-awareness and romantic idealism. Taking the first disc on its own, Brightest Blue may be Goulding's strongest use of the album format, deepening the sometimes undeniable poeticism introduced on her debut album  (though it may have been overshadowed for many by the nature of that record's marketing). Ten years into her career, the singer finally has the space to develop an identity outside her chart presence, resulting in one of the year's most assured pop releases. Alec Lane
---
Chloe x Halle
Sisters and R&B chanteuses, Chloe and Halle Bailey have kept it lowkey despite their entanglements with the Beyonce, ABC, and Disney brand (Oh, how these have all amalgamated into one!). The duet's first album, The Kids Will Be Alright, scored them a couple of Grammy nominations and critical respect, but they remained firmly rooted on the precipice of breaking out without doing so. Fast forward to the release of lead single "Do It" from their second album, Ungodly Hour, a hedonistic girl's night bop encouraging the ladies to leave their man at home for a night that's "a homies only kind of mood." Pairing trap beats with a dance-pop vibe, ethereal harmonies, and relaxed lyrics, "Do It" is nothing less than an emphatic addition to the getting-ready-for-a-night-out musical canon. Accompanied by a stylish, choreographed video and an overcrowded, star-studded rap girl remix, the track earned them their first Hot 100 entry, despite real-world conditions not conducive to the song's pregaming spirit.
Their break-out couldn't have happened in service of a cooler album. Ungodly Hour lives up to the promise of the best songs from their debut, delivering a straightforward, sleek polemic on fuckboys and players. In classic sophomore fashion, the sisters turn up the bawdiness, especially on "Tipsy," a twangy, glitching, trappish oddity finding the sisters posing innocent after murdering the men who hurt them, warning the next: "If you love your little life then don't fuck up." The two reach to the future on the slippery, house-inspired title track, produced by Disclosure, that sounds of classy excess with a generous spirit. They also look backward, trying their hand at classic 2000s' R&B sounds. In "Forgive Me" the sisters wear a guise of sardonic remorse as they leave their cheaters, projecting bravado over the track's lustrous bass and punctuated with epic strings and vocalizations. Elsewhere, they soften up, especially on the more soulful "Don't Make it Harder on Me" and "Wonder What She Thinks of Me." Indeed, the album's variance is one of its greatest tricks. With Ungodly Hour, Chloe x Halle delivers a sexy, refined product boasting just enough hints of weirdness to suggest an exciting, unique future. Tanner Stechnij