On February 23rd, Craft Recordings issued remasters of three classic Isaac Hayes albums, 1969's Hot Buttered Soul and 1971's Shaft and Black Moses. Each has been carefully restored and pressed to vinyl, the way nature intended, with their memorable album covers also meticulously recreated. The trilogy documents Hayes's journey from Stax Records producer and songwriter to legendary performer in his own right, taking the listener through over three hours of classic soul jams that range from the eerily quiet to the massively bombastic, with each cut sounding as pure and pristine as it did back in the day.
The shortest of the three albums, Hot Buttered Soul, serves as something of a warm-up act for the rest of this trilogy. Consisting of only four tracks, Ike's second album (following his 1968 debut Presenting Isaac Hayes) predates efforts to wrest creative control from record labels by artists such as Marvin Gaye and Stevie Wonder. Bookended by two covers that offer opposing perspectives on heartbreak, Hot Buttered Soul lays out the formula Hayes would follow for the rest of his musical career. It's all there: extended jam sessions, spoken raps, lushly arranged orchestrations, loopy wordplay and the uncanny ability to bend another artist's hits to the whims of Hayes's own muse.
We find Hayes's muse is at the height of her powers on Hot Buttered Soul's opener "Walk on By." This version of the Burt Bacharach-Hal David original immediately distances itself from the famous Dionne Warwick one; for starters, it's twelve minutes long, the first two of which are devoted to a symphonic mesh of strings, background voices, distorted guitars, and an insistent drumbeat. This wordless introduction begs for visual accompaniment — which the Hughes Brothers supplied with their 1995 film Dead Presidents. When Hayes and arranger Johnny Allen suddenly add a mad rush of horns to the reprise, two minutes later, the hair-raising result is as dramatic as any movie score. The duo show the genesis of the mood-manipulating work they'd later supply for the soundtrack to Gordon Parks's Shaft when, after building to a hectic, loud, and complex climax — featuring a guitar solo by the Bar-Kays' Michael Toles — "Walk on By" ends with drummer Willie Hall's simple, sparse drumbeats.
Whereas the heartbreak tale of "Walk on By" was told by a man deserted, "By the Time I Get to Phoenix" gives the perspective of a man who did the walking.
Hot Buttered Soul's closing track is as cinematic as its opener, but this time, Hayes uses his voice to conjure the imagery. Covering Jimmy Webb's "By the Time I Get to Phoenix," Hayes begins with a nine-minute spoken word introduction — the first of many "Ike Raps" that owners of this trilogy will hear — but whereas the heartbreak tale of "Walk on By" was told by a man deserted, 'Phoenix' gives the perspective of a man who did the walking. "I'm talking about the power of love now," Hayes begins. "I'm gonna tell you what love can do." And as he pulls us into the story of a man who's been hurt, one time too many, by an unfaithful lover, the background organ music gives the aura of a church testimonial. Hayes paints such a vivid picture that, by the time he gets to lyrics, one can clearly see this man behind the wheel of his car on the highway, weeping as he imagines the moment when his lover realizes that he's gone for good. For someone as physically imposing as Hayes was, he was surprisingly convincing when it came to excavating a deep, unashamed hurt within. This streak of vulnerability made him a sex symbol, and it's on unabashed display as Hot Buttered Soul comes to a close.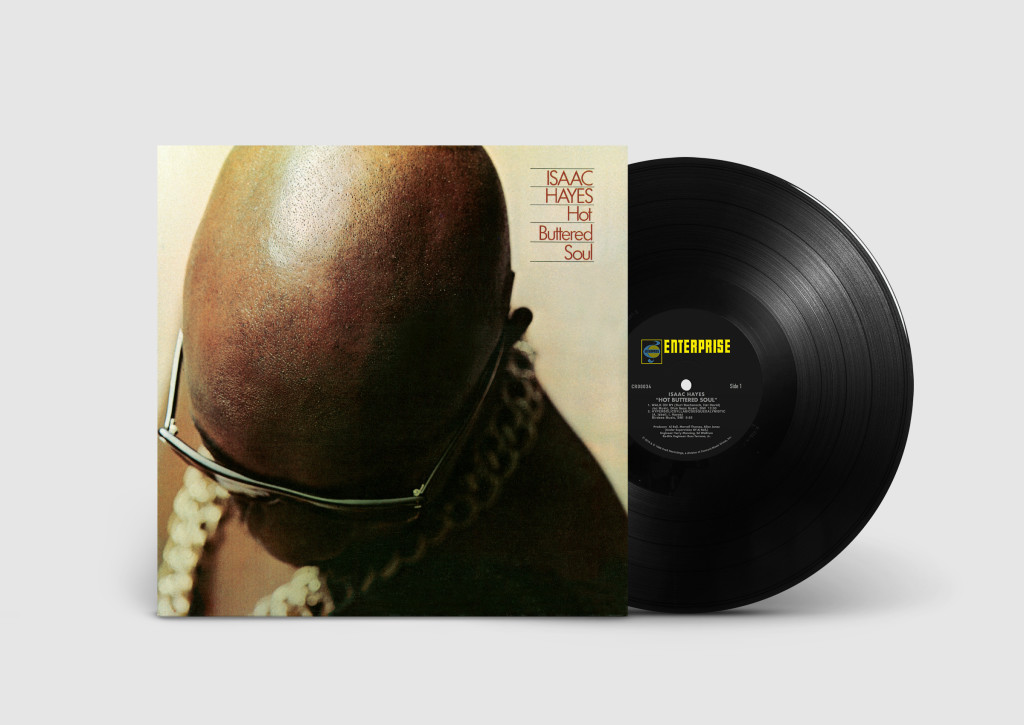 Between these bookends are two other tracks, including Hayes's sole authorial composition, "Hyperbolicsyllabicsesquedalymystic," a funky hodgepodge of medical descriptions, Latin phrases, and SAT words. "Groovy" may as well have been invented to describe this tune, a loose, funny showcase for Hayes's piano playing and the musicianship of the Bar-Kays. As the album's only happy song, it stands out. But the most amusing aspect of this nine-minute cut is that not once does Hayes ever sing the song's jawbreaking title. He leaves that to his female backup singers, who incidentally handle it with no difficulty whatsoever.
"One Woman" has the distinction of being the shortest track on Hot Buttered Soul, and its straightforwardness makes it seem quaint in relation to its more experimental album-mates. It almost feels like the song was meant to be the album's "single" release; one gets the feeling that, had Hayes still been filling his old Stax Records role of songwriter and arranger, he would have given this to someone like William Bell, whose "I Forgot to Be Your Lover" had a similar feel.
Anyone who's seen Shaft can close their eyes and see suave, sexy, and debonair Richard Roundtree exiting the MTA in Times Square, in time with the track's high hat.
The second album in Craft's trilogy is the soundtrack to Gordon Parks's 1971 detective drama Shaft, which came three albums after Hot Buttered Soul in Hayes's discography. This double-LP is mostly instrumental, highlighting the Bar-Kays' musical chops and Hayes's flair for arrangement and orchestration (his vocal appears on only three tracks). It's also the sole album in this trilogy completely written by Hayes. The story goes that Ike wanted to play Shaft, as well as provide his background music. But as 1974's Truck Turner would prove, the crooner was far better at music than acting; he belonged in the good company of Quincy Jones and Duke Ellington, two African-American musicians who preceded him in score-writing for movies. So, just as Jerry Reed would later do for Smokey and the Bandit, Hayes eventually settled for playing Shaft on the soundtrack rather than the screen.
And what a theme song he composed for himself! As with Shaft the film, the soundtrack opens with "Theme from Shaft" (though the album version has a slightly different arrangement). Anyone who's seen Shaft can close their eyes and see suave, sexy, and debonair Richard Roundtree exiting the MTA in Times Square, in time with the track's high hat. Hayes, working again with Johnny Allen on the Grammy-winning arrangement, layers the instruments as the song progresses, introducing each section like announcements of something big that's coming, and following Shaft on his daily walk through Times Square. Much like its subject, "Theme from Shaft" can make a strong and muscular statement without ever having to utter a word.
But when Hayes does speak — a full two minutes and 40 seconds into "Theme from Shaft" — the song takes off into the stratosphere. The lyrics themselves almost sound like an afterthought, except that their placement is just too perfect to not have been part of the original piece from its conception. Hayes asks a series of questions, to which the answer is always a chorus of women (including Tony Orlando and Dawn's Telma Hopkins) shouting out "Shaft!" The song earns its iconic status when Hayes devilishly intones, "They say this cat Shaft is a bad mother—" before being censored and chastised by the ladies, who advise him to "Shut yo mouf!"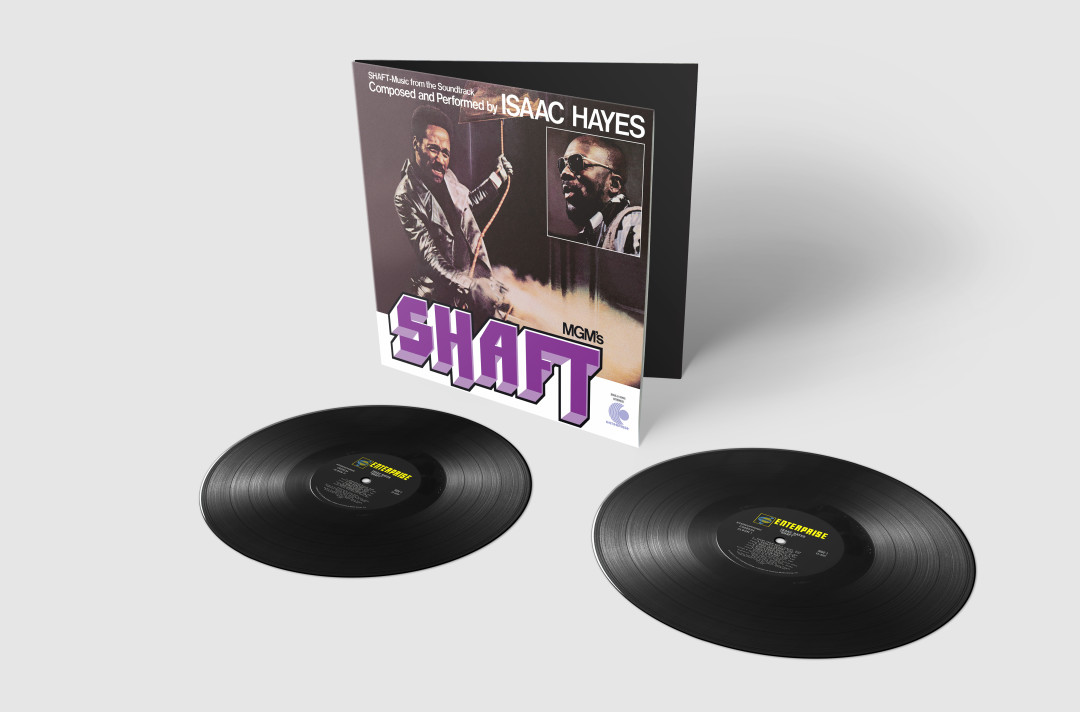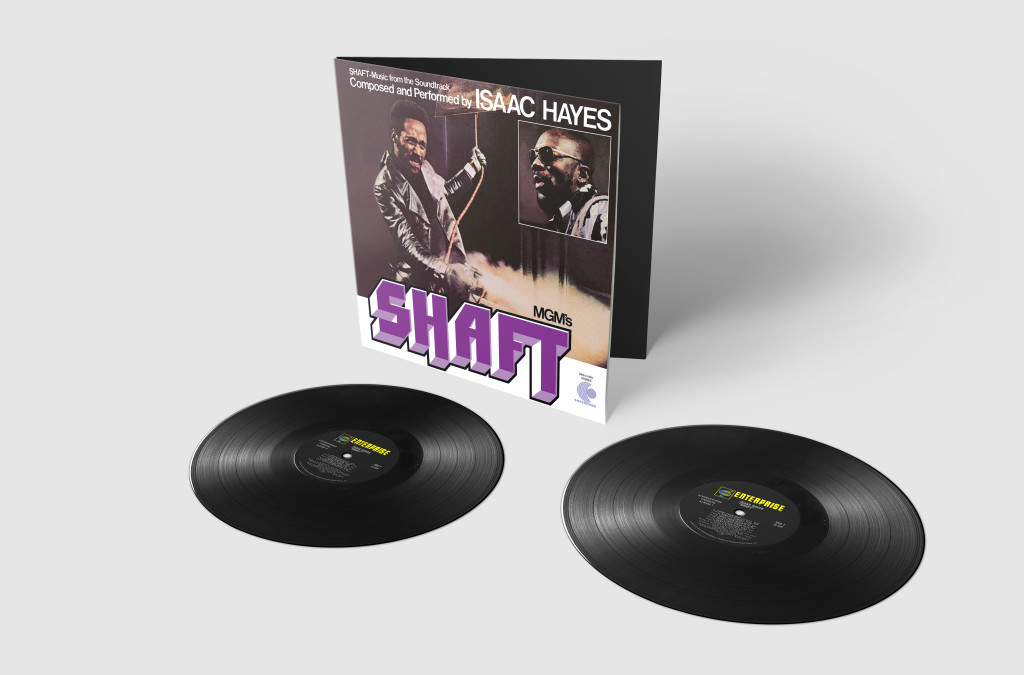 "Theme from Shaft" was so unapologetically Black, in its music and its language, that it must have been an utter shock when it was even nominated for Best Song at the 44th Annual Academy Awards in 1972. Hayes was also nominated for the film's score, an award he lost — but he did win the Best Song Oscar, making him the third Black Oscar winner and the first in a non-acting capacity. When Hayes performed on the Oscars, his gold-chain covered bare chest, bald head, and sunglasses made him look like the Hot Buttered Soul album cover come to life.
After the glory that is "Theme from Shaft," the album settles into a long series of instrumentals, most of which work as stand-alone pieces. There are also interludes about characters or events, usually paired with music. For Moses Gunn's character Bumpy, Hayes wrote "Bumpy's Lament" and "Bumpy's Blues" (respectively, a melancholy showcase for Lester Snell's electric piano and Johnny Allen's string arrangement; and a woozy blues shuffle showcasing horns, electric guitar and sax). The Village institution Caffé Reggio receives shouts, first with the tense "Walk from Reggio's," and its monster horn arrangement by J.J. Johnson ("Shaft's Cab Ride" and "No Name Bar" also benefit from strong charts led by Richard "Johnny" Davis). "Café Reggio" serves up a polar opposite, a song so mellow and smooth that it practically begs the listener to sink into a chair with a cup of joe and some good weed.
Since Shaft is a "sex machine to all the chicks," Hayes offers "Ellie's Love Theme," whose Lionel Hampton-evoking melody doesn't sound particularly sexy by itself, but it does add a charge to one of the film's sex scenes. And to prevent the long set of instrumentals from becoming too monotonous, there's also "Be Yourself," an immensely danceable ass-shaker.
So often in the 'real' Soulsville, religion becomes a salve, a Pyrrhic lottery ticket whose potential payoff of glory comes at the ultimate price of death.
On side three of Shaft, Hayes's voice returns for what is quite possibly the artist's masterpiece, "Soulsville," a track that provides the social commentary that rests beneath Gordon Parks's visual tour of 1971 Harlem. The lyrics of "Soulsville" evoke Curtis Mayfield, who Hayes would later cover on Black Moses, and the title describes not only the physical location inhabited by Blacks of the era but also the state of mind it engenders. The American dream doesn't apply for people of color — despite the forefathers' promises. "Black Man, born free…" sings Hayes over the track's blues-heavy instrumental, "…at least that's the way it's supposed to be."
"Soulsville" seems to say 'creep with me through my neighborhood,' as Hayes leads us through a litany of struggles, including drug abuse and rising crime. Before it can descend into hopelessness, however, Hayes adds an inflection of the gospel from which the blues sprung: "Every Sunday morning / I can hear the old sisters say, 'Hallelujah, Hallelujah / Trust in the Lord / He'll make a way'." So often in the 'real' Soulsville, religion becomes a salve, a Pyrrhic lottery ticket whose potential payoff of glory comes at the ultimate price of death. This spiritual interjection serves as a sliver of hope amidst ironic realism.
Hayes's third and final vocal appearance takes up most of Shaft's last side, in the form of the exhausting, 19-minute jam "Do Your Thing." In addition to providing the famous sample in Big Daddy Kane's "Smooth Operator," "Do Your Thing" ostensibly inspired every song Hayes sang on South Park: Without warning, the lyrics descend into the sexual, both times eliciting a naughty charge. "If you wanna make love all night / And you feel it's right / Right on!" sings the man who will be Chef. "But whatever, oh you do, you got to do your thang!" By the time the musicians start chanting the title, 12 minutes in, the listener can barely hang on for the final seven. The song ends with a distorted take on the NBC chimes before rudely imitating a needle scratch.
If Hot Buttered Soul serves as the blueprint of this trilogy, and Shaft its statement of authorial intent, Black Moses is an exploration of the work of Hayes's contemporaries — a covers album. These are the songs that spoke to him, that inspired him to send his own versions into the musical universe. It's here where the Isaac Hayes mystique cemented, starting with the fold-out cross of an album cover, which adorned many walls back in 1971.
Black Moses is a delicious lean toward the side of sacrilege, trolling those who'd have a problem with a depiction of a holy man of color.
The Craft remaster recreates this cover, which features on its front side a full shot of Hayes dressed in colorful, hooded monk garb, arms outstretched and welcoming. On the back is a shirtless Hayes covered in enormous gold dookie chains, arms out front as if grabbing the listener — the sinner behind the saint. The album sleeve that houses this double album is designed like the tablets Moses brought down from Mt. Sinai. The entire physical enterprise is a delicious lean toward the side of sacrilege, trolling those who'd have a problem with a depiction of a holy man of color. Henceforth, the "Black Moses" moniker would follow Hayes through his career.
Black Moses opens with actor Clifton Davis's Jackson 5 composition "Never Can Say Goodbye," which Hayes rightfully thought wasn't a song young Michael Jackson should be singing. This version of the song, the album's biggest hit single, is slower, more sensual, and definitely more adult. The snazzy background vocals provide a nice complement to Hayes's lead, and the weight of experience hangs heavy. This guy knows what it's like to be addicted to that bad drug called love; he's like the guy from "By the Time I Get to Phoenix," but before he gets the guts to leave.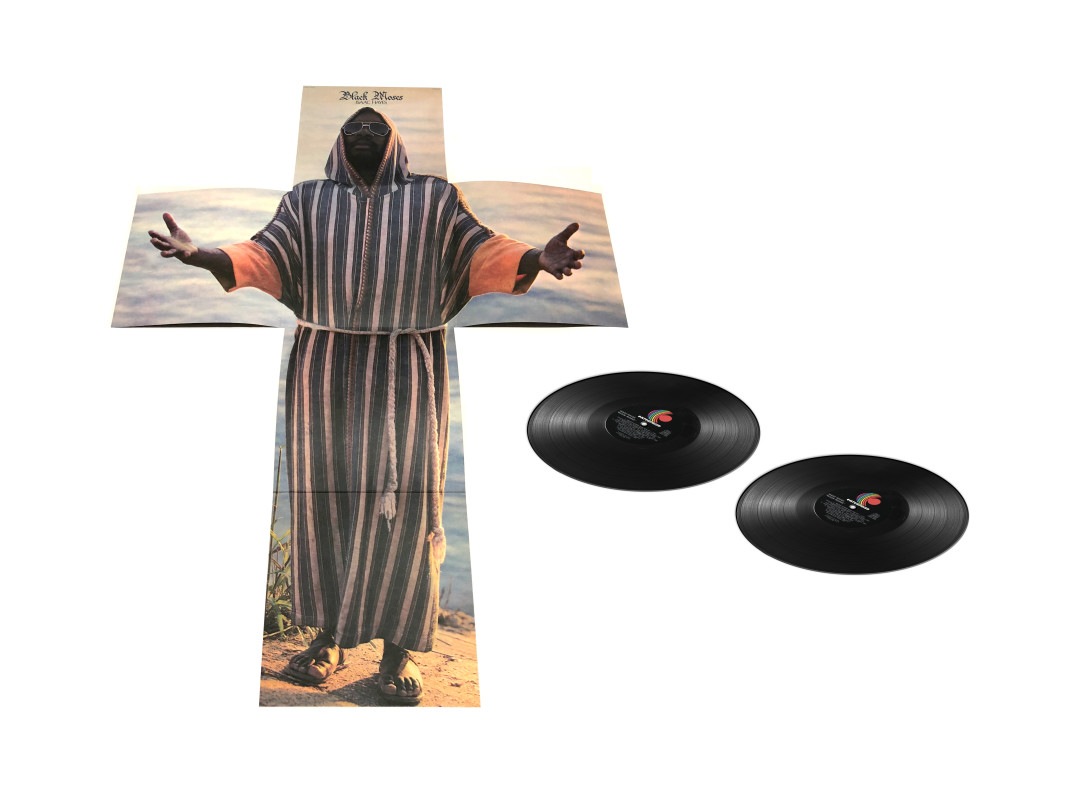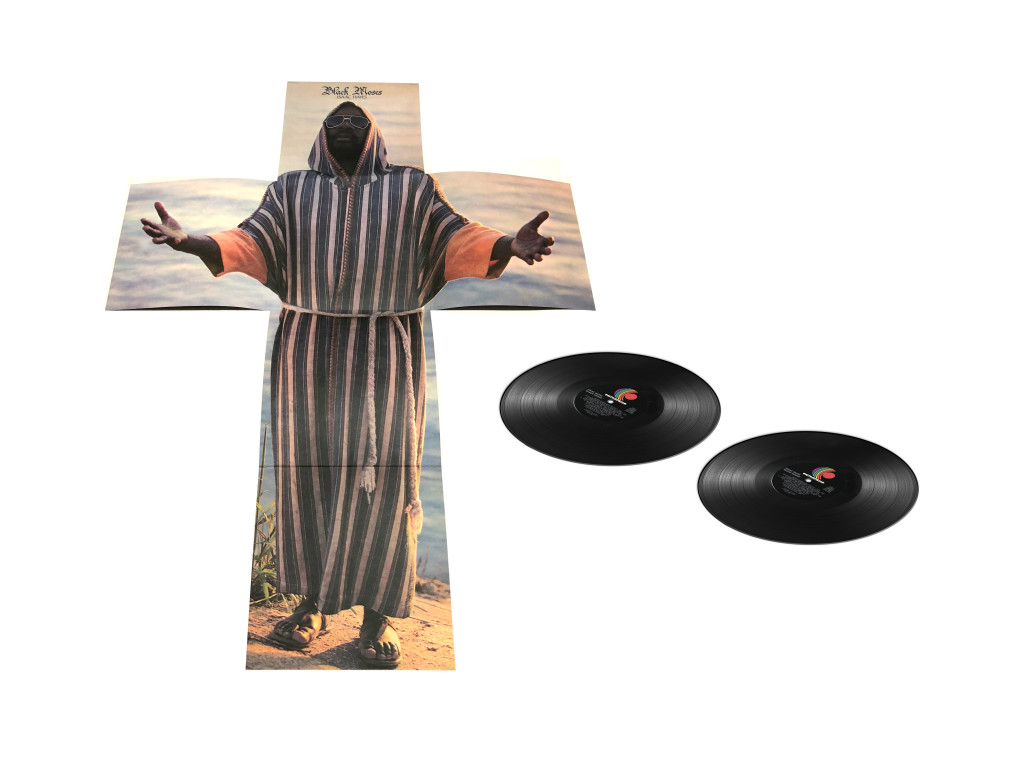 From here, "Black Moses" draws again on Bacharach-David with a nine-minute take on the Carpenters' "(They Long to Be) Close to You." The song benefits from a major injection of soulfulness in its arrangement; from Hayes's mellow vocal; and from passionate female vocals by "Hot," "Buttered," and "Soul." But it still can't completely escape Hal David's treacly lyrics, which may explain why said lyrics are judiciously dispersed throughout, rather than delivered all at once. Black Moses also honors Bacharach-David with a very slowed-down version of "I'll Never Fall in Love Again," originally from the Broadway musical Promises, Promises. Jerry Orbach's stage performance and Dionne Warwick's version both operate with a much faster tempo that, while more appropriate to the arrangement, doesn't convey the lingering exasperation of the lyrics as well as Hayes does. The prior versions want to hurry up and get past the feeling, while Hayes wants to simmer in it for a while.
Most of the other covers on Black Moses are by famous black singer-songwriters, including Philly's own Gamble and Huff; Chicago's Curtis Mayfield; and Louisiana's Toussaint McCall. Besides a fine seven-minute take on the Friends of Distinction's "Going in Circles," where Hayes exercises his falsetto a bit, Black Moses comes closest to a traditional remake with McCall's "Nothing Takes the Place of You." The anguish in McCall's original vocal, which is overwhelming, is mildly tempered by Hayes, but no less effective. If there's a moment on Black Moses that the newly heartbroken should avoid, it's here. Amusingly, the track after this is Mayfield's catchy excuse for cheating, "Man's Temptation" — suddenly, the listener doesn't feel so sorry for that broken man who'd just poured out his soul!
Unlike "I'll Never Fall in Love Again," which played up the sadness, "For the Good Times" downplays the misery — a rare misstep.
Hayes's performance of the Mayfield composition "Need to Belong to Someone" is even better — showcasing Johnny Allen's horn arrangement, Lester Snell's electric piano, and Willie Hall's drumming. The rest of the Isaac Hayes Movement gets to shine on "Part-Time Love," which has a dramatic arrangement that sounds like an outtake from the Shaft soundtrack.
On Gamble and Huff's "Never Gonna Give You Up," Ike's falsetto returns, this time in the background. Radically different from Jerry Butler's hit, Hayes adds strings and a different structure, supplanting the Philly sound with his own brand of Memphis Soul. Hayes also tries his hand at applying Memphis Soul to Kris Kristofferson's classic sad song "For the Good Times," though his take on that one would be completely obliterated in the canon of soul music just one year later by fellow Memphis legend Al Green. Unlike "I'll Never Fall in Love Again," which played up the sadness, "For the Good Times" downplays the misery — a rare misstep.
Hayes, the songwriter, injects himself between the covers on Black Moses through a series of "Ike's Raps," giving other artists' songs the spoken-word preface treatment, and setting the mood for what's to follow. These "raps" essentially serve as this entire Craft remastered set in microcosm, representing Hayes's storytelling, his skillful arrangements, and his flair for interpretation.