Thus begins InRO's Best Films of 2021 countdown proper. Below are films that ranked #21-25 in our year-end writer's poll. All films, even if we previously covered them, have been revisited with new words and new writers. Check back tomorrow for #16-20, and keep up with our full Best Films coverage (including our Honorable Mentions) all week long.
---
Credit: YouTube
25. Kanye With Special Guest Drake: Free Larry Hoover – Benefit Concert
"Say like The Black Album was like The Black Movie. So the soundtracks are like scores to scenes that's going on in the movie. This record ain't a record. It's a movie." This audacious sentiment, expressed by a young Kanye West to his label boss/mentor Jay-Z in 2001, is the most direct the Chicago visionary has ever come to comparing his musical output to the likes of cinema, an art form he has a lot of normie opinions about, but one he seldom seriously engages with. He's flirted with the idea of being a director of sorts before — "feelin' like Hype Williams" on "Illest Motherf**ker Alive" — yet this brazen energy (to be expected, given the source) has only ever properly manifested itself for the music video/short films "Runaway" and "Cruel Summer," the latter of which was exhibited at Cannes on seven screens in a custom-built pyramid theater. That is until we enter into the off-shoot realm of the "concert film," where West's artistic ambitions continue to push the limits of what exactly a recorded live performance can truly entail, even if he himself wasn't directly credited beyond star-billing. There's that never-released Yeezus doc, directed by the aforementioned Williams, shelved for undisclosed reasons, a grail for Yeezy fanatics who would salivate at the thought of their idol screaming through "Black Skinhead" while running across the stage; but his 808's and Heartbreaks one — filmed at the Hollywood Bowl in 2015 for the album's seven-year anniversary — gave us a true glimpse of what we were potentially missing. The show was this massively staged, multi-set production — one that felt more akin to conceptual theater than as a musical event — a clear predecessor to West's recent Donda listening parties and the closest fans had come to organically bear witness to the musician's creative genius emerge in real-time. 
Experiencing this ecstatic conception is perhaps the single greatest joy of watching the comparatively stripped-down (and also awkwardly named) Kanye With Special Guest Drake: Free Larry Hoover – Benefit Concert, which serves as both West's first live performance of any sort since canceling his Life of Pablo tour mid-way through 2016 and as a celebratory rapprochement between two long-beefing MCs (supposedly there's the whole "advocating for clemency on Larry Hoover's behalf" angle, but he's never once mentioned it outside of the title): to observe untapped potential operating at top performance, the key component required for any sort of grand spectacle. West casually tears through his wide-ranging discography — a body of work that "special guest" Aubrey Graham deems as "one of the greatest catalogs in music history, period"— with a frenzied, free-flowing ferocity (and some expert breath control!) as he traverses through his humble professional beginnings ("All Falls Down" and "Jesus Walks"), into stadium-status territory ("Good Life" and "Can't Tell Me Nothing"), and has him, yes, eventually running around the Los Angeles Memorial Coliseum's massive stadium screaming out the lyrics to "Black Skinhead," all with an energetic verve that the historic night's cultural significance had finally drawn out of him after all this time. Even though he is technically a co-headliner, Drake's appearance here could be considered "super special" when viewed on Amazon's streaming platform: his entire contemporaneous-inclined set has been curiously removed from the final cut (some licensing details, though he pops out at the end to do his part of "Forever"), making it even clearer how much this event was strictly a showcase for Ye, even from its inception. But defining this event solely by exhibitionist terms would be myopic, even a bit willfully wrongheaded; this show, as it stands, is the articulation of one man's nearly twenty-year career, along with his hopes and dreams, materialized into an ephemeral moment in time. Simply put, as West once elegantly did, it's a movie; nothing more, and nothing less. Paul Attard
---
Credit: Courtesy of Vivo Film/Maze Pictures/ Piano
24. Siberia
Siberia flaunts Abel Ferrara's enthralling and fearless devotion to a uniquely dynamic (and specifically filmic) form of psychological expressionism — an approach that is still at least modestly grounded in supplying bread-crumb details of narrative, which here means a focus on the spiraling soul of Clint (Willem Dafoe) at the far reaches of the world. The unknowability, and inaccessibility, of Clint's psyche serves both to intensify the impression of a man whose memories themselves are disintegrating and abstracting in tandem with his own grasp on physical reality, and more tellingly, to highlight the experience of disillusionment with his own identity. The latter schism also may represent the philosophical friction, and inevitable break, between this film's obviously Jungian zeal and its remnant Freudian pathology, as made manifest in many knotted sequences that process psychosexual urges, the way Ferrara vacillates between an engagement with elemental, primal/primordial influences and projections of the subconscious and the personal, emotional bonds that claw at Clint's mind even as their meaning to him seems to evaporate. 
Siberia is, to be sure, a weird film. But it's also an emotionally and psychologically impactful one whose ambiguities allow it to stimulate both our feelings and our intellect, in turn: the way the son of a surgeon's little-boy fears come back to haunt him in the form of infirmed naked bodies; the rush of love, carnality, and shame that washes over Clint during an encounter that blurs identification between different women who've long left his life. The film's most ecstatically moving moment comes when a shot of mysterious, invigorating joy accompanies Clint's manic, impromptu dance to Del Shannon's 1961 single "Runaway" — the song's haunted clavioline solo forever pitched between romantic devastation and the wildest of parties. Even the rosebud-strangeness of Siberia's ending brings a certain quixotic sense of comfort: some patent absurdism finally punctuating a fugue of barrenness and isolation. Sam C. Mac 
---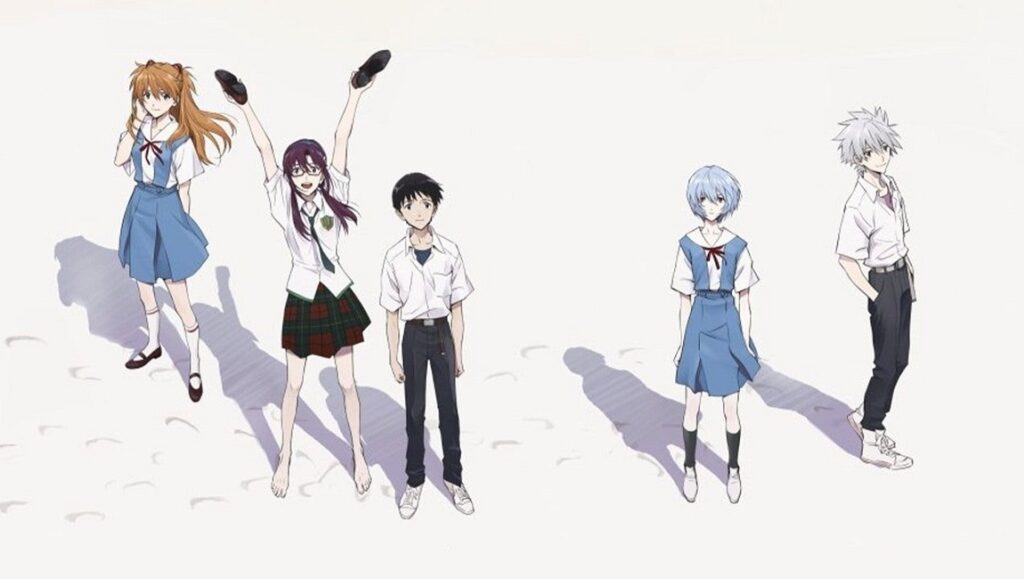 Credit: Amazon Prime Video
23. Evangelion 3.0+1.0: Thrice Upon a Time
After a gap between series entries wide enough to accommodate a live-action Godzilla flick, Hideaki Anno concluded his long-running mecha anime Neon Genesis Evangelion for a second time this summer with Evangelion 3.0+1.0: Thrice Upon a Time, the fourth and final installment in a series of film-length "rebuilds" of the original 1990s Evangelion story. Where that initial TV era (and its movie-length finale, the cult classic The End of Evangelion) ended its run with maximalist abstraction in lieu of, for example, the tidy resolution of its loose story threads, these rebuilds have clarified Anno's earlier aims, condensing the core narrative of humanity's struggles against itself and the extraterrestrial Angels, and extending it past the initial Evangelion run in daring fashion with 2012's Evangelion: 3.0 You Can (Not) Redo. Evangelion 3.0+1.0 – the longest Evangelion feature at 155 minutes — concludes this ambitious tale in appropriately grandiose terms, though this time Anno provides his characters with increased narrative scaffolding to work through (and experience anew) their respective traumas, and ultimately to transcend the cycles in which they have been trapped for 25 years. If the shift toward more straightforward catharsis seems an odd fit at the end of a franchise whose storytelling tactics (and release schedule) have long antagonized fan expectations, Evangelion 3.0+1.0 still retains the signature Evangelion brew of toxic psychology strained even further by having to fight giant monsters, weird and grand as ever in its gestures toward closure as it was scrambling the senses.
Evangelion 3.0+1.0 begins directly after the previous installment's stunning denouement, in which protagonist Shinji Ikari very nearly becomes a repeat Antichrist figure for what remains of humanity, and situates Shinji and his fellow Eva pilots (Asuka Soryu and a cloned Rey Ayanami) in Tokyo-3, a village on the frontier of the war effort. Within this tight-knit community, Shinji undergoes his requisite superhero rehab and rediscovers his purpose through renewed attachment to a shared human cause, one currently imperiled by the actions of his father (and Evangelion's pointedly isolationist antagonist) Gendo Ikari. Tokyo-3's grounded locale slots neatly into Anno's usual idealizations of mobilized municipalities, and helps to re-establish what is being fought for and by whom, setting up the stakes for an all-out assault on Gendo that requires individual ingenuity and collective effort alike to prevent another rapture-like event. The aerial combat sequences and Eva unit hero moments that follow are as extravagant as ever, though the sound and fury is ultimately a prelude to a fully deconstructed final Eva fight between Shinji and Gendo, which plays out across cityscapes, classrooms, and the physical set of the television show Neon Genesis Evangelion. This full tilt toward meta — which also posits the earlier Evangelion anime as a prior journey through events these characters are doomed to repeat — is perhaps fitting for Anno, whose supposedly tortured creative process has long seeped into the narrative of Evangelion. As his characters become liberated at the story's close, so too is Anno now free after the release of this capstone to the Evangelion project, at last able to set aside his definitive work and the earlier version of himself who first sketched it. Mike Doub
---
22. Malignant
James Wan's 40-million-dollar check, signed and sealed by a grateful Warner Bros. in recompense for the success of Aquaman, enables a continuation of his foray through what others have labeled a filmography of "fun-houses," geographical reimaginings that seek not so much to spook, but rather to conceive: to dream beautiful nightmares, and to configure labyrinthine narratives as unwieldy as the camera itself. Merrily along for this unhinged excursion is actor Ingrid Bisu, Wan's partner who devised the story/concept for the film, and cinematographer Michael Burgess, whose father, Don, shot Wan's Aquaman and The Conjuring 2 (not to mention a plethora of other popular titles). It's a close-knit group of artists who have come together in celebration of unearthly perversion. With a plot that scorns stagnation and requires a collection of credited body contortionists, Malignant contributes — to this hellfire year that is 2021 — a vivacious circus of psychophysiological entrapment, where death is as close a bond as the blood between family. That is, after all, what the film seeks as its thesis: the discernment of blood and what meaning it can hold, and if blood and family are, in fact, synonymous. But according to Wan's guiding hand, the film wears these themes like a slogan printed upon white T — this is not cerebral filmmaking, but more simply a reappropriation of didactic blockbuster aesthetics. Malignant employs that artificial sheen that viewers know all too well, and seeks to infuse it with an earnestness that is only ever witnessed anymore in the likes of a very few American auteurs.
Gabriel is the film's beast, a now Twitter-famous meme-ified sentience burrowed into the cognition of our protagonist, Madison. Gabriel's fleshy presence recalls the physical transmogrifications of the ghouls in a Fulci film, Giallo cinema being Wan's primary basket of influence. While the brash color temperatures are not hyper-present, during scenes in which our baleful menace makes rampage, stark red and blue flood the tableaux, along with enough mist to make Kaminski proud. Burgess' camera soars above and through architecture, gliding across rooms in a display of kinetics to match the unbridled spectacle of bloody violence that Wan choreographs courtesy of the hands of Gabriel, whether it be a single murder by way of excavated intestines or a full-throttled massacre through a police precinct. Wan and co. only hope that the vibrancy of this formal demonstration is enough to engage with on a denominator of fun, and yet there still is so much more meat on this bone; its delicacy is found in its scrupulous filmmaking and a certain narrative fluidity wherein fever-dream logic crisscrosses the melodramatic, punctuated, quite aptly, by a nu metal instrumental cover of the Pixies' Where is My Mind? In this way, Malignant is the year's most appreciable work of sentimental bombast, achieving a tenor the likes of which we haven't seen since the Wachowskis' went full space opera half a decade back. Zachary Goldkind
---
21. The Woman Who Ran
Hong Sang-soo's films generally fall somewhere between melodrama and farce, but to classify them as such is to no doubt essentialize them as what they are not — namely, works of bombastic emotional and thematic articulation. Instead, their modus operandi taps into life's extensive banalities to distill moments of little transcendent wisdom, both revealing and coyly concealing elements of desire and discontent left unspoken under the rules of social decorum. Another oft-employed adjective to describe the Hongian oeuvre is "autobiographical," immediately bringing to mind his more pronounced American counterpart Woody Allen. Yet this designation tends to mislead those with classical expectations of autobiography and authenticity; the director himself acknowledges the role his films have in "showing something of" himself, but also states, in no uncertain terms, that he's "never meant to make a film that represents [his] life".
The Woman Who Ran, his pre-pandemic return to the screen after a year-long hiatus (lengthy by his standards), maintains this preceding interpretation of Hong as a filmmaker of negative spaces and as a storyteller concerned with how the quotidian illuminates hidden depths to our private experiences. What appears to be a floating triptych later establishes itself as pivotal openings into the life of Gam-hee (Kim Min-hee), a married and ostensibly happy woman who reconnects with old acquaintances while her husband is away on a business trip. One's a divorcee, another a Pilates coach, the third the owner of an arthouse theater and wife of a renowned author, and we strikingly find that their lives are, on the whole, structured without the necessary figures of men. Those that appear are peripheral, their backs facing us; merely associated with rivals, threats, and in one particularly priceless scene, as a neighborly annoyance.
Deceptively slight, as with most of Hong's films, The Woman Who Ran probes further into the lives of women, and with greater sensitivity and narratorial economy (at just 77 minutes) than most directors hope to achieve through more elaborate setups. Its breeziness of form and function attests to an unwillingness for overstatement, but this same breeziness is calibrated with an air of unease all the same. A vacational respite from routine for Gam-hee is punctured with minor disturbances, their disequilibratory effects on the lives of her friends unconsciously being projected onto her. As the film's cipher, Gam-hee has her history and happiness illuminated by that of those around her, and where Hong eschews the bacchanalian loquaciousness of soju here, the conversations don't lose their intrigue by virtue of their variety. We're not told who exactly the titular woman is, but it's not hard to guess. Morris Yang