The Last Word from Your Editor, Sam C. Mac: With the 2010s officially over, the time seems right for another departure: after 12 years (with a small break in the middle), I'm stepping down as this site's Editor-in-Chief, to be succeeded by co-founder (and unapologetic Iron & Wine-lover) Luke Gorham. I don't plan on getting too personal here, but I do want to say that, as long as I've been an adult, InRO has been my baby. And so it does seem kind of fitting that, only now — as my wife and I prepare to welcome our first child, in just a few short weeks — do I finally feel ready to let that responsibility go. Of course, I couldn't leave without first rallying the troops, past and present InRO writers alike (and there are plenty of names here that haven't graced these pages in years), for one last round of painstakingly assembled lists. Over the next week, InRO will finally unveil its picks for the Top 100 Films and the Top 50 Albums of the Decade — showing up late for that party, obviously, but in these abominable times, it never seems like a bad idea to celebrate art that deserves it. The ideal decade would have probably brought both an abundance of great works and an agreeable environment in which to enjoy them. The 2010s got exactly half of that equation right.
---
25. It's rare when popularity and talent are able to sync up quite this perfectly: With Lemonade, Beyoncé continued to prove her dominance not just as a pop-star, but as one of the finest recording artists working in the music industry today. Queen B's 2016 album takes up some of her established tropes of success (surprise release? Check. Visual album? Check.), but also continues to push the limits of her forward-thinking sound. From the country twang of "Daddy's Lessons" to the bombastic electric guitar of "Don't Hurt Yourself," Beyoncé's multifaceted sixth album combines the anger of betrayal with the power that comes from a desire for liberation, blending all its emotions together to craft a grand manifesto on black womanhood in the 21st century. There's a surprising vulnerability to the openness of feeling that Bey allows for here, letting all the secrets and lies pour out in a fury of rage ("I don't wanna lose my pride, but I'm a fuck me up a bitch") and hopelessness ("What's worse, lookin' jealous or crazy?"). And the result is as bold a personal statement as it is a political one. Paul Attard
---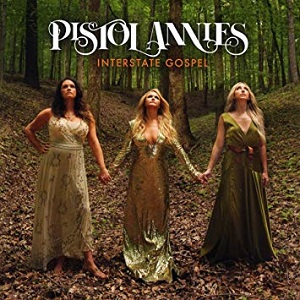 24. The ladies of Pistol Annies continue an exceptional streak with their Interstate Gospel, which opens with an interlude that introduces the theme of this set: "This interstate gospel is saving my soul." All three ladies have gone through major changes since their last album together (Lambert with her divorce from Blake Shelton, Monroe with the birth of her first child, and Presley, newly pregnant with her second). Naturally, the songs here all find the Annies reflecting on the choices that women make: The women of "Best Years of My Life" settle for less, while those of "Milkman" lament their mothers' tameness. Never do these sentiments feel treacly or preachy, as in many a modern country narrative; instead they always feel authentic, even if the production occasionally drowns-out the stunningly expressive vocals of the three ladies ("Stop Drop and Roll One" being most culpable). What never fails the Pistol Annies is the relatable imagery found in each of their songs, which is especially true of "Masterpiece," a song written and sung by Lambert, and which includes the lyrics "Baby, we were just a masterpiece" and "Once you've been framed you can't get out" — followed by the striking challenge of "Who's brave enough to take it down?" The song could be applied to the dissolution of any perfect-seeming relationship, though it would be hard to make a case that it isn't about Lambert's high profile marriage to Shelton. The song also offers some insight into Lambert's thoughts on her relationship — did she stay for the sake of keeping up appearances, or was there more? Not that hers, nor any of these ladies' personal lives are any of our business — but damn if their experiences haven't provided them with some terrific material from which to draw on. Stephen Eisserman
---
23. "Hopped out my mothafuckin' bed / hopped in the mothafuckin' coupe" — Barter 6 begins with a declarative equally as memorable in delivery as it is ridiculous in content. Thus, this couplet is also the perfect encapsulation of Young Thug and his considerable abilities as a rapper. The rest of Thugga's 2015's "retail mixtape" (whatever)/unofficial debut album continues a trend of absurdist articulation, from the elongated "skrrrrrrrrrrrrrrrt" adlib on the chorus of "Check" to the whimpered mutterings that close "Never Had It" — all set to a murky, minimalist production courtesy of London on da Track and Wheezy. There are good lyrics ("she gone get a clip, bigger than a porn star dick"); there are great lyrics ("If cops pull up, I put that crack in my crack / or I put that brack in my brack"). Which is to say that what makes Barter 6 so special is that it's Thugger just being himself: constantly pushing against the edges of his perceived capabilities as simply a 'rapper' and modulating his voice to fit any scenario. And if we were to simply examine those abilities on a strictly technical level, tracks like "OD" and "Can't Tell" showcase a chameleon-like ability to fit into any desired cadence that most 'conscious' artists could only dream of. While Thug would continue to develop his performatively off-kilter 'brand,' intensifying its excesses, later in the decade, everything we need to know about one Jeffery Lamar Williams was already presented to us here. If anything, we're lucky he was so generous. Attard
---
22. One of the decade's best pure pop albums was most notable, way back when it was released in 2011, for putting Beyoncé's blandest work to date in the rearview — remember Sasha Fierce? — and for, simultaneously, bucking a trend toward the kind of lazy retro-fetishism that was so in vogue at the start of this decade. 4 shows, refreshingly, Bey's willingness to actually update classic genre formulas, absorbing afrobeat, disco, and funk into the artist's otherwise relatively minimalist palette of synthesizer ballads and glitchy electronic stompers. In short, 4 displays Beyoncé's reverence for popular music's past — particularly the evolution of R&B, as it's been articulated in the music of the last half-century — while also managing to never feel less than contemporary. Even more exciting, 4 is just a total joy to listen to, in terms of a vocal versatility flex: the soon-to-be baby bumped Bey bursts with love for her (Jigga) man, caterwauling herself raw on "Best Thing I Never Had" (where her voice quivers and cracks over a song that might otherwise scan as mere bitter kiss-off) and cooing a distinctly feminine flip-side to D'Angelo's "Untitled (How Does It Feel)" on the gorgeous "1 + 1." Beyoncé probably made more consistent — and definitely more ambitious — albums this decade, especially as her loving relationship hit the skids, but the open-hearted warmth and resonance of 4 captures a specific and fleeting moment in her career when the breadth of her artistry didn't eclipse the emotional accessibility that makes great pop. Sam C. Mac
---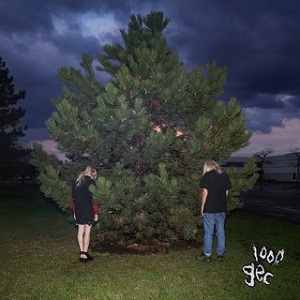 21. 100 Gecs makes music that dares the listener to hide behind snobbery. Every song is designed to make your parents scoff, as if Gecs masterminds Dylan Brady and Laura Les exhumed the corpses of every embarrassing pop trend of the collective millennial youth and stitched them together into a shrieking, vengeful freak femme Frankenstein. The duo's 2019 collection comes with an appropriately high voltage title (1000 Gecs) and comprises 10 tracks in 23 minutes; the punkiest record released since, like, Yeezus. And as was the case with Mr. West's opus, 1000 Gecs is an exercise in leaning in to outsized pop persona(s) and bathing in the simulacrum of contemporaneous culture. But whereas West (and just about any and every rapper) luxuriates in self-referentialism, Gecs buries the self amidst their sonic reference points, asserting pop culture curation as personality. This is to say that Gecs are their music; there is no need to delve deeper into who they are, for they have spewed it all out into a digital file. The video for album single "Money Machine" purposefully obscures Brady and Les's faces via digital effects, and some glam metal-esque (or Willow Smith-esque) hair whipping. Even the album cover only shows the pair's backs to the camera, the figures leaning towards a bush — like that Homer Simpson gif in reverse. This isn't a confrontational choice, but an act of solidarity between artist and audience, an invitation to indulge, with them, in everything we were told not to like. Indeed, the Gecs project seems eager to decentralize musical auteurism — but Brady and Les's music never reads as preachy or condescending. There is no irony here, no smirks; 'uncoolness' is a merit, not just a new pose. Gecs borrow the syntax of rap music, while swapping in their own gonzo boasts and threats, a very literal display of the mental processes that allow us to see ourselves in the music of others. One could imagine how this approach might result in tasteless parody. But Gecs are already starting from a place of "tastelessness," a position that allows them to engage their imagination in daringly dumb ways. One song will sound like Sleigh Bells, before the distorted vocals morph into death metal pig squeals; another will fuse trap, cartoonish Ariel Pink melodies, and Deadmau5-style dubstep. The duo update Reel Big Fish via Fred Figglehorn-sounding vocals and the guitar riff from the song Matt Damon sang in Eurotrip. Each component on 1000 Gecs seems crafted to provoke a wave of queasy recognition that, eventually, blossoms into joy. It's a compilation of songs that feel like cruising through an iTunes library, in the era of the 99 cent single. Gecs understand that the nostalgia machine is moving faster than ever, and they're not looking to disrupt it — they're figuring out how to steer. M.G. Mailloux
---
20. At the time of its release, Frank Ocean's near-universally acclaimed 2012 debut album, Channel Orange, played more like a spilling-over of ideas than a coherent, cohesive whole — essentially a dozen-or-so tune-miniatures, some brief vibe-shaping interludes, and the anchoring lead single, "Pyramids," which has at least a beefy EP's worth of sounds and stories stuffed into its fluid 10 minutes. The sum of all this is far less songful than Ocean's buzzworthy 2011 mixtape, Nostalgia, Ultra, in part because that release's grooves benefited greatly from foundations built on the interpolation of other writers' indelible melodies (Coldplay's "Strawberry Swing," the Eagles's "Hotel California"). There are no covers on Channel, Orange, and to date this is Ocean's only release about which that can be said. There aren't many really recognizably recycled musical motifs here either (the "Benny and the Jets" keys on "Super Rich Kids" being an exception). And so, in retrospect — unburdened of the pop expectations that some of us saddled it with after Nostalgia, Ultra — Ocean's breakthrough is arguably even more impressive in 2019. Admittedly, Ocean's very-delayed follow-up, Blonde, is the more mature and accomplished of his works, both sonically and in terms of the singer-songwriter's equal-parts impressionistic and acutely observational lyricism. But Channel Orange is album-as-sandbox, and if its eclecticism sounded appealingly ahead-of-its-time in 2012, it feels wholly unique now. The musically progressive moment that R&B enjoyed in the early 2010s really reached its zenith here: the luxuriantly funky "Sweet Life" rubs elbows with the avant garde-orchestral and spoken-word experimentations of "Sierra Leone"; the boundlessly ambitious two-act play "Pyramids" (one more reason we can forget about "Trapped in the Closet") precedes the four-on-the-floor absolute jam, "Lost." Also only more engaging with time are Ocean's labyrinthian lyrics, which contort themselves into double- and triple-entendres ("I close my eyes and feel the crash"), elaborate metaphors (the doubling of "Pyramids"), and linear story-songs eloquently anchored by twinned emotional vividness and Big Theme statements  ("Bad Religion"). It's clearer with every release that Frank Ocean is a one-of-a-kind, uncategorizable artist — and this is the release most emblematic of that. Mac
---
19. Leave it to Dan Bejar to inject into the indie world's continued obsession with the 1980s a welcome dose of sincerity — and with the assist of some of that era's cheesiest and most potentially ironic signifiers. Bejar's ninth album as Destroyer isn't an instructive answer nor a critical retort to this trend, rather, Kaputt is another swerve in Bejar's long and winding artistic road from acoustic lo-fi (1998's City of Daughters) to restless midi-experiments (2004's Your Blues) to studio-finessed indie-prog (2006's Destroyer's Rubies). With that in mind, this album's slow-mo sex jams seem rather logical. Kaputt also followed the longest drought of Bejar's career as a solo artist; all of a sudden, it had started to seem like the man known for his cumberous lyrical regurgitations may have been at a loss for words. And yet, never does Bejar's flirtation with the immediacy of early-'80s cheese-rock translate into a crutch for flimsy writing; his lyrical approach on Kaputt is as structurally ostentatious as ever, a playful confrontation of the pop song form that reimagines its tenets as malleable and borderless. The songs on Kaputt are intently drawn, deliberately polished, and totally sincere — a modern soft-rock updated liberally but reverently, with the wisdom that irony is a cop-out to enjoying the spectrum of music's capacities. The softcore porny sax of opener "Chinatown" sets the table, Bejar suavely announcing his return, mantra-like: "I can't walk away / You can't walk away." He's echoed by Sibel Thrasher, whose full-bodied delivery provides a nice contrast to Bejar's sharp and ever-more-nuanced phrasing. It's important to realize and appreciate that Kaputt is one of the only Destroyer records where the music isn't subservient to the lyrics; it's equally possible to glean enjoyment from the chintzy dance undercurrents of "Savage Night at the Opera" and "Song for America" as it is to hunker into the labyrinthian, self-referential scribblings of "Blue Eyes" and "Kaputt." It's not all smooth jazz and blithe come-ons, either: Eleven-minute closer "Bay of Pigs (Detail)," infuses a lite-disco clap-bounce into Kaputt's coke-sheen'ed ambiance. Bejar never forgets the night-club jams leading from dance floor to bedroom. Kaputt just also happens to hold-up as well between the sheets as it does under the close scrutiny of headphones and reading lights. Jordan Cronk
---
18. The trend of reunions and reconvenings of celebrated music acts that seemed to reach its apex in the 2010s really culminated with a handful of albums no one ever expected to see: We got a new Avalanches, the return of D'Angelo, and perhaps most surprisingly of all, A Tribe Called Quest double-album. We Got It from Here… Thank You 4 Your Service's arrival was a little different than those others in the sense of its unavoidable finality: We lost Phife, and we'd already received assurance from Q-Tip that 'this is it.' There have been so many bad choices made this decade, but Tip's is one of the most perfect: Tribe could never continue without Phife, and anyway, they were putting out the work of any of their lifetimes. Sure, yes, Low-End Theory and Midnight Marauders are classics of the rap form — We Got It from Here is still better. To whatever extent the impact of Tribe's indelibly playful and sharply socio-conscious raps was blunted by the loose jazziness that their earlier music always marinated in, those concerns disappear here: all 16 tracks reverberate with an assertiveness that, at least in its totality, is new for Tip and crew, from the sonic collage effort of "Solid Wall of Sound" to the squiggly beat of "Kids…" to the gorgeous and soulful paeon to Phife, "Lost Somebody." And then, sandwiched between the unimpeachably grooveful "Whateva Will Be" and the high-concept, sample-littered opener "The Space Program" is 2016's Single of the Year: "We the People," which sounds as palpably angry about, and disenchanted with, modern times as the rest of us. Listening to the song has always been bittersweet, knowing that Tribe had obviously hoped that "we the people" wouldn't be so foolish as to elect a man who would nod approvingly at the song's lyrics about Mexicans and Muslims deported en mass. But "We the People" is an essential gut-check, a reminder of just how bad things can get — how bad they have gotten — when you don't care enough to do something about it. Q-Tip's dejected vocal, as he rattles off topics like gentrification and a dumbed-down media culture, is meant to do the opposite of how its scans on the surface — the disaffection in his voice is supposed to, in its chilling implication, galvanize the listener. But the song isn't just hectoring, either — it's a cathartic form of commiseration. There have been a lot of albums from this decade that have understandably embodied the state of things through acts of totality: the righteous rage of To Pimp a Butterfly and Black Messiah, in particular. But the world's last Tribe album is something a little different, a kind of quiltwork representing the decade's exhilaration and devastation push-pull; its hope and hopelessness; the impulse to give up on the world and the desire to transform it. This is the death of A Tribe Called Quest, and the deliverance of what will stand as the group's masterpiece. Mac
---
17. The notion of art as a container that (advertently or not) comments on or reflects its own making is more prevalent in cinema discourse than music discussion, but Mount Eerie's A Crow Looked at Me is the rare example of a record that positions its own conception — and specifically, the hours and minutes spent creating it, the instruments used, and the room it was recorded in — as a principal subject. On only the second track ("Seaweed") of this chronologically-recorded taxonomy of songwriter Phil Everum's grieving process following his wife's death from cancer, there's a time stamp: "You have been dead eleven days." Between this and the ninth track's "three months and one day after you died," Elverum's shattering collection charts, in something like real-time, the molasses-paced rehabilitation of a mind consumed by disbelief and desolation. It's a compendium complete with names and facts, stark details about declining health and cremation, and po-faced inventories of the songwriter's immediate domestic surroundings: a bathroom garbage can filling up from neglect, packages of mail received too late, an open window in the boudoir of the deceased. Not for the faint of heart, to be sure, but one of the remarkable things about A Crow Looked at Me, beyond the fact that it exists at all against such odds, is that it's a work of supreme technical and compositional confidence, with Elverum writing and producing entirely solo, departing from the dense atmospherics of recent Mount Eerie offerings, and honing his own elegant, intimately skeletal brand of Americana. Carson Lund
---
16. Consider a now-pretty-famous lyric from Carly Rae Jepsen's smash debut single. No, not that line, but this one: "Before you came into my life / I missed you so bad." We can just as easily apply that sentiment to Jepsen's considerable presence in the contemporary pop music scene. After all, what was 21st century pop music before Carly's fun and buoyancy was introduced into the fray? Bringing back the vibrant, candied pop confection that willed teenage girls to sing into their hair brushes, in front of full-length mirrors, Jepsen has not only set the standard for seemingly disposable but secretly very savvy mainstream relationship narratives, she's done it with the type of ragtag, fickle innocence of a circa-1985 Madonna. Now consider a line from E•MO•TION's best single: "Over the weekend, we can turn the world to gold." Jepsen, deconstructing the impetuous desire of young love with an uninhibitedly euphoric delivery, seems to think that anything is possible — and on her very best album, we tend to believe her. Calum Reed
---
15. Joanna Newsom had well demonstrated a predilection for doing things differently by the time she released Have One on Me ; she somehow transfigured her harp into the sound of myriad instruments on The Milk Eyed Mender, and she showed a deep understanding of how to meld baroque composition and more intimate pathos with the long songs of Ys. What's striking about Newsom's 2010 opus isn't that the artist shuns that kind of complexity, but rather that she orchestrates it with such targeted purpose. Even through more chaotic moments, Have One on Me tends to let each instrument speak with an individual voice: "Occident" becomes a kind of disciplined duet between piano and drums, while "Baby Birch" relies, with a galvanizing intensity, on Newsom's central soprano, which cracks at its limit (nodes on the singer's vocal chords forced her to change how she sung) and amounts to an affecting story song-as-elegy. After seven minutes of this minimalism, though, the song's transcendent bridge spills Newsom's words out over a rumbling blues band — a pointed release, and a devastating one, especially when you know that "Baby Birch" is about Newsom's miscarried child. There's a lot of sorrow on Have One on Me: "Hey, hey, hey / The end is near" Newsom sings at the start of the second, of three, of this album's discs (a line all the more crushing as it comes on the heels of "Baby Birch"). This sense of doom gradually creeps into otherwise plucky arrangements — and, by the third disc, Newsom seems emotionally spent (much like the listener does). Towards the end of Have One on Me, the songs start to sound more like the intricate Ys, only more exhausted, dragging out toward a painful oblivion ("Kingfisher"). Newsom's epic excels at this kind of gesture; it's a rich and dense tapestry of heavy emotional experiences. Joe Biglin
---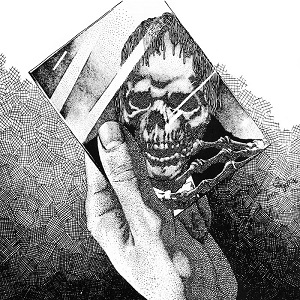 14. One of the major stories in experimental circles at the beginning of the decade was the rejuvenation of the Editions Mego label, an imprint which (as simply Mego) helped popularize laptop-based electronic and drone back in the early years of the aughts. Releases on Editions Mego marked a bit of a departure from their old ways, specifically through an influx of accessible synth music that served to entice some curious ears less accustomed to the extremes of a more underground electronic music. Emerging as the de-facto leader of that movement was Daniel Lopatin, aka Oneohtrix Point Never, a Brooklyn-bred vintage synth enthusiast whose steadily growing discography may have reached its culminating point with 2011's Replica. The album is a rare bird: an aesthetic concept record so seamlessly constructed that its technique becomes secondary to the visceral response its sounds provoke. Sourced from vintage instructional videos and '80s television commercials, Replica sounds, on paper, like a potentially kitschy exercise in recycled pop culture ephemera. But in the hands of Lopatin, those fragments find new life, re-appropriated and reconfigured into the form of a dialogue between artist and raw material. Lopatin also experiments quite a bit with drone music on this album, but his drones are especially enveloping; they build not only skyward, but sideways, across fresh and unexplored terrain, mutating outward through stray bouts of percussion, chamber piano, and left-field vocal edits. Lopatin sculpts melody from the everyday, severs connotation from experience, and conflates nostalgia with evolution. Absent of any self-explanation, Replica is an oasis at once familiar and foreign — a New Jerusalem built with tech, but featuring generations of human voice. Cronk 
---
13. Kendrick Lamar assuredly carved his name into the halls of the rap music GOATs this decade, from the powder keg that was Section.80 to the intellectual opus of To Pimp a Butterfly and the repentant prayers of Damn. — but few can deny that it was Good Kid, M.A.A.D. City that made K.Dot, well, the Kendrick Lamar. This album, despite clearly being structured as a single narrative, is never too much of one thing — it's a balancing act of conflicting voices, as represented through the complex tonalities that Lamar creates. "M.A.A.D City" is a prime example: first a sing-song taunt that simultaneously does some table-setting ("If Pirus and Crips, all got along…"), the song then incorporates a menacing, pitch-shifted riff and becomes an interrogation ("Where your grandma stay?"), before, finally, a desperate yelp acts as an expression of self-defense. And this is all in just the first 30 seconds of that track (a string of delirious stylistic change-ups that feel far less non-sequitur than some of the decisions on To Pimp a Butterfly, if you ask this writer). Kendrick's gift for conceptualizing his music really comes together, though, on "Money Trees": a breezy Beach House sample paired with a strange sense of levity in Kendrick delivery as he recounts a tragic story ("Two bullets in my Uncle Tony head"). The calm is chilling, almost surreal — so easy is it to take for granted Kung Fu Kenny's more gonzo interests. Frequent collaborator Anna Wise's bridge, then, plays off Kendrick's tonal logic, introducing a psychotic, hood-rich Greek chorus whose silliness contrasts the direness of a featured Jay Rock verse. What he's doing here is illustrating fiction in juxtaposition with reality, and the uncanny values that we find in our world — the complexity of the proverbial "Good Kid." But ultimately, despite the facility with complex technical flows and ability to execute big ideas, Kendrick's signature is the simple, compelling power of his words, and Good Kid, M.A.A.D. City has us hanging on every one. Biglin
---
12. Grimes rode into this decade looking like the savior of pop music and (now known as "c"?) came out the other side positioned as a total villain. In-between then and now was Art Angels, an album that Claire Boucher now describes as "a stain on her life." At the time of its release, Art Angels was viewed as an assured success for an artist who had been expected to falter under the heavy public scrutiny that followed her album Visions, which proved wildly popular with music blogs. The music media maintained an ugly sort of love/hate relationship with Grimes, reviewing her music reverently while using her social media musings to generate headlines that painted her as a dummy. These tensions culminated in the termination of the album originally designed to follow-up Visions, right after dropping a single, "Go" (which may or may not have been the lead single for said scrapped album, and which was widely rejected by critics and audiences alike). Grimes has stated that the two incidents were unrelated — and yet, the demise of that album birthed Art Angels, a hyper-artificial electronic dance-pop record that conceives of the musician as in combat with a fanbase and an industry that behaves a lot like an abusive partner. The album is ingeniously constructed, a deeply resentful work that examines the artist/audience relationship through a sadomasochistic lense and also, in effect, acting as an olive branch. It was the album we wanted, but the lyrics condemn us for it. That said, Art Angels is not purely a work of bitter irony, but a celebration of the potential of the pop music canvas. Grimes may have felt boxed-in when making a certain type of album, but within that she transcended gender, species, reality, etc. The artist's freedom cannot be achieved without sacrifices to its audience — few albums capture this so well. Mailloux
---
11. One minute, Frank Ocean's follow-up to Channel Orange was a hypothetical object of intense online speculation; the next, it was real, or at least as real as an album can be now: barely existing in physical form, only available to hear as supplement to a limited-run art magazine or via digital subscription service. The stream is a fitting format for Blonde's lush torrent of deeply felt ephemera, which finds the artist formerly known as Christopher Breaux doubling down on his breakthrough's fragmentary nature; he moves further from song structures, beats, and linear storytelling toward a fluid consciousness, winding through poolside convos, cheap vacations, and saved voicemails. The music is largely ambient, beautiful, meticulously textured, and characterized by a narrative voice that slips boundlessly back and forth in time and between memories and dreams. Channel Orange opened with the sound of Ocean coming home and firing up his old Playstation console. But on Blonde's gutting, late-album track "Seigfried," Ocean raises his voice to cry, "I'd rather live outside!" This album seems to live outside of everything: narratives that music media would like to pin on him, expectations of fans, labels, genres, and other defined forms. In a New York Times interview, Ocean likened his approach to "collage or bricolage…We're not telling the stories to ourselves, we know the story, we're just seeing it in flashes overlaid." On Blonde, these flashes are abundant yet fleeting, even mystifying; always dazzling. Alex Engquist
---
10. Acid Rap lays out everything you need to know about Chance the Rapper right in the intro: eminently joyful, a little madcap, and familiar but somehow also fresh. The kid who came up slanging copies of his promising (if sloppy) 10 Day CD in high school not only polished-up and professionally layered his sound, but also developed the character of an assured, and opinionated, artist. In terms of musicality, Chance's vocal pyrotechnics on Acid Rap — highlighted, always, by his overzealous ad libs — allow the rapper to switch modes on a dime. "Paranoia" alternates between gentle croon and spoken-word lament before the beat change-up transforms Chance's verse into a lullaby. And, importantly, there is a certain looseness to this approach that never feels calculated. The nasally timber of Chance's voice, combined with his playful diction and propensity for improvisation, defines the childish antics of songs like "Juice," while then pivoting to a more sobering emotion on "Lost." The loose inspiration of LSD has some relevance to the composition of this album: disparate musical ideas bleeding into each other and shapeshifting into something else. Combining those psychedelic inclinations with a knack for pop songwriting ("Cocoa Butter Kisses," "Pusha Man," "Favorite Song") made Chance a real threat. The man born Chancelor Bennett really demonstrated an ability, and a willingness, to ride any wave; the future seemed bright, even overwhelmingly so. But too often we get lost anticipating the future of a "great" artist instead of appreciating what they give us. Like The College Dropout before it, this is a superstar release from someone yet to be dubbed a superstar; that's part of its charm. Biglin
---
9. 9. Despite never attaining blockbuster status in the U.S., Robyn's influence can still be seen in many domestic pop artists who have. But no one could replicate the dancey transcendence that is 2010's Body Talk. From the bawdy, bizarre Snoop Dogg duet "U Should Know Better" to the relatable "Don't Fucking Tell Me What To Do" and the unimpeachable duo of singles "Dancing on My Own" and "Call Your Girlfriend," the fifteen songs that make up Robyn's album are all distinctly identifiable in their own right, and yet cohesive as a set; also, melancholic but infinitely catchy. The sparkly and spacey synth that's used throughout this album is almost absent in today's pop music, yet Body Talk's slightly dated sonics only make it a more fascinating encapsulation of Robyn's career; her next album, the equally groundbreaking and entirely different Honey, sees even her completely ditch the Europop she perfected for a more atmospheric and toned-down electropop. Could Body Talk be a work so definitive that no future entries need be added in its genre canon? "None of Dem" and "Indestructible" point toward yes. No album of the 2010s evokes the early years of this decade as sincerely as Body Talk—and it's a blast, from the first song to the last. A time capsule of pop classics by a peerless icon. Tanner Stechnij
---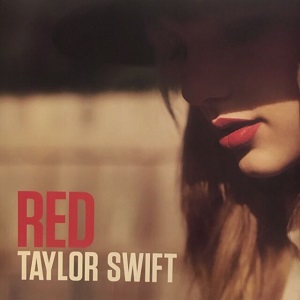 8. You remember it, all too well: That moment when Taylor Swift perched herself precariously on the precipice of pop, daring to leave behind the genre that made her its biggest star of the era, but not quite ready to take the leap. It wasn't really an unprecedented move; you can compare Red, on a lot of levels, to Shania Twain's blockbuster Come Over, another effort to unbind country from the demographic limitations of its audience. But Swift's gamut is ultimately bolder: Red's 16-track setlist includes a handful of songs with no readily identifiable country signifiers — and two of those were its singles. Those songs, though, are nestled in-between the kind of detail-oriented singer-songwriter fare that proved Taylor wasn't willing to cede an inch of her claim to the title of one of her generation's most gifted wordsmiths. In fact, Red notably includes nothing less than Swift's finest hour as a lyricist: "All Too Well" turns a tucked-away garment into a veritable Chekhovian object, generating an inevitable narrative from its unseen presence. No one in pop in 2013 (or now) was writing like this, and that made Swift's drift away from country an easier pill to swallow. In the ensuing years, the balance between Taylor Swift the popstar and the accomplished songwriter has been more wobbly, but no matter: we'll always have Red — in a drawer somewhere, perhaps — as a reminder of when it wasn't. Mac
---
7. Having already navigated through baroque pop, orchestral, and electronic music, Sufjan Stevens returns to his mellow folk roots on Carrie & Lowell, even as he judiciously incorporates elements of experimentation. He's likewise stripped away much of the obliqueness that has defined the self-reflective lyricism of past efforts; instead, he rends his psyche wide open, intimately cradling the listener as he whispers of his struggles with feelings of familial emptiness, self-destructive tendencies, and suicidal ideation. Patient strings and the spectral voices of guest vocalists add to the album's haunting melancholy, but unlike on previous albums, Stevens's considerable musical prowess proves intentionally complimentary here to his lyrical transparency. Where Stevens has consistently wrought complexity from poetic inexactitude, with Carrie & Lowell he instead delves into the murkier and deeply personal realm of emotional inexactitude, an expression of self that is both heartbreakingly felt and demonstrative of his considerable growth as a person and an artist. Luke Gorham
---
6. "You oughta spare your face the razor / Because no one's gonna spare their time for you." "Though we live on the New York dollar / You and me we got our own sense (cents) of time." "You take your time / Young lion." Young indie band obsess over capital-T time — sounds tedious. But with Vampire Weekend, the biggest obstacle to enjoyment has often been getting over reflexive judgements (the name of both the band and this album, Modern Vampires of the City, for starters) and the reward is considerable. Here it's the joy of a budding, brilliant wordsmith engaged with the ticking clock as constant reminder of that which we, in the wake of a damaging recession, seemed presently unmoored from: progression. In our economic stasis, Ezra Koenig found characters that deal with this suspended state in different ways. A man stands in the mirror preparing to shave until he remembers he has no job to go to. Another soul swoons over the simple pleasure of hearing a DJ spin Desmond Dekker into the Stones at an outdoor festival. Koenig binds together considerations that occupied the minds of most youths in 2013, addressing faith and agnosticism throughout, alternately, with apathy ("Unbelievers"), fervency ("Worship You"), and playfulness ("Ya Hey"); he indulges his academia in the searching narrator of "Step," poignantly emptying his head of every double-entendre and obscure reference he can, and then gently taking the piss with a "What you on about?"; and he pens an impeccable unspooling-relationship snapshot with "Hannah Hunt," an Alex Ross Perry film in waiting. Most audacious is post-credits stinger "Hudson," wherein Koenig reminds us that his contemplations find root in the metropolitan, casting a parable of gentrification against horror-movie organs and creaking-floor-board percussion. Modern Vampires of the City isn't the most massive-sounding of albums (mutant-rockabilly "Diane Young" excepted), but the sonic smallness starts to fit and feel meaningful the more you listen to it. It lends a modesty to this album, helps balance-out its grander ambitions, and gives its sound a depth of field that's vigorous and enduring — and every bit the match for the lyrics' heady nuances. Mac
---
5. Q: Where were you when you first heard about the Beyoncé drop? A: The internet, because it was planned that way — the result of a brilliant chess move that only someone with Beyoncé's level of creative freedom could execute. Those early moments on December 13th, 2013, when the news of Beyoncé's new project — a self-titled project — first broke, it may not have yet sunk in that something seismic had just occurred. The landscape of popular music — the model of an album needing considerable support from a label in the promotion period, for months in advance, with singles that become hits to telegraph its release — had just been altered. In turn, this shifted discussions about artistry, downplaying media campaigns that are often attached to such high profile releases and putting focus instead on, ya know, the actual artist themselves. That this change was brought about by one of the most famous women in popular music made it all the more sweet because, let's face it, women in pop have been treated pretty poorly for a very long time: deemed as malleable mouth-pieces for the far-superior men who must be the ones who write and produce their work. Pop has, of course, always been a highly collaborative form, and it continues to be, but Beyoncé made clear in every sense what, and who, was front and center here. Because, in a sense, Beyoncé's fifth album is a celebration of all things Bey: her shortcomings (the insecure susceptibility of "Jealous": "I'm only human") and her fortitude (the way she attacks every dramatic key shift of "Pretty Hurts" like it might be her last). But Beyoncé also registers as risky and uncharacteristic, with a varied sonic palette that ranges from bassy electro-funk ("Partition") to sultry, trap-influenced balladry ("Drunk in Love"). The crowning achievement is the colossal "Flawless," a feminist anthem that nearly buckles under the sheer force of Yoncè's swagger: "This my shit, bow down, bitches," she declares, making it clear that she's an equal opportunist when it comes to ass-kicking. On the Nicki Minaj remix — which, by the way, is that superstar's best feature of the decade that isn't "Monster" — there's a bar that sums up Beyoncé's ethos perfectly: "The queen of rap, slayin' with Queen Bey / If you ain't on the team, you playin' for team D." Attard
---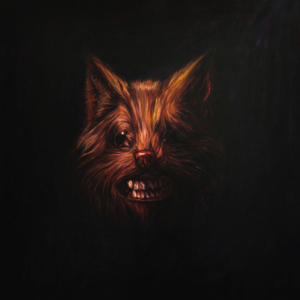 4. Rock didn't die in the 2010s, but it did go on life support, at least judging from the most popular music the genre offered—a dispiriting Billboard roll call of glorified pop acts, each qualifying on the barest technicality of guitar you couldn't always even hear. It was from this wasteland that the true rock album of the decade rose, defiantly breaking from trends present and future, like a monument to antagonism. Rejecting norms has always been a prime tenet of Michael Gira's work, going back to his no-wave roots as a pioneer of sonic ugliness. But on his super-sized magnum opus, Gira pushed the genre-straddling extremity to, well, new extremes: The Seer is demanding, bleak, abrasive, compositionally sophisticated, mysterious, decidedly un-danceable, and impossible to commit to memory—all qualities that make it a feel-bad, anti-radio anomaly among imagined dragons and panicked discos. And at a time when the album as a format seemed headed the same way as the compact disc, Swans erected a mountain of music that only really made sense when scaled in one climb, even as the daunting two-hour time commitment made doing so an Everest-tall order. Really, though, that's just one contradiction in a record bursting with them. Another: that Gira pushed further than ever before from the mainstream but also from his own signature seething minimalism, with an epic that was Swans in black-hearted spirit but not always in transcendent sound. Truthfully, can we really call this "rock" either? Maybe just in bared teeth. It's more of a book of dark hymns for a very dark age. A.A. Dowd
---
3. Where Good Kid, M.A.A.D. City had big hooks, energetic rhyming in lockstep with the beat, and a clear narrative thrust, To Pimp a Butterfly is just an absolute morass of live grooves, stream-of-consciousness lyrics, and not so much an overarching narrative as lots of fractured ones ducking in and out of their individual spheres of coherence. Tidy it isn't, but like There's a Riot Goin' On or the distended jams of One Nation Under a Groove, the messiness is the point. The focused and fervent anger, politics, cosmic knowledge, and above all unshakable self-doubt is the point too. Kendrick Lamar is every bit as invested in his 11th-hour positivity anthem as he is the song that trumpets him as "the biggest hypocrite of 2015" and pivots on a third verse devoted to ruthless self-critique; as invested in the disco-ish one that sexualizes the prison industrial complex as he is the two songs devoted to fame being the undoing of a black man. Like the reluctant messiah next up on this list, Kendrick has a lot to say but willfully avoids intentionality, perhaps out of the great wisdom of his own fallibility, or due to the frustration that his message must be one of righteous anger at all; or simply because there aren't easy answers to the questions he's asking. Mac
---
2. Recorded on around 200 reams of analog tape, Black Messiah is ever-worked, ever-tweaked, and perfected (in its distinctively imperfect way), but soul-bearing and raw like little else. Call its studio ethic retro-fetishism, if you must, but the truth is that everything about D'Angelo's triumphant return only reaches into the past as a way to bring us what the present needs. Opener "Ain't That Easy" immediately establishes a more muscular ambition than Voodoo, D'Angelo's new-millennium-greeting gumbo of midnight session jamming. That album represented nothing less than the zenith of the neo-soul movement, and in truth a lot more, and while Black Messiah has hallmarks of the same, with the church of D'Angelo vocal overdubs still a staple, it's also something else, something that 2000's Voodoo and D's more jazz-indebted 1995 debut, Brown Sugar, only hinted might someday manifest. In short, that thing is guitar, which D'Angelo reportedly didn't even know how to play very well at the time of the Voodoo sessions. On Black Messiah, he adopts the axe as part of his continued tribute to Prince and Funkadelic, whose gonzo psychedelic opuses like Maggotbrain and Free Your Mind…and Your Ass Will Follow provide the clear blueprint for his retro-meets-future funk. In short, this album rocks — and, in every moment, that illuminates what's been missing in R&B for far too long. From Frank Ocean to Miguel, Justin Timberlake to Bruno Mars, the male artists that followed in D'Angelo's wake have intimated sex and carnality through asserting their own agency or disavowing agency altogether. But D'Angelo's rock, like his R&B (if the two can be so separated), isn't about control, but a shared sense of vulnerability. And as D'Angelo reasserts his own presence in music, he extends that sentiment — a wounded cry to be remembered, to be accounted for — to all black men and women who've marched the streets of America with "Black Lives Matter" signs. This is an album on the state of the black community — which is key, not only as the catalyst of Black Messiah's release, but also as justification for its musical sprawl. To call Black Messiah a great anthology of black music would be true, but limiting. The hambone-riffing "Sugah Daddy" (the finest minimalist sex jam since at least Prince's "Black Sweat," but likely "Kiss"), the Les Paul-worthy fireworks of "Betray My Heart," and the whistling cornpone of "The Door" reflect a color-blind musical heritage, a plea for inclusivity. Mac
---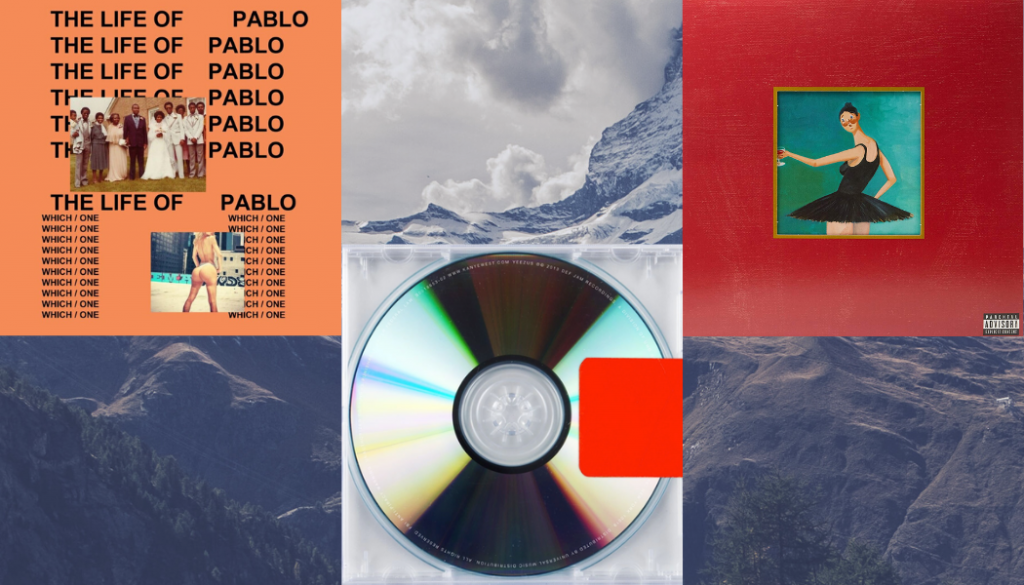 1. Any number of artists working in the 2010s could lay a claim to the title of "artist of the decade" based on the criteria of releasing a couple albums of good music, but Kanye West may be the only one who genuinely deserves that title, having put out five solo albums over the last ten years that were not only exceptional, but also instrumental in defining and predicting the dominant sounds and stylings of the 2010s. Some would like to reduce West in light of his recent, dubious political turns and decision to end the decade with two albums that come off as slighter than what has come before, but My Beautiful Dark Twisted Fantasy, Yeezus, and The Life of Pablo remain as undeniable pillars of recent pop-rap innovation, the three greatest albums of the decade. My Beautiful Dark Twisted Fantasy exists as the sturdiest of Kanye's releases this decade, which also means that it is perhaps his (relatively) least thrilling. Yet, while the album is one of the least experimental ventures of recent Kanye output, MBDTF was necessary, the sort of hyper-focused, opulent "magnum opus" type work that assures canonization and acts as a point of reference with which to address the artist's career. With MBDTF, Kanye created a rap event album the likes of which we may never see again. It acts as a demarcation point in both his career and in the industry, a monument to what Kanye had done with and for rap, and a sort of mausoleum for this sort of classical approach to album making.The release of that album would allow Kanye the freedom to make Yeezus and The Life of Pablo, both of which allowed him to reconsider the album structures he had been working in. Yeezus was built out of a contrarian mindset ("As soon as they like you / Make em unlike you"), an album that eschewed the indulgences of what had come before it, as well as the sense of melancholy that had characterized his most recent work. The album abandons any pretense of introspection in favor of strict presentation – we must accept what Kanye gives us, though it may not be what we want. It was perhaps at this point that the contemporary version of Kanye West was calcified, an artist who no longer felt the need to prove anything to his critics and fans, who uses his music to access the purest version of self while simultaneously flaunting the unknowability of celebrity. In this way, The Life of Pablo is, perhaps, the ultimate Kanye record, the songs recorded with a day-of, Godardian spontaneity. Kanye became the first artist of his stature to wield the full potential of digital music distribution in the streaming age, spending the months following the album's actual drop, updating and adding songs while slyly incorporating lyrics that act as timestamps of sorts. As with all of Kanye's output, The Life of Pablo looked at the tools and methodologies then favored by the music industry, and where many saw a diminishing of artistry, he found a way to radically upend tradition in a meaningful way, moving the pop album away from being a singular statement into an ongoing conversation. This, of course, is what Kanye has always excelled at and why his body of work this decade will be scrutinized and celebrated long after discussions of his more antagonistic public scandals fade away: his music grows with the technologies and predilections of the day, while never ignoring how these tools will best serve his artistry, and in turn, all of us.