SoundCloud junkies Paul Attard and Joe Biglin run down some rap releases from the months of June in the latest What Would Meek Do?. This tenth official issue features takes on some new faces (Lil Nas X's 7 EP; Polo G's Die A Legend; and GoldLink's Diaspora), some established veterans (Gucci Mane's Delusions of Grandeur and Freddie Gibbs and Madlib's Bandana), and a meme rapper/Biglin Fave™ (Yung Gravy's Sensational). For our Kicking the Canon pick this issue, Joe decided to take a ride with The Pharcyde and revisit their oddball debut: 1992's Bizarre Ride II the Pharcyde. 
---
The verdict is in: Lil Nas X is the realest of deals. After being subjected to a deluge of dissent — first from Billboard, and then cynical Millennial critics (beginning to resemble their Boomer parents) — X struck back, and struck gold in the process. "Old Town Road (Remix)" is a genre-bending anthem! And we — who are woke — all know and love it, and recognize how deserving every moment of its 17 weeks atop the charts has been, especially over serial lazy-boy culture-vulture Drake (who this year re-released an ancient mixtape for the umpteenth time). "Kick It" galvanizes this genre-fluid concept, transforming from trap-banger into jazz-rap with increasingly intensified saxophone bleats that ultimately sublimate into X's fractured take on rock n'roll, with the addition of a kick drum — all set over glitchy, reversed instrumentals that dissipate into the ether — that reveal just how pathetically shallow "woke" Millennial favorite To Pimp A Butterfly's genre experimentation really was. "Panini," the next smash hit off the 7 EP, follows suit, reconfiguring the sad-boy anthem of Nirvana's "In Bloom" into a heart-stopping ode for Chowder ingénue Panini; the confluence of a childhood built upon media identification. X's recent (and triumphant) coming-out complicates the typically-coded heterosexuality in the song: "Hey Panini / Don't you be a meanie," updating normative desire towards a more universal anti-bullying message. "Bring You Down" tears crusty old college rockers a new one, copping a grungy bass guitar lick and building an actual song (nay, banger) from it. Truly, though, it's "Rodeo" that proves Billy Ray Cyrus's tweet that defended "Old Town Road" ("it's honest, humble, and has an infectious hook, and a banjo. What the hell more do you need?") most instructive: The revolutionary sentiment hidden within each Gen-Z fan reveals itself in the bar, "If I spoke on your behalf / Then you wouldn't know how to talk," a motto that resurrects the trademark of sole Socialist Presidential candidate Eugene Debs: "I wouldn't lead you into the promised land, because if I could lead you into it, someone else could you lead you out of it." X released his EP a mere five days before the historic, paradigm-shifting first 2019 Democratic Debate. Coincidence? I think not. Within a few short months, Lil Nas X has generated waves of positivity, love, and progress emanating throughout our entire culture. So let me put it simply: if you don't like Lil Nas X, you hate the kids. Like the typical, smarmy, neo-liberal you are, you're afraid that you don't understand the sound, the movement — so you choose to hate. The new Zoomer sincerity is jumbling the circuits in your aging, post-ironic Millennial brain. Your reign is over. It's time to, if I may quote Atlanta's (now former) poster-boys: "Fuck it, crown the king." Joe Biglin
---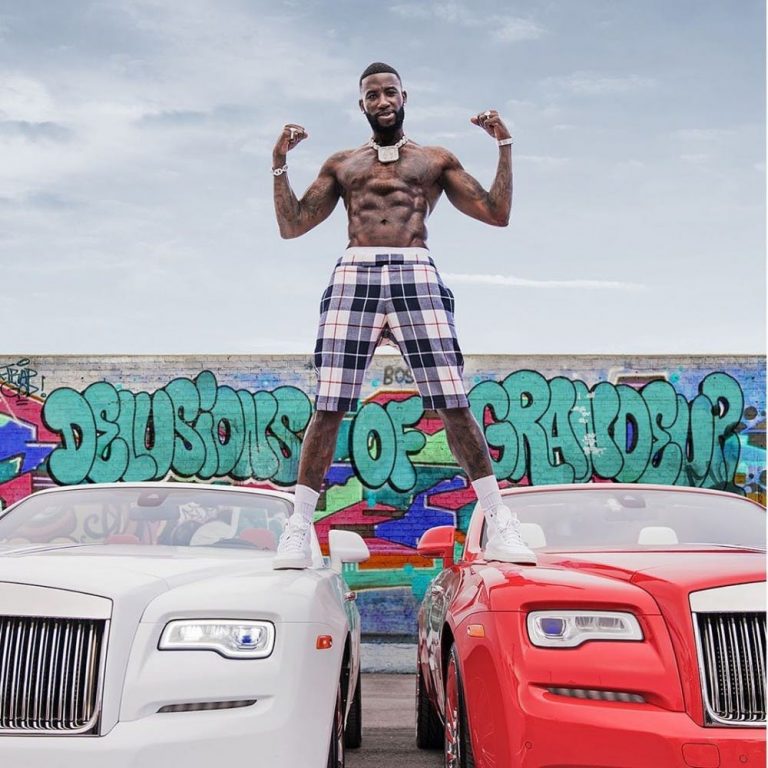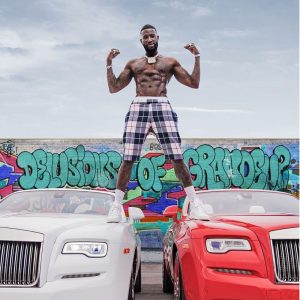 There couldn't be a more appropriate name for Gucci Mane's fourteenth studio album: Delusions of Grandeur are exactly what Guwop has to have on his mind at this point if he really believes he's still relevant in 2019 — let alone still the self-appointed "King of the South." But it's not just Gucci who's been lying to himself for several years now: the general public has joined in on this illusion as well, rallying behind the ATL icon since his release from prison three years ago, whilst claiming that he's undergone the 'glow up' of the decade. And why wouldn't they? After all, the underdog narrative is one that's been a staple in hip-hop since its early beginnings, and the idea of the leaned-out, borderline incoherent monster that was Mr. Zone 6, just a few years ago, having a From G's to Gents transformation is one that's immensely gratifying. Sadly, the one thing that hasn't been upgraded in this period of time is his musical facility, which in fact has been limited rather considerably (coming from an artist who was once notorious for releasing up to 15 mixtapes in a month, back when he was still incarcerated). Gucci now lacks the erratic nature that the less fettered version of himself once possessed: Delusions of Grandeur makes lifeless bids for radio play, ranging from songs that are completely unneeded (the Justin Bieber assisted "Love Thru the Computer," a third-rate "Kiss Me Through the Phone," with about half of the catchiness), to just barely serviceable ("Lame," which features Wiz Khalifa screaming some incoherent nonsense, while Rick Ross brags about paying women to wipe his ass) — with little wiggle room in-between. This isn't to suggest that Gucci can't whip out a clever bar, here or there, or that he can't pick a semi-decent beat to rap over either — even if a large selection of behind-the-scenes talent here (Zaytoven, Southside, and Honorable C.N.O.T.E.) feels practically outdated compared to the less rigorously mundane likes of Mura Beats and Tay Keith. But it's really time to call a spade a spade: the era of Trap God Gucci has ended, and anyone saying otherwise is deluding themselves, like Guwop here. Paul Attard
---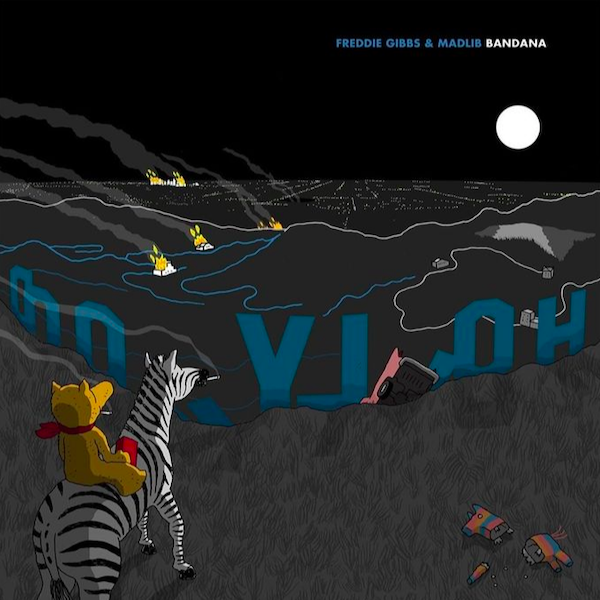 When they first announced their intentions to team-up nearly a decade ago, the concept of producer Madlib and rapper Freddie Gibbs collaborating seemed unorthodox: the great discoverer of seemingly lost samples working with a hard-hitting MC from Gary, Indiana, with none of the kooky absurdity of an MF Doom to bring any levity to a project, seemed like the type of insane pipe dream for people who still believe Kendrick Lamar and J. Cole will one day release an album together. But as we all know, opposites attract more often than they repel, and so a trio of EPs lead to an eventual full-length album, with 2014's Piñata. Gibbs casually rapped his ass off, and Madlib threw at him as many random '70s funk instrumentals as he could muster. In a way, this is the defining characteristic of the relationship between these two old souls, both of whom have never made their names in mainstream markets: make do with what you have and still give 'em hell while doing it. Bandana keeps this same forward-moving momentum in place, but with some noticeable variations. For starters, the guest list has been significantly reduced since their last outing, giving Gibbs more of an opportunity to shine on his own merits as an exceptional wordsmith, one so deliriously on-point that he's often difficult to keep up with; there's a more pronounced political edge to the majority of the tracks here, too, with "Flat Tummy Tea" railing against global imperialism ("Crackers came to Africa, ravaged, raffled, and rummaged me / America was the name of they fuckin' company") and "Palmolive" going after America's self-congratulatory history ("Fuck the forty acres and the mule") with some anti-vaxxer views thrown in; and there's a great emphasis on Madlib's technical wizardry in terms of song construction, which often employs radical beat switch-ups (found on "Half Manne Half Cocaine" and "Fake Names"), and attempts to dig even deeper into a seemingly endless collection of samples that could make even Kanye West blush — except when Maldib actually samples a recently produced Ye beat, by taking the piano instrumental from Nas's "Bonjour" and repurposing it on "Education," a dizzying, four-minute long history lesson of racial injustice, as taught by Gibbs, Mos Def (sorry, Yasiin Bey), and the Root's Black Thought. That track is maybe the most ambitious song that this duo has attempted, finding a way to cram in the political ("The jail overcrowded, they emptied out the school"), the personal ("It's quite ironic how all this ice'll keep the heat on a n***a"), and the conspiratorial ("Bar codes on the wristband, it's not an oversight") — without missing a beat. The lived-in reality of each rappers' struggles comes to the forefront, but Black Thought puts it best, in his closing verse, almost comically laughing through the pain: "And that's life." Paul Attard
---
There's no denying the constant underlying groove in Goldlink's Diaspora. He's an artist indebted to dance music: just take "Zulu Screams," whose intro sublimates the energy from a menacing Zulu war chant into a pulsing house beat. His understated delivery works in tandem with plucky, but muted, synths before transforming into a dancehall melody, before moving into Bibi Bourelly's rapid-fire Lingala breakdown that reverberates back and forth into a polyrhythmic freakout. Even at its cheesiest — i.e. "Yard"'s almost prototypical Caribbean swagger — the arrangements are immaculate, the production expensive-sounding, and the song placement kind of perfect. Goldlink's aspirations as arranger-of-voices come to fruition, blending superstar rap features like Pusha T and Tyler, the Creator, up-and-comer Khalid, local DC homies Lil Nei and Wave IQ, Nigerian-born Lola Rae and WizKid, and London-based Ari Pensmith and Jay Prince into one seamless text. It plays like a lower-stakes (and far less novelty-oriented) Astroworld, with Travis Scott's prog-rap ambitions on full display in songs like "Cokewhite," which switches from luxurious, King Push-facilitating beat to a frenetic rant underscored with Project Pat's distorted, paranoid mumbling. Or the album's highlight — "No Lie" — which follows the same trajectory, starting from a down-tempo saunter before barreling into full freak mode, replete with an unsettling, wailing synth line. Unfortunately, and despite all the ambitions that are realized in the production of Diaspora, Goldlink also shares another similarity with Travis Scott: weak rapping. Throughout this admittedly catchy LP, Goldlink delivers barely any memorable bars, and he can't be bothered to make an impression with his vocal presence, really, either. Even when he comes through with a thematically charged line, like, "Skin glossy than a motherfucker, teeth sharper than my lip," that "sharp lip" results in a dully delivered punchline, as couplet finishes off with: "So my teeth cut my lip, I put a diamond on that bitch." Thankfully, Goldlink doesn't really try to flex in front of rappers who can completely out-lift him (like Push, on his standout feature); instead, he signifies that he's fully willing to play into his voice-as-instrument role on his own album. The percussively sung hook of "Maniac" weaves around snare hits, expanding the groove, just as Goldlink's deeper register on "U Say" adds to the rounded, pulsating kick. This lowkey rapping, though, does highlight how limited Goldlink's "diaspora" (of black music) feels; he cribs flows from the most prototypical American trap tendencies, while his contemporaries use prototypical trap beats as a jumping-off point for insane, one-of-a-kind vocal experimentation. It's almost tragic to consider that, had this been released around his come-up a few years ago, it might have made serious waves — the rap game is just like that. But at least GoldLink's attitude is on-point, boasting that even though he's "flyin' different" he'll "still be rapping when [he's] broke." Joe Biglin
---
Listening to Polo G is a deeply humbling experience — that's something you can't honestly say about a lot of young rappers' music without having the label of 'corny' being slapped right alongside it, as being sentimental is a slippery slope into self-pity. Just look at someone like Logic, who's nonstop willing to whine about how he's treated unjustly by the media because he's too white, or too real, or too whatever else he wishes to say to defend himself (his last album was too awful to even be considered for coverage in this column). Polo doesn't make excuses for himself; there's hardly a trace of bitterness in his music, just pain and perseverance, with a hopeful optimism for better days. On "Dying Breed," the rapper doesn't express retaliation for his murdered companions with typical mean-mugging, but with pathos: "We just want 'em to feel our pain 'cause we been hurt / They took one of ours, we just tryna get reimbursed." He speaks of this brotherly love once again on "Picture This," and his fears of losing everything amidst his newfound success on "King's Nightmare," both tracks confessional in nature and hard-hitting in terms of lyrical content. The easiest comparison one can make to Polo, stylistically, would be to Lil Durk: both rappers are from Chicago, and neither are as one-note as many of the drill scene's biggest players; both ease in and out of vocal melodies that suggest their artistry doesn't just end with their commanding prowess, or their prosperous ethos. All one has to do is listen to "Pop Out," Polo's biggest single to date — it even has a Lil Baby and Gunna remix — to see all of these elements in play: a drill-inspired piano melody over a hard-hitting 808 beat; a fervent display of songwriting dexterity that walks the line between menacing and sanguine; and an enthusiastic, if somewhat quirky, approach to vocal delivery that elongates Polo's cadence — "It's a lot of ani-mooooooooosssssssssssity" — for maximum effect. "Pop Out" is the closest thing to a flat-out banger on Die a Legend, and it feels earned; for Polo, hopefully, it's just the beginning of what coukd shape up to be a career full of such laudable music. Paul Attard
---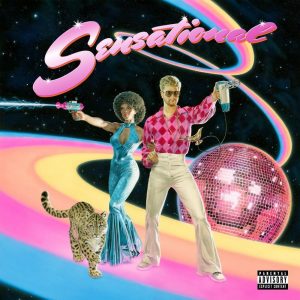 If there is one thing Matthew Hauri — aka Yung Gravy — knows, it's that to succeed in the rap game, and the modern media sphere at large, one must first become a meme. In that sense, the artist's latest LP, Sensational, succeeds in spades: Opener "Gravy for Pope" contains the couplet, "Gravy got the drip, they call me Mr. Hydration / Bitch I do not play, and you look like a Playstation," and contends that Gravy "brings people hope." (This all playing into the signature, absurdist charm that Gravy first tapped into on 2018's "Mr. Clean.") The ghostly, theremin-like vocals on "Gravy for Pope," set against a strategically shifting flow and surprisingly hard bass, add to the air of silliness, even as the song otherwise actually resembles a hard rap track. Gravy "pull[s] up with a fucking vision" — unlike stale memes of Lil Dicky or Ugly God. The album art here simultaneously recalls '70s disco, Blaxploitation, science fiction, and videogame aesthetics. And, at its best anyway, the music follows suit: Juicy J-assisted "Buttered Up" finds Gravy interpolating a '70s R&B-soul sample while likening eating pancakes to sex ("I'm Mr. Buttersworth"), "The Boys are Back in Town" continually breaks its progressive trap-posse structure down into a vaudevillian jam; the eminently fun, Motown-indebted "Gravy Train" flows seamlessly out of the legitimately funny "Daddy Aoili Interlude," which itself transforms from slow jam into modern rap rant. For every great moment, though, there's a half-baked genre fusion or misapplication of appeal to match. Mia Gladstone duet "Charlene" illustrates this best, as the artifice of The Gravy Ethos™ can't sustain the legitimately sentimental refrain, nor make any effective jokes from it. Worse still, we get a humorless copy-and-paste of the Pump-Smokepurrp team-up on "E.T.," which features Lil Mayo, where the wink goes no further than the guest list. Even "Alley Oop," an incredible fusion between the white-boy world of meme rap and Lil Baby's wildly impressionistic Thugger-esque style, feels out of place here; it should have stayed the one-off experiment it was initially released as. The true harbinger of doom, though, is the inclusion of previously released "1 Thot 2 Thot Red Thot Blue Thot" — which doesn't even seemed to have been remixed from its earlier version. The track is now practically a paean to a not-so-long-ago time when the memification of Yung Gravy was at its freshest; it was the rapper's second real hit, recorded right after he finished serving probation. And sadly, its inclusion here reminds of just what the actual lightning-in-a-bottle sound of Gravy could be, casting the whole album in a comparatively unflattering light. Gravy has already peaked; set his gravestone next to Vanilla Ice's. Joe Biglin
---
Kicking the Canon | Album Selection
---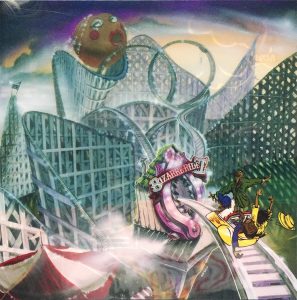 The West Coast has always been a boon for launching rap oddities; today, it's brought us Lil B and Blueface, and in the '90s, Cypress Hill, E-40, and The Pharcyde. Pharcyde made the perfect counterpoint to the rising (and often bleak) gangster sub-genre, portraying themselves as the endlessly clowning stoner-kids-from-class on their 1992 debut, Bizarre Ride II the Pharcyde. The album is fittingly joyous — a bizarre ride indeed — interlocking dexterous lyricism, complimentary flows, fractured and absurdist storytelling by freak-show characters, and a lot of jokes. It's an experience that demands to be undergone in its prescribed order, with skits included (no wonder why Kanye West loves it). Their skits were almost the height of their art: multilayered, genre-morphing jams. "It's Jiggaboo Time" fulfills the promises of a group who sat on the sidelines of In Living Color (Imani, Slimkid3, and Bootie Brown all danced on the show) and is just as cathartic as it is biting ("When you're runnin' out of lyrics / It's jiggaboo time"; "When you're rapping for the white man / It's jiggaboo time"). On the jazzy "Quinton's on his Way," the group randomly breaks into a show-tune when their weed dealer calls them, each of the members trying to out-weird the last in zany vocal fries, Muppet-voices, and falsetto bleats. (Fittingly, the follow-up track, "Pack the Pipe," features a verse from Quinton.) Really, the Pharcyde's songs were extensions of their skits — just far more ordered. Chaos, fit into neat 4-verse packages — like the first proper track, "Oh Shit," which summarizes the basic approach, with Slim, Imani, and Fatlip delivering little vignettes centered around the theme of someone saying, "Oh shit!" Slim's clear, leading-man tenor clashes perfectly with Imani's nasally intonation: "I'm so slick that they need to call me grease / Cuz I slips and I slides when I rides on the beast / Imani and your mom, sittin' in a tree / K-i-s-s-i-n-g." Producer J-Swift, who the group first met in high school, created the perfect balance of hyped-up beats and soothing, almost hypnotic instrumentals. He did more with less — much like RZA did for the Wu-Tang Clan on the other coast. "4 Better or 4 Worse" trades bright synths, drenched in reverb, for bass-heavy growls. When Fatlip goes into decidedly… disturbing territory, trading psychopathic bars as a serial killer stalking a woman (who freaks out in the ad-libs), Swift eventually throws some sax and background singing in the mix, relieving the tension from said character.
Bizarre Ride II the Pharcyde ebbs and flows — the raucous, group vocals in the hook of "I'm that Type of Ni**a" contrast the party-time swing of "Soul Flower (Remix)." Bootie Brown's presence always adds some levity, his Danny Brown-esque cries on "Flower," or his legendary masturbation verse for "On the DL" ("And let the hand I hold the mike with take control") being pretty strong contenders for the best moments here. The thing about this group, on this album, is: each song ends up sounding richly constructed, even as the construction feels effortless. If Kendrick Lamar's take on jazz-rap could be likened to Charles Mingus in its stringent approach to composition, the Pharcyde is more Charlie Parker. It's the little moments of inspired improvisation that make the record: Fatlip's Jim Morrison impersonation on "Passing Me By"; the slight lyrical variations each MC bring for their turn on the hook of "Yo Mama" — or just the brief moments of synergy when J-Swift combines voices, or adds new tones. It's clear, not only from their experience as dancers, but from the longer, repetitive structure of the songs, just how close this album comes to its EDM forebears. Reducing their voices to instruments, the flows may repeat, but they find variation, and maintain the driving momentum. As the album progresses, the group smartly hones in on maintaining momentum, aided by the propulsive drums, through language. "Officer" increases the comic irony of getting pulled over (remember: a huge fear, especially circa '92 L.A.). Fatlip, with the suspended license, begins the first verse driving to pick up Bootie, who grabs "a bag" (probably of weed), before scooping Imani, who begins eagerly rubbernecking out the window. The hook, when it comes (and really, there are few hooks throughout the LP), is a childish group-vocal dripping with spite: "Please, Mr. Officer… please!" The dadaist turns between verses add both to the humor and the growing dread. On the other hand, "Otha Fish" (a Slim solo), and all-time classic "Passing Me By," temper their humor with complete sincerity. Many seem to think that the Pharcyde's style hasn't aged well — crucial for Hieroglyphics, and tenfold the corny suburbanite rappers making "clean rap" in the '90s — but their balancing act of tones did aptly reflect the dejection of the environment in which they lived, while also conjuring the kinds of countless weirdos anthems they needed to escape. The Pharcyde would slowly fracture from here; but their clown-rap flows could never have been served better than they are on this Bizarre Ride. Joe Biglin