OK, so things don't really vanish anymore: even the most limited film release will (most likely, eventually) find its way onto some streaming service or into some DVD bargain bin assuming that those still exist by the time this sentence finishes. In other words, while the title of In Review Online's new monthly feature devoted to current domestic and international arthouse releases in theaters will hopefully bring attention to a deeply underrated (even by us) Kiyoshi Kurosawa film, it isn't a perfect title. Nevertheless, it's always a good idea to catch-up with films before some… other things happen. Issue #2 collects our takes on February theatrical releases, including the latest moral tale of uncovered truths from Asghar Farhadi (Everybody Knows); another humanist documentary from Michael Palmieri and Donal Mosher (The Gospel of Eureka); a volatile American drama from Tim Sutton, that's "some real MAGA shit" (Donnybrook ); and a decade-spanning crime epic from Colombian filmmakers Ciro Guerra and Cristina Gallego (Birds of Passage). Also included in this issue is a selection from InRO's Kicking the Canon: Stanley Kubrick's final directorial effort, Eyes Wide Shut, which premiered 20 years ago this year.
---
Everybody Knows
Iranian writer/director Asghar Farhadi understands the nature of secrets and their revelations, that they rarely signal resolution and instead work to further complicate situations. Whenever one of his characters confesses to some long-standing deception or discloses a crushing truth, the weight of this disclosure is always brutally felt. So perhaps the most damning thing one can say about his latest film, Everybody Knows (which premiered last year at Cannes and has now indifferently been dumped into art houses nationwide), is that the 'truth' here feels utterly uninspired, at least compared to the typically high standards Farhadi has established in the past decade. Here, the familial drama, which involves Laura (Penelope Cruz) and her quest to rescue her kidnapped daughter, plays out in frustratingly sterile fashion. The film is largely composed of crudely-drawn thematic sketches posturing as emotional dilemmas, all of which are quickly resolved only to progress to the next poorly constructed twist. The majority of these admissions (e.g. the murky paternity of the kidnapped girl) are but means to ends, lazily slapped together and ultimately empty – Pauline Kael's thoughts on Alfred Hitchcock's Topaz readily apply here, as Farhadi "really expects us to accept" the recycled indulgences that are thrown at us. Everybody Knows lacks the immediacy and edge that propelled A Separation, and it doesn't possess the twisted moral center found in The Salesman. More precisely and simply, it is a lesser entry from one of world cinema's most prominent auteurs, a superficial retread offering soulless mimicry of his typically humanist narratives. Paul Attard
---

The Gospel of Eureka
As with 2010's exceptional October Country, Michael Palmieri and Donal Mosher's The Gospel of Eureka brings an intelligent, discerning empathy to matters of political, moral, and ethical divisiveness. But whereas the documentarians' first feature focussed on expressions of discord and reconciliation within a family, their new film broadens that scope enough to encompass the population of a small town. Surveying the ways in which LGBTQ rights and religious practice coexist and clash amongst the eclectic residents of Eureka Springs, Arkansas — around the time of a vote on a controversial non-discrimination ordinance — Palmieri and Mosher examine ideological differences in a way that's neither apolitical nor didactic. Instead, as with October Country, their interest is in the ways these differences play-out in social discourse — while their politics are asserted through the emotional connections they form with their subjects. Palmieri and Mosher also continue to use the particular milieus of their films as microcosms of American sociopolitical life: In October Country, aural histories of war and abuse probed a nation's burgeoning awareness of its own traumas, and here, a bravura sequence that cross-cuts between an open air theater performance of The Great Passion Play and a drag show inside the Eureka Live Underground bar, both performed by devout Christians, offers a potential path toward intersectional faith and progressivism. Sam C. Mac
---
Birds of Passage
Birds of Passage, Ciro Guerra and Cristina Gallego's latest collaborative effort (previously a producer, Gallego serves as co-director here) finds the duo continuing their thematic excavation of the indigenous tradition and its relationship with modernity. As with their previous work Embrace of the Serpent, in which Guerra and Gallego opted for a scaled-back approach to the jungle adventure narrative, Birds offers a fresh, modest take on the oft-histrionic (Colombian) drug trade subgenre. By beginning in a small, matriarchal community ruled by codes of honor and ritual, the directors ensure the film never strays far from the specificity of this milieu; everything that follows is contextualized by the preservation or perversion of custom. If the film's trajectory feels inevitable from its early moments, the particularities of culture and character frequently delight (a traditional courtship dance proves a kinetic highlight), while the film's capitalist critique takes root in surprising and schematically subversive character work. But it's the consistent marriage of form and voice that proves most affecting — thematic concerns mirrored in compositions of striking, violent beauty — such as in the filmmakers' final act, a wide-angle shot of a solitary, lavish home, flames licking its windows and collapsed walls, the entire scene backed by a clear blue sky meeting arid flats of ocher and beige, and the drone of assault weapons fading into silence. Luke Gorham
---

Donnybrook
There's a fine line between the absurd and the transcendent, and Tim Sutton's Donnybrook crosses it with ludicrous abandon. Jarhead Earl (Jamie Bell) is a former Marine with a drug addict wife and two adorable kids who is determined to make his way to the Donnybrook, an annual, winner-take-all, bare knuckle death-match melee (honestly, the rules are never really established here).  Earl is being tracked by Chainsaw Angus (Frank Grillo), a local drug lord of sorts who, along with his sister, Delia (Margaret Qualley), murders with almost gleeful recklessness. It's also strongly implied that these two are in some sort of incestuous relationship, which is both gross and completely in keeping with the scuzzy milieu that Sutton conjures. And there's a cop named Whalen (the always welcome James Badge Dale), who's got issues of his own. After much portentous navel gazing, Angus and Earl finally go head-to-head at the Donnybrook.  That's really it for this dour film — one that's so forcefully violent and despairing that one can't help but be impressed by how committed it is to its own misanthropy. It's a failure, certainly, but it's an interesting one, demonstrating how easily an attempt at deconstructing masculine codes of honor can simply turn into a romanticized version of the same. The film begins with an oblique monologue from an old, weathered ferryman (get it, he's like Charon and they are crossing the river Styx to Hades, bro); Sutton has this character start spewing bromides about "working with your hands" and "fighting for what's yours" and shit like that. It's real MAGA stuff, and while the rest of the film demonstrates the kind of violent physical and mental toll this philosophy can take on a person, it also kind of believes in its value too. Donnybrook wants to be a portrait of How We Live Now, but it is so patently absurd, so over-the-top, that it drowns in pseudo-poetic ruminations, groping for political relevance. Daniel Gorman
---
 Kicking the Canon | Film Selection
---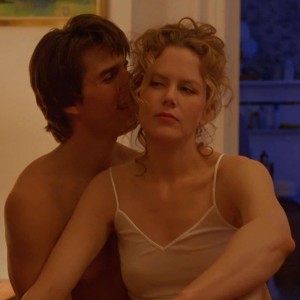 Stanley Kubrick's final film is one of the least-sexy films ever made about sex. Libidinous, yes, and full of naked bodies in salacious motion, engaging in lubricious acts — but also off-putting, too meticulous to be arousing. Eyes Wide Shut is a dreamy traipse through the nocturnal fantasies of a successful Manhattan doctor (Tom Cruise) who, married to a beautiful woman (Nicole Kidman), nonetheless finds himself beguiled by the promise of debauchery and deviancy when he discovers that his moneyed patients are part of a secret sex cult — or so it seems. At one of their parties, which take place in a mansion outside the city, this doctor, out of his element (he arrives in a yellow cab), gets a glimpse of a privileged, perverse world he was never meant to see. And down the proverbial rabbit hole he goes, increasing disoriented, understanding less the more he learns.
A proliferation of prostitutes and men garbed in robes and eerie masks; a permeation of sparse Viennese music, lingering like an unsound apparition; iridescent apartments done up with Christmas decorations, all aglow and jovial — the New York of Eyes Wide Shut is an obvious simulacrum, based not on reality but on a notion of reality, a dream. Shot on a soundstage, an exact emulation of New York, Eyes Wide Shut is pervaded by a sense of unease and unreality. It's a film of artifice: notice the unnatural blue light that seeps through windows at night, or the dearth of people on the New York streets. Around this ersatz, labyrinthine Manhattan, our discombobulated doctor walks, enshrouded by night and an unshakeable feeling that he's being followed. There's a tautological quality to Cruise's flummoxed doctor, the way he repeats things people say. He seems less like a person than a horny husk. Into the dark night of the soul sneaks Cruise, running away from his mundane marriage, chasing after specters of temptation. Kubrick, one of the most precise and clinical of filmmakers, shows little interest in exploring the emotional aspects of carnality, and seems equally uninterested in titillation. Ostensibly an adaptation of Arthur Schnitzler's novella, Traumnovelle, and inspired by George Bataille's Story of the Eye (both are about compulsive sexual behavior and aberrance), the film explores the dichotomy between domestic routines and primal sexuality, and the innate intermingling of the two — the eros and ethos of married life, deviancy born of banality and boredom. Greg Cwick