The recently released High Life is perhaps the first film by septuagenarian Claire Denis with a plot fit for an elevator pitch: "Robert Pattinson fucks in space." Of course, one doesn't watch Denis's sensuous, involuted films for their plots, which tend to be shattered into shards, leaving viewers to sift through and make sense of the pieces. One watches Denis's films for the way story is insinuated through an enveloping amalgamation of sight and sound — or more specifically, for their enigmatic images, and for their scores, by Tindersticks frontman Stuart A. Staples.
Staples's baritone croon is as integral to Denis's films as is Agnes Godard's cinematography, and their collaboration goes back to 1996's Nenette and Boni. At times sparse, and at times luxuriant, Staples's sad, salacious compositions permeate Denis's films like a tormented wraith — and the same is true of his High Life score. But since the Pattinson-starring film is also Denis's first big budget feature, there's potential for Staples's music to reach a new and wider audience.
Tindersticks' output has long been bifurcated: They record traditional studio albums as a band, and they record instrumental-heavy film scores (though recently Staples has more often done so under his own name) and side projects. The film work is more exact — cleaner, icier. For Denis, Staples produces an unsettled atmosphere, a sea of swooning electronic notes punctuated by funereal, reverb-laden horns, sparse guitar, and outbursts of drums like rocks amidst the waves. The music undulates, anfractuous motifs reappearing, haunting the films.
Tindersticks albums as a band, especially their first few in the 1990s, have a sordid, scrappy sound, a beggarly thriftiness, their instruments sounding damaged or defective, objects purloined and repurposed. Their first three albums are all double LPs — all sprawling, sorrowful chronicles of the plight of the heartbroken and the hopeless. Staples's penchant for lonely, boozy nights, and his commingling of sleazy lounge jazz, recalls Tom Waits.
Tindersticks' output has long been bifurcated: They record traditional studio albums as a band, and they record instrumental-heavy film scores.
After a brief hiatus in the mid-2000s, Tindersticks returned with a reshuffled lineup. Their first album with this new iteration, The Hungry Saw, arrived in 2008, and featured shorter, more decorative tracks that aren't nearly as lush as the group's '90s work, but that fit with Staples's gradual move toward a more propulsive pop. The band followed that set with 2010's Falling Down a Mountain — their first album released this decade — which is both a continuation of established aesthetics and a minor rebuke of the familiar. This album marked a transitional moment for the band; there is an occasional tentativeness to the songs, as if Staples and the group are afraid to alienate longtime fans. They seem caught between wanting to be the same old band they were, and allowing themselves to embrace what their new lineup could be. Some songs, like "Black Smoke, feature alluring grooves, sultry sax playing, and lush harmonies, while others, like "Factory Girls" or the duet "Peanuts," are simple, sparser, almost Spartan — whereas Tindersticks have always been at their best when they work with layers. The simplicity belies the band's strengths.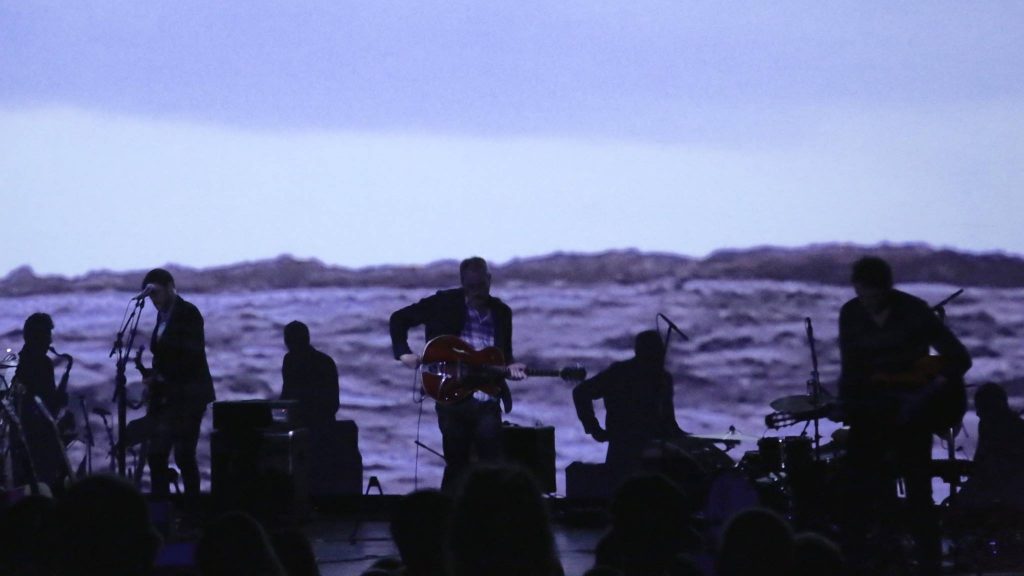 The Something Rain, perhaps Tindersticks best studio album this decade, arrived two years later, and it is a ruminative and eclectic set, with gentle strings that give way to by turns wailing and slinking saxophone and the squelch of distorted guitars. The production is dense and layered, but never feels calculated — there's a rawness, a carnality, and a vivacity. For the first time since the original sextet recorded together, Tindersticks feel truly alive. This is a swirling maelstrom of an album: "Show Me Everything" has a thick bass underscoring ethereal female vocals, the song building to a licentious climax of cacophonous guitars. At nine minutes, opening track, "Chocolate" is officially the longest song to appear on a Tindersticks studio album, and it harkens back to the spoken-word form that the band utilized in their earlier work. The denouement of the song, problematic yet uproarious in its absurdity, shows a sillier side of the band, dichotomous to the slow-burn intensity of their best songs. The Something Rain is disquieting; its settled passages anticipate encroaching chaos, as coy as foreplay.
In 2013, Tindersticks released Across Six Leap Years, a collection of ten, rerecorded songs selected from across their discography. This album proved a strange follow-up to The Something Rain: no composition was changed profoundly, and while many sound as good as the originals, there is a pointlessness weighing down the project, like a millstone around its neck. The energy and cohesion is certainly there, and Staples's voice loses none of its woebegone beauty, but the album feels like an aimless jaunt through the past, offering nothing new. It can best be appreciated as a fine introduction for the uninitiated.
The Something Rain, perhaps Tindersticks best studio album this decade…is a ruminative and eclectic set, with gentle strings that give way to by turns wailing and slinking saxophone and the squelch of distorted guitars.
The same year as Across Six Leap Years, Staples released his best, most complete score to date — again for a Claire Denis film. Les Salauds (or "Bastards") comprises a tormented medley of synth notes and washes of minor chords sustained past the point of comfort. It is nocturnal, morbid music that seeks to destroy itself; it recalls the sparse but obsessive repetitions of Tindersticks score for Denis's The Intruder — which features aching horns occasionally interrupted by bursts of manic drumming — but also presents a new aesthetic direction. Les Salauds was the first film that Denis shot on digital, and Staples's electronic accompaniment reflects the squalor and pathos of the cinematography. The one vocal track on the album, "Put Your Love in Me," features a fidgety, febrile synth, and Staples moaning, "Oh tonight I wanna touch the stars / Oh tonight I wanna be in heaven." It sounds like a dance song purged of its soul; compare it to the lovely and licentious title-track off 2001's Trouble Every Day soundtrack, with its lush strings and crestfallen lyrics at odds with the opulent production, or the bright, shimmery melodica that dominates the 35 Shots of Rum score.
The crepuscular Ypres, an ambient album released in 2014 and commissioned as a piece to play in a Word War One museum in Belgium, is one of Staples's most minimalist works — an album of insinuations. There are no hard beginnings or endings; Ypres can be put on in an infinite loop, despite its brooding air being rife with decay. The piece is as pervasive and gelid as the conditioned air that fills the museum, a fixture whose constancy reminds one of the inescapability of the past. It's easy to project ideas onto Ypres: It is an autumnal album, it takes no political stance, it is unconcerned with heroism or villainy. Its reverence seems to signal something of an inevitability.
The Waiting Room, Tindersticks most recent studio album, opens with a cover of "Follow Me," the love theme from Mutiny on the Bounty — a strange choice for any band — and follows that with the original songs "Second Chance Man" and "Were We Once Lovers," which are both new, but still familiar, almost comforting, like a hug from a long-absent friend. Staples's brooding presence remains as compelling as ever, and even if the album doesn't diverge from Tindersticks established pattern (simply substituting spoken-word for instrumental interludes), it still packs an emotional wallop. On "Like Only Lovers Can," the set's closing track, Staples intones, like a mantra, "Where do we go / What do we see now… Where do we hide / Where do we cry now." It's something of a summative statement for the songwriter — a gentle song about the ineffable, ineluctable damage that lovers do to each other, and the anguish of amorality.