Ammonite
Three years on from Francis Lee's terrific gay drama, God's Own Country, and the director has moved on from the romantic union of two lusty male farmers to a 19th-century entanglement between a female paleontologist and an unhappy wife. Away from the rural wilds of Northern England and set in the picturesque coastal town of Lyme Regis, Ammonite marks Lee as an author of gay dramas entrenched in cultures that both fear and repress sexuality. The film chronicles the budding relationship between fossil expert Mary Anning (Kate Winslet) and downtrodden wife Charlotte (Saoirse Ronan), the latter of whom is residing in the town for health reasons while her husband works away. While last year's fetching lesbian picture Portrait of a Lady on Fire acutely expressed the aching thirst for sensitivity of women trapped in a man's world, Ammonite is unable to build the same level of emotional depth into its central relationship, detailing a far more superficial lovers' study and sorely lacking the primal urgency of Lee's debut feature.
That relative shallowness leaves the film's two uber-talented leads out at sea here: Winslet's coiled spring of a performance is unilluminating in its sternness, while Ronan's Charlotte never feels like a fully-formed creation. Happily, Fiona Shaw delivers a winning turn as Mary's old flame Elizabeth, who, in only a handful of scenes, manages to allude to oodles of back-story and affectingly convey lingering heartache. Thematically, Ammonite's richest element is its juxtaposition of generational and class differences, examining how a gay relationship at this time and in this place could (or should) work. What exactly does happiness entail and what are its limitations? And for all of his film's romantic inclinations, there's a sense that Lee views this as a story of two individuals just trying to live their best lives within their given circumstances, no rebellious intent in the search for connection, and Ammonite's ambiguous ending offers much to contemplate in that regard. By then, though, it's a case of too little too late for Ammonite, which, with its dubious casting choices and strange dearth of passion, struggles to summon the visceral potency of God's Own Country. Calum Reed
---
Limbo
Recent reports in the media that claim that the UK government is planning to house asylum seekers offshore come at a timely moment for Ben Sharrock, whose second feature, Limbo, charts the efforts of a Syrian refugee seeking access to Britain. Omar (Amir El-Masry) is consigned to a remote Scottish island alongside other asylum hopefuls, who must undergo a "cultural awareness" course while awaiting news on the outcome of their residency applications. Limbo is an absurdist comedy that clearly owes its melancholy brand of humor to predecessors like Yorgos Lanthimos' The Lobster (2015) and Aki Kaurismaki's The Other Side of Hope (2017). But even alongside such illustrious company, Limbo crafts its own individual take on sociological constructs through cutting satire, speaking to concerns about anti-immigrant sentiment in a way that makes the entire process appear somberly farcical. The course sessions see the wannabe-Brits engage in pedantic and patronizing lessons on overstepping the boundaries of flirtation and accepting job interview offers, resulting in some truly laugh-out-loud moments. Aside from that, much of the offbeat comedy emerges from cultural differences: Limbo derives laughs from Omar's naive expectations, while also mocking the island natives' narrow perceptions of him. Although his film's tone tends to be rather flippant, Sharrock finds time to detail the genuine emotion involved in the physical voyage of those escaping war-torn countries, as well as the personal reasons people have for taking such drastic measures. In dealing with the harsh realities for refugees and the instant curtailment of their hopes and expectations, Limbo alludes to the so-called "hostile environment" outlined by the British government without being overtly preachy, observing society's missteps with a confidence that firmly announces Sharrock as an enviable talent. Calum Reed
---
Wildfire
Archival footage of past conflicts between the North and South of Ireland accompany the opening credits of Irish director Cathy Brady's politically-charged Wildfire, which addresses renewed fears that trouble could return to the Irish border in the wake of Brexit. This tension forms the backdrop of this Belfast-set domestic drama, which focuses on the relationship between two sisters, Kelly (Nika McGuigan) and Lauren (Nora-Jane Noone), who grew up on the border during this tough historical period. The pair are reunited when Kelly returns from an unexplained year of absence only to turn Lauren's life upside down with her wild behavior. As a portrait of a family in turmoil, Wildfire starts out persuasively, demonstrating how a mutual connection between siblings — in this instance, through shared grief for their mother — can linger despite prolonged periods of distance. In early scenes of the sisters rebuilding their relationship, McGuigan and Noone are convincing as estranged family members. Sadly, the characters make so many irrational choices that one struggles to take Wildfire seriously; the sisters' self-destructive downward spiral is difficult to stomach and really quite tiresome in its schematism. The film fares better when it deals with the fallout of old quarrels and embittered tensions, exacerbated somewhat by the presence of combatants on either side who have served prison sentences for terrorism offenses and have since been released. Wildfire makes a powerful argument for prioritizing peace in the area over absolute sovereignty, and it should be commended for providing such a realistic window into an underrepresented section of society, but its authenticity as a family saga is questionable. Calum Reed
---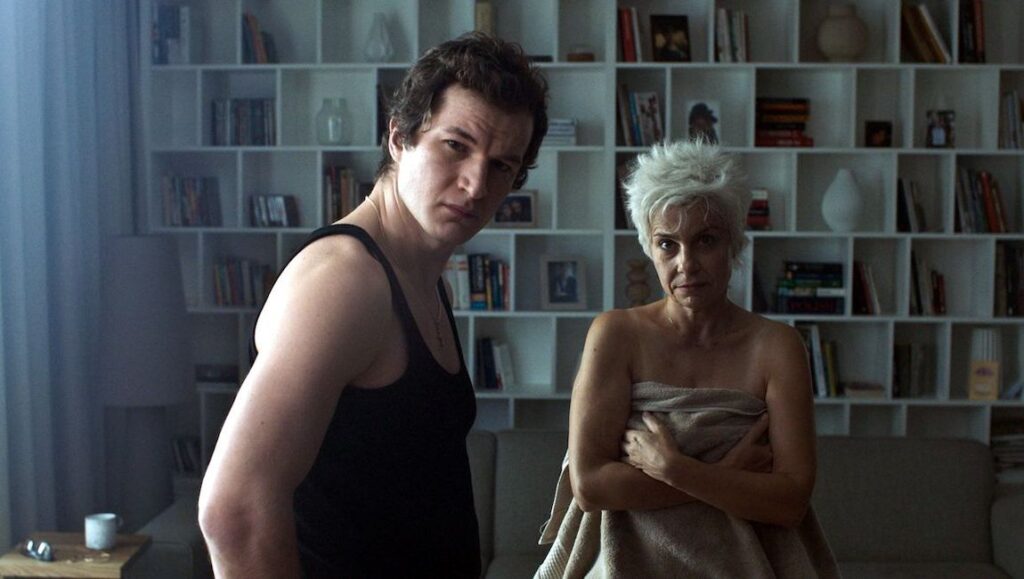 Never Gonna Snow Again
Having had its premiere at this year's Venice Film Festival, Never Gonna Snow Again is the latest offering from prolific director Malgorzata Szumowska, who has teamed up with her frequent collaborator, director of photography Michael Englert, to bring us a uniquely amusing comedy about a man with special powers. The story revolves around Zhenia (Alec Utgoff), whose role as a masseur for the wealthy inhabitants of a gated community in Poland leads him to become heavily involved in the lives of his clientele. Never Gonna Snow Again plays out rather like an oddball 21st-century version of Shampoo (1975), with Utgoff's Zhenia the equivalent of Warren Beatty's hen-pecked hairdresser, calling on several neurotic women and — rather than sleeping with them — massaging or hypnotizing them. It's a strange premise, yet this quirky comedy about the bourgeoisie really works. Szumowska's command of the film's wry tone accentuates the jokes about first-world problems, which involve incompetent takeaway delivery services, doorbells to the tune of classical compositions, and the uniformly characterless nature of newly-built housing estates. Much is made of Zhenia's history, as we learn he was born in Chernobyl seven years before the nuclear disaster. Szumowska draws attention to anti-Ukrainian sentiment within Poland (a by-product of the checkered past between the two countries), but subverts Zhenia's exposure to radiation by approaching it from a positive angle. She treats Zhenia as a guardian angel of sorts, shrouded in mystery; rather than develop a character study, she directs her concerns to the impact he has on those around him. The repetitive nature of the story may become a little mundane for some, but if Never Gonna Snow Again slightly overstays its welcome, Szumowska's idiosyncratic style still makes for a worthwhile experience overall. Calum Reed
---
After Love
BAFTA-nominated director Aleem Khan's debut, After Love, has given a rare opportunity to Joanna Scanlan. Once known as a television actress, but more recently a mainstay character actress of British cinema, she stars as Mary, a woman living in Dover, who, after the death of her ferry captain husband, stumbles upon a secret among his possessions which leads her across the Channel to Calais. The film's juicy setup is compounded when Mary begins to integrate herself into the lives of her husband's mistress Genevieve (Nathalie Richard) and son Solomon (Talid Arris) under the guise of a cleaner, unable to bring herself to confess the truth. Although Khan wastes little time in establishing the setup, the ensuing development is far from economic, and the film becomes a familiar, frustratingly drawn-out tale of tight-lipped tension. While one may feel exasperated at the overall stagnation, having to wait for hidden truths to be divulged, After Love nonetheless packs a punch as a cautionary sermon on the inevitable fallout of secrets and lies. The film's final act shows a commitment to melodrama in a way that mostly avoids sugar-coating the impact of betrayal (although Khan doesn't go so far as to have the women directly blame the dead), providing a surprisingly even-handed perspective. Scanlan, who is devastating in early scenes of mourning and when Mary's mistakes finally come to the fore, gives her character's revelatory journey its necessary heft, while Richard's turn as Genevieve is constantly surprising. Although it would be fair to say that the characters exhibit an unhealthy amount of naivete at times, After Love mostly succeeds in evoking the shared memories of two families grieving for the same man. Calum Reed
---

Rose: A Love Story
Rose: A Love Story is yet another example of art-house horror that plays coy with its genre elements. It's the kind of film that wants to be more than just horror, but winds up ladling on heavy-handed symbolism and doom-laden portent instead of being scary. Directed by Jennifer Sheridan, the film follows Rose (Sophie Rundle) and her husband, Sam (Matt Stokoe, who also wrote the screenplay), a couple who live a sequestered life deep in the woods. She sits in their small cabin writing all day, while he wanders the forest trapping game. Things are immediately off kilter; Sam locks Rose in the house before he leaves for the day, and frantically races home when he realizes he's stayed out for too long. Rose keeps investigating her own face in reflective surfaces, as if studying it for minute changes. Then there's what appears to be a nightly ritual, as Sam sits in a room with UV lamps and attaches leeches to himself, then grinds them up and feeds the bloody mess to Rose. It's pretty clear what's going on here, even before Rose dons a mask to step out of the house and stares wild-eyed at the sight of blood, but the filmmakers needlessly delay the big reveal.
Rundle and Stokoe — apparently a couple in real life — are quite good as lovers deeply devoted to each other, but also buckling under the weight of their secretive, highly regimented existence. Here, vampirism is essentially a metaphor for cancer, or any debilitating disease, with Sam watching his beloved wife change into something unrecognizable, incapable of stopping the process. For her part, Rose insists that Sam has done all he can and implores him to leave her, an interaction familiar from any number of run-of-the-mill relationship dramas. Instead of leaning into the horrific nature of Rose's affliction, Stokoe the screenwriter introduces outside conflict, first with a wholly unnecessary subplot about an errand boy who rips Sam off, and then with an unwelcome visitor who accidentally gets stuck in one of Sam's wildlife traps. This young woman, Amber (Olive Gray) throws the couple's careful routine into disarray; Sam views her as a threat to his and Rose's tenuous stability, while Rose thinks Amber might be an escape hatch for Sam to still have some kind of normal life (although it's unclear if this would be in a romantic or fatherly capacity). This development is introduced fairly late in an already brief runtime, giving it little room to breathe and just delaying any developments regarding Rose's condition. Instead, there's something of a narrative game being played as the film feints towards the idea that Sam might kill Amber to protect Rose's secret. There's a lot of talent on display here: Sheridan has a keen eye, juxtaposing the claustrophobic confines of the cramped home with wide-open vistas of vast wilderness, and the (very few) scenes of outright terror are appropriately horrific. But this is basically a relationship drama masquerading as a vampire movie, and Stokoe's screenplay doesn't do enough to justify mashing these disparate elements together. All in all, this is a missed opportunity that mistakes restraint for seriousness. Daniel Gorman