OK, so things don't really vanish anymore: even the most limited film release will (most likely, eventually) find its way onto some streaming service or into some DVD bargain bin assuming that those still exist by the time this sentence finishes. In other words, while the title of In Review Online's new monthly feature devoted to current domestic and international arthouse releases in theaters will hopefully bring attention to a deeply underrated (even by us) Kiyoshi Kurosawa film, it isn't a perfect title. Nevertheless, it's always a good idea to catch-up with films before some… other things happen. | Our November issue tackles a number of major, would-be awards players — Marriage Story, Waves, Dark Waters, The Two Popes, Harriet — as well as a handful of diverse international films (Varda by Agnès, Atlantics, Better Days, The Body Remembers When the World Broke Open), a couple of surprinsgly potent micro-budgeted films (Light from Light and Feast of the Epiphany) and, of course, the Lil Peep documentary, among others.
---
Waves
As the credits roll on Waves, against the blue, bright promise of an open sky, Alabama Shakes's "Sound and Color" spills forth from the soundtrack. It's a fitting choice, director Trey Edward Shults winking at himself, as the track could have pulled double-duty and been this film's title. The director's previous two features, Krisha and It Comes at Night, were both exercises in tension building, with the etchings of thriller informing a drama and a horror framework, respectively. That impulse remains in Waves, especially in its first half, but this time tension acts as support rather than conceit. Shults here opts for more externalized ways to set the tone — the aforementioned sound and color. Waves is awash in gauzy pastels: neon orange nails alight against a bruise-blue dusk sky, interiors are frequently saturated in the muted glow of uplighting and strobes, and nighttime compositions are dotted with brightly-hued halos. The probing, pursuing camera of Shults's previous films is exchanged for more affected flips and pirouettes. Sonically, proceedings are teed up by musical cues, the soundtrack a Pitchfork-approved playlist consisting of Animal Collective, Kanye West, Sigur Ros, and Kendrick Lamar — all utilized to heighten narrative or emotional beats. So, for a while, after a while, Waves begins to feel like a self-serious exercise in melodramatic indulgence, building toward a first half apogee that's a little too after-school-special. But this is a film of two halves, and the second act plays like an extended denouement, a study in post-tragedy, telling the story that is too often, in film and in life, glossed over in the aftermath of the sensational. To that end, the musical choices mellow in tenor, the visuals become brighter and less menacing. The film's first hour stacks the deck – its second hour abandons the cards entirely. This ultimately feels like less of a gambit than an organic inevitability, the dichotomous parts so informing each other as to necessitate a reclassification of this as diptych cinema. What must be wrestled with, then, is the messaging in the film's first half. The restrained beauty of Waves' culminating section, foregoing any bombast and smartly allowing the film's only climax to exist at the halfway point, is instructive to its emotional core, but it almost emphasizing that issues of mental illness, internalized patriarchy, and the complicated legacy of black male excellence are largely utilized as plot fodder and furtherance rather than contributing anything meaningful to the discourse. And yet, conceptually, this is a snapshot version of saga cinema, capturing, with heavy style, a brief period in the collective joy and trauma of a family, a development the film's second half rapturously conveys even if the knottiness of the whole has come just a bit undone by that point. Luke Gorham
---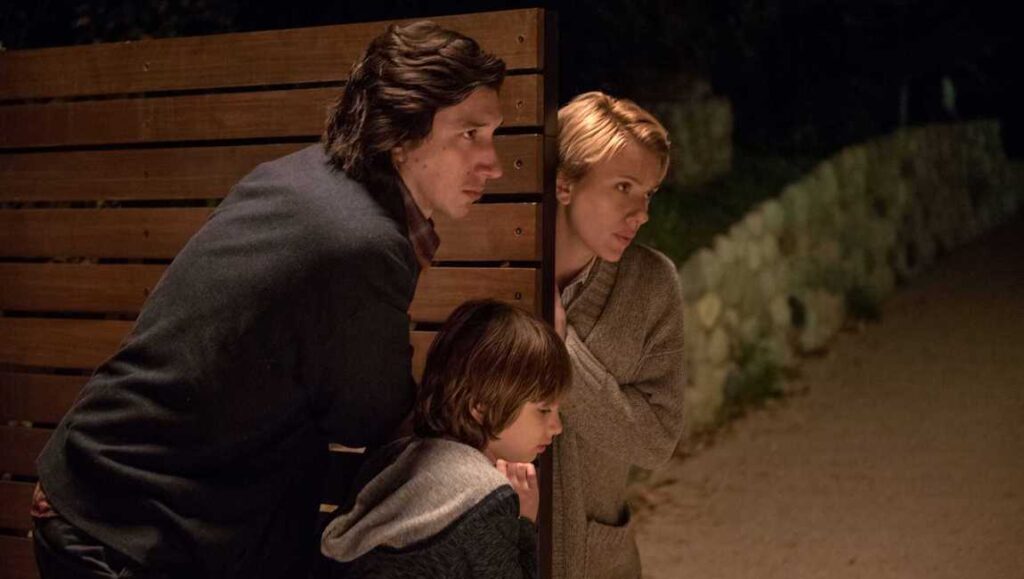 Marriage Story
Noah Baumbach doesn't like risk. Even when his films are impressive — and they often are — their formal parameters remain fairly limited. His collaborations with Greta Gerwig pushed further — but it's his latest, Marriage Story, that might eventually come to feel like a transitional work within his filmography. Twinned montages introduce the film's central couple: Charlie (Adam Driver) and Nicole (Scarlett Johansson) — the former an experimental theater director and New York native, and the latter a Los Angeles-born actress who wants to flirt with film and television work after some years on the stage. The narration lists all their respective best attributes; knowledge of their impending divorce follows immediately after. Immediately, then, Baumbach sets up the formal template of the film, which introduces exaggerated, even caricatured types, then offers sundry details to modulate or even overturn the typification — which is also to say the opposite of what goes on during divorce proceedings, where small slippages are turned into deadly character flaws. The early scene where Nicole meets with a high-powered divorce lawyer (a superb Laura Dern, channelling Renata Klein from Big Little Lies) puts this model into practice, with Johansson's mannered, tic-heavy performance placed alongside a bracing monologue about Nicole's history with Charlie, accompanied by a slow zoom into close-up that gradually pares away the former. Still, even when Baumbach stretches himself, it feels as if he's holding back. Driver's late-breaking Sondheim performance is one of the Marriage Story's bona fide highlights — yet even here, Baumbach merely has the camera follow Charlie, feint at breaking off the performance, then push in to a close-up. More daring is a rapidly escalating spat between the couple, which starts out in the usual quip-heavy Baumbach mode before heading into vicious barb-trading that registers not unlike an experimental theater exercise. It's the rare moment where Baumbach risks actual failure — and that, in itself, might be reckoned as a kind of success. Lawrence Garcia

---
Dark Waters
One of cinema's most creatively fruitful collaborations is that of director Todd Haynes and cinematographer Ed Lachman. The films they've made together can superficially be described as period pieces, but this term inexactly and inadequately describes the emotional, psychological, and intellectual resonances these like-minded artists – the boldly experimental Haynes and the ace visual craftsman Lachman – bring to their evocations of time and place. Their recreations of Douglas Sirk-inspired 1950's suburbia (Far From Heaven), the multiple-persona life of Bob Dylan (I'm Not There), Depression-era Los Angeles (Mildred Pierce), and New York across multiple decades (the 1950s in Carol; the 1920s and 1970s in Wonderstruck) derive their unique vividness from being equally informed by the cinema, photography, and day-to-day realities of their time periods. Dark Waters, their latest collaboration, in many ways harkens back to earlier entries in both Haynes' and Lachman's filmographies: Haynes' indelibly eerie Safe, with Julianne Moore as a woman suffering from environmental illness; and Steven Soderbergh's Erin Brockovich, lensed by Lachman and starring Julia Roberts as the titular environmental justice crusader. Dark Waters features Mark Ruffalo, exuding overwhelming earnestness in this fact-based film, as Robert Bilott, a corporate defense attorney who morphed from advocating for chemical companies to launching a class action lawsuit against one of the biggest, DuPont. This lawsuit uncovered the corporation's global-scale malfeasance concerning the manufacture of Teflon, which involved massive amounts of toxic waste dumping, poisoning water supplies with chemicals DuPont knew were harmful. Compared to Haynes' previous work, this scans as conventional, the setup presenting a familiar David vs. Goliath tale. However, this surface-level proves misleading, as the superior artistry and craftsmanship Haynes and Lachman lend to this narrative makes for something truly special. Haynes turns the never-ending DuPont litigation into an engrossing, slow-burn thriller, super-charging Lachman's evocative images of rural landscapes, glittering cityscapes, courtrooms, and conference spaces with a creeping sense of dread. Much like Safe, Dark Waters is a horror film of sorts, but one in which we are not afforded the safety of assurance that it's all fantasy. This leads into one of the most chilling closing title cards in recent memory, one where we're informed that the effects of DuPont's unconscionable deception are literally embedded inside all of us, and in every living being on the planet. Christopher Bourne
---
Varda by Agnès
Agnès Varda's documentaries have often incorporated her immediate periphery – friends (Jane B. by Agnès V.), family (Uncle Yanco), neighbors (Diary of a Pregnant Woman, Daguerreotypes), or strangers she finds particularly interesting (The Gleaners and I, Faces Places). While she often takes part in the films as a kind of surrogate for the audience — searching, probing, and questioning the day-to-day realities she encounters with an often mischievous disregard for cinematic convention or adherence to actual documentary reality — she is rarely the focus of her own films. Varda had previously turned the camera on herself in 2008's The Beaches of Agnès, but never before has she she taken such an intimate accounting of her work as she does in Varda by Agnès. Like a personal cinematheque retrospective hosted by Varda herself, Varda by Agnès takes us on a tour through her career as she meets with audiences of eager film students around the world, sharing stories, experiences, and amusing anecdotes about her process and craft. Just listening to Varda discuss her career would have been enough to make a fascinating viewing experience, but the legendary French filmmaker isn't content to simply sit in front of a camera and talk about herself. This isn't merely a "concert film" comprised of clips of Varda's public appearances. She returns to the scenes of several films, recreating various techniques and breaking the fourth wall with the kind of wistful fondness of a lion in winter reflecting on the days of old. It is fitting, then, that Varda by Agnès ended up being Varda's final film before her death, occurring earlier this year at the age of 90. The film is a sublimely autumnal reflection of a legendary career, but it never feels mournful or melancholy – instead, it is a celebration of the "dreams and reveries" of a life well-lived, an endlessly engaging ode to a titan of cinema proving she's still playful, still vibrant, and still filled with childlike wonder at the endless possibilities of the art she held dear. Varda was consistently an artist ahead of her time, a filmmaker who refused to compromise her sense of self or the implicit politics of her identity, who consistently sought to push the boundaries of cinema and better understand the world around her. And in this, her final film, she writes a bittersweet epitaph for herself. Mattie Lucas
---
Better Days
Like numerous other films from Mainland China this year, Derek Tsang's Better Days has traveled a troubled path from production to the screen: It was initially set to premiere in competition at the Berlin International Film Festival in February, alongside Zhang Yimou's One Second, until both films were pulled for unspecified "technical" reasons just before their respective screenings. The incident would prove to be the start of a trend, as more Mainland films saw planned festival screenings and general releases delayed, challenged, or canceled entirely, with the apparent reason being that the Chinese government fears even vaguely sensitive content serving as a representation of the nation's culture during the time of two crucial anniversaries. While Beijing's focus has, of course, been on the 70th anniversary of the People's Republic, 2019 also marks 30 years since the Tiananmen Square incident — a subject that's still deeply taboo in the country. Better Days has had not only these circumstances threatening its fate, but it itself also covers a taboo subject: bullying, specifically in Chinese public schools, and spurred by the pressure-cooker environment of the Chinese school system itself. Better Days did finally secure a general release date, but those plans, too, were scrapped at the last minute, owing to an uncomfortable proximity to the administration of the National College Entrance Exams, a high-stakes round of tests which determine admission to almost any undergraduate institution in China — and which happen to play a pivotal role in the plot of Better Days. All of this context, gratifyingly, hasn't served to drown out the film itself — which finally did get released this month (in re-edited form) — so much as it does fortify Better Days' essential message: Chinese youths face enormous obstacles on the road to self-reliant adulthood. The cratering emotional impact of the film, though, is owed to Tsang's knife's-edge balance of broad melodrama and acute social realism — a balance maintained by immense performances from his film's two leads, Zhou Dongyu (who Tsang worked with on his previous film, Soul Mate) and popstar-turned-actor Jackson Yee. And while censorship has succeeded in blunting some of the bold intensity of Better Days (one scene of a brutal act of bullying has been substantially truncated, and framing scenes have been blatantly inserted at the beginning and end of the movie to bolster a message of law enforcement's effectiveness), plenty of galvanizing evidence of institutional failure still shines through here, illuminating the extent to which bullying is a deeply troubling cultural issue — and implicating police unresponsiveness and the bureaucratic inaction of educational institutions. Tsang also never lets his film's more boisterous aesthetic gestures — the constant presence of a sweeping score and the energetic, recurring use of montage — offset the sobering resonance of his difficult subject. On the contrary, Better Days is as powerful a statement as it is precisely for its combination of accessible, pop-filmmaking form and an unsparing, combative realism. Here's hoping that its belated escape from release purgatory bodes for better days ahead in the battle against a tightening Chinese censorship. Sam C. Mac
---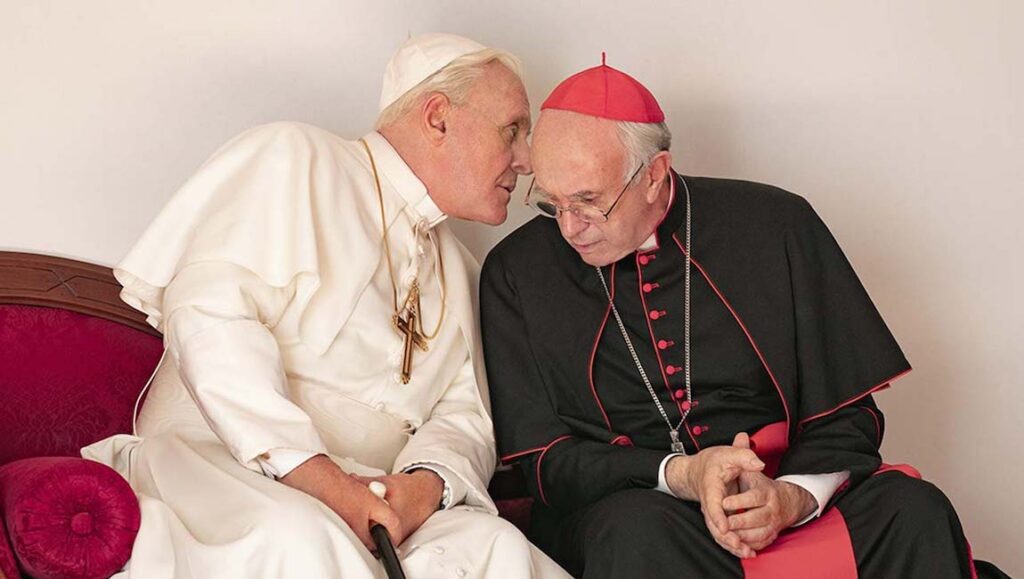 The Two Popes
Religious resentment dominates the order of service in Fernando Meirelles' The Two Popes, an adaptation of acclaimed screenwriter Anthony McCarten's play about the unexpected resignation of Pope Benedict XVI. Commencing with the death of John Paul II and the election of his successor Joseph Ratzinger (Anthony Hopkins) over progressive rival Jorge Bergoglio (Jonathan Pryce), the film then travels forward seven years to when a weary Bergoglio travels to see Ratzinger (now Pope Benedict XVI) so that he can grant his request for retirement, reviving old wounds. As a two-handed face-off between the old and new guards of the Catholic church, The Two Popes has a certain cultural and historical appeal, the early debate between the clergymen addressing the crux of the church's reluctance to move forward. Unwisely, there are many flashbacks to Bergoglio's past as a young priest in Argentina, which provide some context for his beliefs, but are awkwardly inserted, at times appearing as wispish snippets and, in other sections, threatening to take over the film entirely. As a South American, Meirelles clearly seems keen to couch this story of succession within the larger context of Argentinian politics, and in doing so, injecting something more cinematic into this stagey encounter of two old men effectively wandering around the Vatican having a chat. McCarten, penning the script based on his own work, never really interrogates why Benedict begins to waver from his own orthodox course so readily, while elsewhere the many gags which concern either the inability of the men to process 21st century culture or their unwitting embrace of it, lead to some pretty cheap laughs. Pryce brings a great deal of warmth to his hearty depiction of Bergoglio, embodying many of the qualities – compassion, understanding, patience – you would hope to see in a priest, while there is also a move to address the erosion of public trust for the clergy in the wake of the church's child sex abuse scandal, Pope Benedict himself admitting some blame in this. Unfortunately, Meirelles censors his confessional scene in a way that suggests he is concerned for its palatability, a hedging move which sadly typifies the failure of The Two Popes to break free of its safe, cuddly treatise on Catholicism. Calum Reed
---
Harriet
Ever since Eve's Bayou, Kasi Lemmons has foregrounded the need for black adolescents to realize the importance of their influence and existence in a society fundamentally unjust to them. This specific thematic concern may situate her as uniquely qualified to tell the  story of African American liberator Harriet Tubman, but breaking free from the familiar beats of its adversity narrative presents its own barriers for Harriet the film. Dubbed Minty, the young Harriet Tubman (played as an adult by Cynthia Erivo) grew up as a slave on a farm in Maryland, and the film begins with her initial escape from slavery and proceeds all the way until her eventual status as a freedom fighter by means of the Underground Railroad. The early years of Harriet's plight indeed muster a profound emotional resonance, but one welcomes the point at which she shifts into Highwaywoman mode, when there is at least an attempt to politically contextualize the true-story developments. While much of the discourse seems a bit tame and unspecific compared to something like Lincoln, for instance, Spielberg's film had less to contend with than Harriet, which has to marry its complex sociohistorical significance with a more emotionally wrought personal narrative and altogether disparate point of view. Lemmons does an admirable job, but as both political discourse and as a story of overcoming injustice, Harriet is less remarkable than it should be. More interesting elements of Tubman's later life, relegated to captions in the closing credits, are left unexplored, while the relationship between she and her slave master Gideon (Joe Alwyn telegraphing a thoughtful if rigid view of masculine inadequacy) feels more than a tad forced. The standouts lie in the work of two established, consummate professionals: the legendary John Toll brings a real flair to the film with his painterly compositions, while Erivo herself gauges Harriet's arduous arc supremely well. Although this effort from Universal should serve as encouragement that major studios can still greenlight important adult dramas that speak to and about real people, Harriet is more of a serviceable tribute to its subject's heroism than a rounded exploration of her person and legacy. Calum Reed
---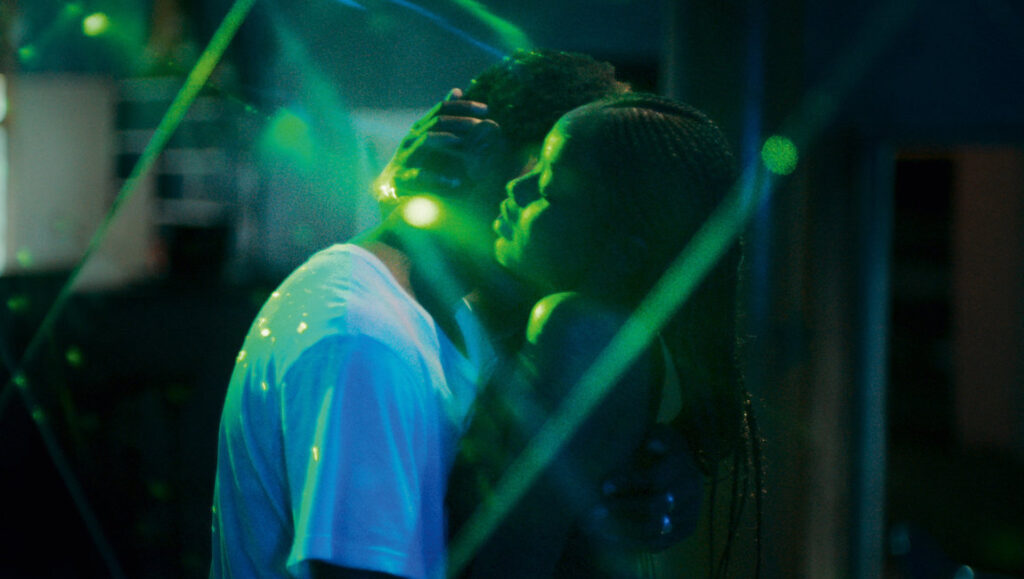 Atlantics
Mati Diop's debut feature Atlantics utilizes multiple narrative modes: social-realist drama, love story, detective procedural, ghost story, supernatural possession tale. And if the seams between these disparate elements are sometimes visible, it's to the film's benefit, marking this work as a very personal, lovingly handcrafted piece. The initial scenes focus on a construction site in Dakar, Senegal, where workers are building a massive luxury tower (rendered in CGI for later distant shots). The workers haven't been paid for months, and they're haranguing their bosses for their missing back wages. But they're met with nothing more than lame, responsibility-avoiding excuses. One of these workers is Souleiman (Ibrahima Traoré), who escapes the stresses of his job by stealing fleeting moments with his girlfriend, Ada (Mama Sané). At their last meeting, Souleiman is clearly troubled by something that he's not telling her about. Ada finds out what this is later that night, when she learns that Souleiman, along with a number of his workmates, have left for the open sea on a pirogue to Spain to pursue better work opportunities. This leaves Ada and her girlfriends, the paramours of the departed men, feeling abandoned and bereft. Ada is especially heartbroken, since this leaves her to face an arranged marriage to Omar (Babacar Sylla), a rich, older man whom she doesn't love. When news arrives that Souleiman and the other men have apparently perished at sea, this sends Ada into an even deeper depression. She very reluctantly submits to the marriage, a glum presence among her celebrating relatives and in-laws. Events take a surreal turn when Omar's marriage bed suddenly bursts into flames, and Ada's friends tell her they've seen Souleiman in the area, even though he's supposed to be dead. Then a group of young women, prowling the night like zombies, with milky white eyes, descend on the mansion of the African Trump figure overseeing the tower project, demanding lost wages. Atlantics finds a uniquely potent way to address the hot button issue of the mass migration of people from poorer to richer countries, by injecting poetic, supernatural elements. Diop also gives this tale an explicitly feminine, slant focusing on the women left behind. Although this is essentially a tragedy, there's a hopeful conclusion, as Ada, in the film's triumphant final moments, sees a path to personal liberation despite the dire circumstances. Christopher Bourne
---
Recorder: The Marion Stokes Project
One day in November 1979, Philadelphian philanthropist and civil rights activist Marion Stokes felt a strange, deep-rooted fascination — this, while watching and following the chain of events announced on her television. TV, as a medium, acts as both a mirror and a window to our contemporary world — as both retina and projector for our current perception and existence. Some recognition of this is likely what led Stokes to relentlessly record television programs, 24 hours a day for over thirty years, on VHS tapes — an innovative act of historiography via up-to-date technology, an act of capturing and preserving the zeitgeist. Matt Wolf's Recorder: The Marion Stokes Project is a fascinating response to this individual's creative obsession. The film functions as an effort to document the life and work of another documentarian of sorts,  an in-depth observation of another observer's world. Wolf more or less employs the aesthetics of television documentaries — specifically, talking head interviews with Stokes's friends and relatives, testimonies which tie personal stories to public histories — and splices in various excerpts from Stokes's private archive, sequences which may lead to a reconsideration of what relationship we can find between different audio-visual mediums. In this sense, Wolf's Recorder also functions, remarkably, as a thought-provoking meta-documentary — as history repeats itself, so to do the broadcasted news and televised programs. Images of political and social crises color the small rectangular space of the TV screen, and Marion Stokes, both as an activist and archivist, obligates herself to keep the full record of these images to make us ponder what might be missing. Wolf devotes his film to a recollection and exploration of this unique form of activism — not merely a "recorder" but, more essentially, a reminder. However, if history and the television still reproduce and replay the same (reshaped) images, we might, then, be able to reverse and rephrase a seminal Gil Scott-Heron lyric, to ask this question: "Will the Television Be Revolutionized?" In Recorder, TV looks upon us, all while history records our contemporaneous answers and reactions. Ayeen Forootan
---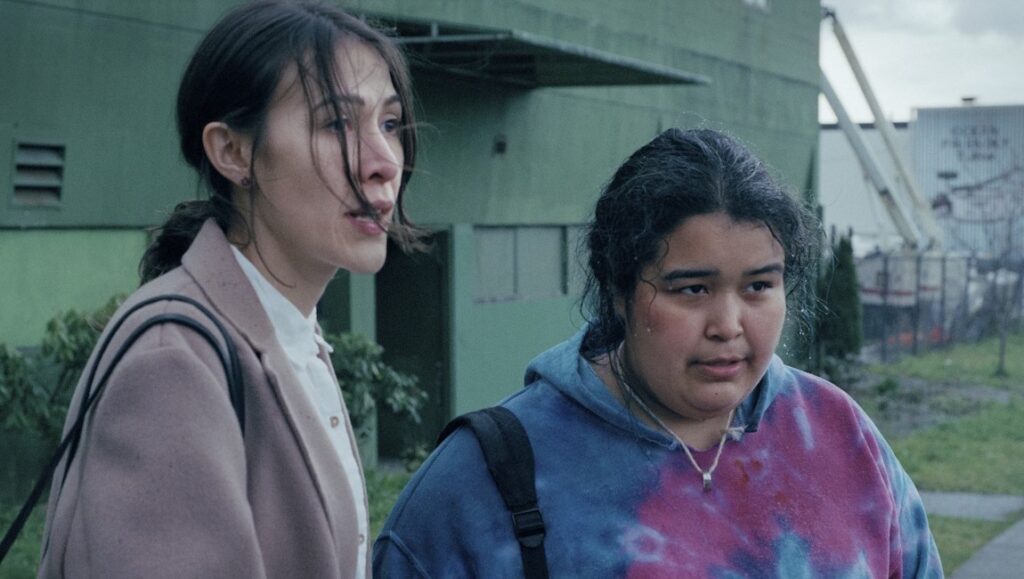 The Body Remembers When the World Broke Open
The Body Remembers When the World Broke Open is a less garish film than its prolix title would suggest: instead, co-directors Elle-Máijá Tailfeathers and Kathleen Hepburn have actually delivered a determined study in interruption, understated but never relaxed. The film traces a single day's intersection in the lives of two First Nations women, Áila (also Tailfeathers), a young professional who's disinterested in motherhood and riddled with anxiety,  and Rosie (newcomer Violet Nelson), an even younger woman, of lesser economic means, who's pregnant and deeply entangled in an abusive relationship. When Áila finds Rosie shoeless and crying, standing in the rain while her boyfriend threateningly hollers and approaches from across the street, she whisks Rosie away to the haven of her middle-class apartment. From here, The Body… delicately explores the psychology of these two women, both individually and as colliding atoms, their disparate understandings of womanhood resulting in a marathon conversation, often suspended by lulls of tension and doubt, its rhythms echoing the approximate strain or security of any given moment. The strength of the interplay between these two women is made even more impressive through the film's formal approach: after brief introductory scenes for both characters, The Body… proceeds in the manner of a simulated, unbroken tracking shot (with impressively executed hidden cuts), the camera patient and investigative, digressing with one character here and another there, but always emotionally close. Of the two actresses, it's Nelson's presence which is most crucial to this film's success: her non-professional acting allows for many moving transitions between expressions of bravado and woundedness — and her best moment comes when Áila is briefly absent from the screen entirely. With the camera trained on her face, moments after placing Joni Mitchell's Blue on the victrola and queuing up "Little Green," Nelson manages to wordlessly convey a history of pain – not specifically just that of women, or of First Nations peoples, or of the working class victims of wealth culture, but implicitly all of those, and untold other shades of hurt. The Body… suggests that life rarely offers easy answers — and, so, appropriately, the film offers few of its own. And while that does not make for the most complex message, nor the boldest film, it still succeeds as an elegant study in the symbiotic sensations of pain and hope. Luke Gorham
---
Light From Light
Light From Light is being billed as a paranormal ghost story, and while that description certainly isn't untrue, it presents a conception far different from what writer-director Paul Harrill has in store. More than ghosts, the characters here are haunted by grief, questioning if the hardships endured throughout their troubled lives are worth the pain and effort. Marin Ireland stars as Sheila Garvin, a paranormal researcher in between gigs who is contacted by a local priest to aid recent widower Richard (Jim Gaffigan), who is convinced that the ghost of his deceased wife is present in their home. Light from Light's premise provides Harrill plenty of opportunities to deliver such requisite scenes as Sheila investigating the house late at night, aided with only a flashlight and calling out for the spirit of the late wife — although in fairness, these scenes are expertly crafted, without relying on any cheap jump scares — but Harrill is more concerned with detailing how this particular investigation is forcing Sheila to confront her own troubled past. Emotionally guarded and wary of any sort of happiness because, as she puts it, "everything ends," Sheila has passed on her distressing pragmatism to her teenage son, who sees a possible high school romance as nothing more than the promise of future disappointment. But what proves most surprising is how Harrill is able to deftly handle such weighty emotional material, using the genre framework to deepen his themes instead of acting as mere window dressing, while also preventing Light from Light from becoming a depressing and humorless slog. Ireland and Gaffigan — both dependable character actors long overdue for a leading role — deliver quietly affecting performances as two individuals who can barely mask the pain they are so desperately trying to bury, but who are also open to finding meaning in whatever form it may arrive. It is that sense of hopefulness that gives the film's final moments such an emotional wallop and turns this low-key and somewhat familiar fare into something truly moving. Steven Warner
---
Everybody's Everything
Naturally, there was quite a bit of excitement when it was announced that Terrence Malick would produce a documentary chronicling the life of Lil Peep, but alas, Everybody's Everything is more directly aligned with recent documentaries Amy and Montage of Heck than, say, Song to Song (which was produced by Sebastian Jones, here co-directing with Ramez Silyan). As with those aforementioned docs, Everybody's Everything splits its time between archival footage, talking head interviews and musical montage, to trace out the rise and fall of its subject, beloved internet entity and emo-rap cult icon Lil Peep. The early stretches of the film helpfully map out Peep's early days, providing a definitive biography for an artist whose rise to prominence has previously been challenging to trace. The filmmakers bridge this material with voiceover provided by Peep's grandfather (Marxist historian/Harvard professor, John Womack), reading from letters that he sent his grandson over the course of his life. These moments suggest the movie that leapt to mind when Malick's involvement was first announced, and they also just so happen to be where the movie is most affecting. Otherwise, Everybody's Everything eventually falters. The filmmakers come up against the question of Peep's death and bumble into the usual traps that come tethered to projects like this. The project more or less subscribes to the idea that Peep was exploited and enabled by the industry and his management team, but ultimately skews towards a faux-objective perspective, allowing many folks complicit in Peep's destruction ample time to talk. This sort of perspective-less, "all sides" documentarian style is inevitably boring, and the use of it in this context presents an idea that there isn't a villain in this story. In reality, Peep's mother, Liza Womack is suing his management team for negligence, asserting that they played him with drugs to keep him performing, eventually resulting in his overdose. Everybody's Everything doesn't shirk away from that possibility entirely, but it doesn't outright condemn, nor does it want to contend with the true scope and implications of its subject's death. Enlightening as a summation of Lil Peep's accomplishments and character, but there is ultimately no deeper understanding to be found. M.G. Mailloux
---
American Dharma
Of the many fictional characters Steve Bannon compares himself to in American Dharma — Col. Nicholson from The Bridge on the River Kwai and Falstaff from Chimes at Midnight — the most blatantly ridiculous name mentioned is the Crazy Nastyass Honey Badger from the infamous YouTube video of the same name. To Bannon, he and the badger share a common quality: they "just don't give a shit" about how their horrible traits and behavior will ultimately affect others around them. As the chief executive officer of Donald Trump's presidential campaign and co-founder of alt-right "news" outlet Breitbart Media, the last thing Bannon's certainly giving a shit about is the wellbeing of others who have immigrated to the United States; the zealot hides a xenophobic worldview under the guise of populist rhetoric, or "nationalism" as most neo-Nazi's would like to put it. The inherent contradiction here (that one can be for the people while systematically discriminating against many) is one director Errol Morris picks up fairly early on in American Dharma. When Morris confronts Bannon about this, an uncomfortable silence follows. For Morris, in the past (say, with war criminals Donald Rumsfeld and Robert S. McNamara), he's let his subjects' own words bring-out the contradictions they engender — but here, the director finally engages with this tendency head-on. What hampers this tactic is where the newfound aggressiveness stems from: that Morris truly finds Bannon fearsome, a boogeyman of such untold proportions that you must keep attacking (a tactic Bannon brags about consistently). This constrains the scope of American Dharma's ambitions to that of a surface-level critique, rarely fleshing-out the psyche of the former White House Chief Strategist beyond a trotting out of his "greatest hits," which includes bringing Bill Clinton's accusers to Hillary's second presidential debate. That isn't to say the film isn't without justified merit: to Morris, evil must be exposed before it's eradicated, and seeing such sickeningly monstrous beliefs casually mentioned is deliberate and startling. Again, much like the honey badger he invokes, Bannon's only allegiance is to his own preservation — and he sees a return to 1950s America as the best way of accomplishing that selfish goal. Paul Attard
---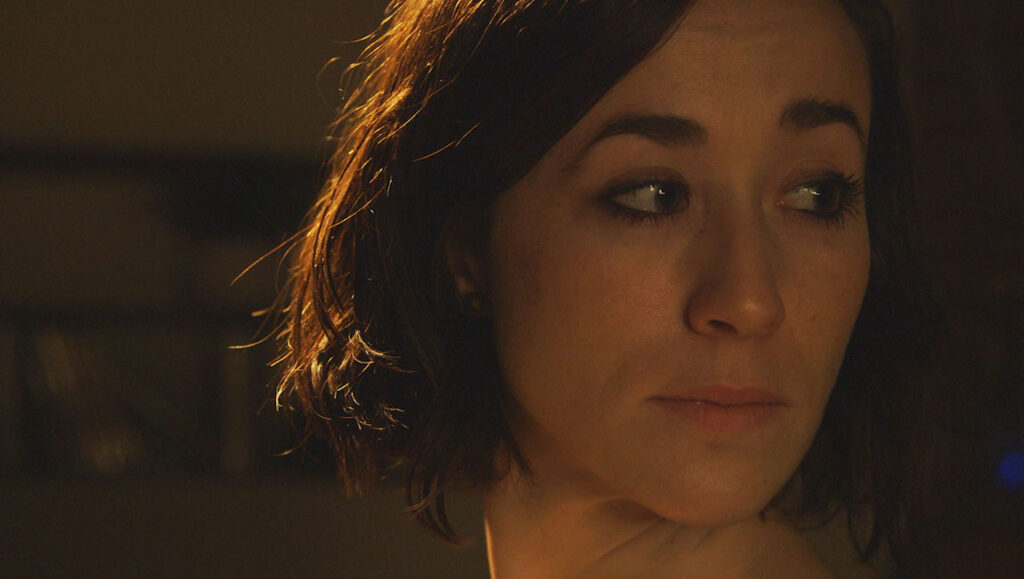 Feast of the Epiphany
In an independent film scene that too often evinces a paucity of imagination, Feast of the Epiphany — directed by Reverse Shot editors Michael Koresky, Jeff Reichert, and staff writer Farihah Zaman — displays a refreshingly protean ambition. The film leaps from a disorienting blend of actors' screen tests and dramatic line readings to a domestic gathering sketched in snatches of dialogue and bathed in prismatic light. And that's just the prelude to the main event: an intimate, Brooklyn-set dinner party (observed from its lavish preparation to its closing emotional swell) that transitions, abruptly and decisively, to the fields of Roxbury Farm, a community agriculture space limned in sensorially rich passages (indicative of Reichert and Zaman's background in documentary). What's achieved is a delicate interplay between constituent, subtly connected parts which don't fuse together so much as vibrate in expectation, creating generative flashes of recognition in the process. The sensation is an elusive but recognizable one, of having grasped onto something that somehow feels greater than it is; of being unable to articulate why, and yet knowing with certainty that it is so. Dig deeper. You don't know what you may find. Lawrence Garcia
---
White Snake
China's major animated film of 2019, White Snake, unsurprisingly, takes on the legend of its titular figure — which, roughly, tells the tale of a snake spirit who over millennia of reincarnations seeks enlightenment, the ability to change physical forms, and ultimately, immortality. This ambition is upset when she falls in love with a human and tragically ends up trapped under a pagoda near Hangzhou's West Lake. It's a story that has been adapted for film many times, most notably by Tsui Hark, with his live action Green Snake. But here, directors Amp Wong and Ji Zhao give the tale a more conventional, Americanized spin. There's a talking dog, a war between the spirit world and the humans, a chief government minister who hunts snake spirits to channel their powers to his own menacing ends, and assassination plots aplenty. As a whole, the looseness of the adaptation appears to be an attempt to appeal to contemporary sensibilities, and maybe even foreign audiences, for whom the comedic and action-oriented conceits will no doubt be familiar (e.g. the conclusion here strongly evokes the scale and beats of any modern blockbuster). However, White Snake still shows the latent differences of a medium being put to use to visualize a different cultural imaginary, often providing for some slightly kinkier moments than is commonplace in animated features, as well as the representation of action or natural vistas typically unimaginable in a foreign (or at least Western) mindset. Yet, all told, there's a little bit too much of everything, courtesy of the attempt to balance basic fidelity to the myth (and the famous early '90s TV show that this is actually a backdoor prequel to) alongside the contemporary domestic aspiration to produce animation that looks like America's. It's curious that a desire to deliver something conventional could result in a film that simultaneously borders on the structurally avant-garde (there's an unprecedented number of fades to black and narrative and visual ellipses), but such an impression arises less as a result of any particular artistic decision and more likely because it's also difficult to avoid the sense that, in the end, the filmmakers simply haven't got the project anywhere near under control. Matt McCracken
---
Kicking the Canon | Film Selection
---
The first image of Agnes Varda's 1965 film Le Bonheur (meaning "happiness" in English) is that of a yellow sunflower beaming in the radiant light of a perfect summer day. As the opening credits appear on-screen, we cut to another similarly-situated sunflower, and then to a third, but this last flower appears somewhat droopier than the others. Cutting back and forth between this languid flower and its perkier counterparts at first reads as playful, but as the speed of the cuts increases, the effect approaches a sort of violence, and in that uncomfortable juxtaposition lies the key to the entire film. Varda's approach is to tell this should-be disturbing story in a tone of such impeccable cheerfulness that one could easily overlook the sharpness of its critique — in fact one could even overlook that it's a critique in the first place. In her first feature film in color, Varda seems to share an affinity with the gaudy mise-en-scene favored by her husband Jacques Demy; not unlike his The Umbrellas of Cherbourg from the previous year, every frame is stuffed with bold colors, every outfit meticulously coordinated to match the vibrantly-painted walls and lush beds of flowers that serve as backdrops for the film's characters. Just as in the credit sequence, the only formal element that casts any overt sense of doubt is Varda's jarring montage. At one point our male protagonist François (the unflappably rosy Jean-Claude Drouot) is intercut with images of a roaring lion, suggesting a primal, animalistic quality that becomes crucial as we begin to understand his character. Another scene finds François' wife Thérèse (Claire Drouot — Jean-Claude's actual wife) asking her husband which he prefers, Brigitte Bardot or Jeanne Moreau, to which he charmingly replies, "Which woman? You"; the film provides its own, somewhat less wholesome, answer to her question, cutting abruptly to an image of a cabinet door at his workplace plastered with sensual pin-up photos of the two actresses. It's only via cinematic cuts that any cracks in the film's sumptuous surface become visible.
The rather simple story seems to bear the markings of a familiar set-up. François and Thérèse live a perfect life: they're happy and in love, and seem to spend most of their time frolicking in the edenic French countryside with their two beautiful children. They're a working class family — François is a carpenter and Thérèse a dressmaker — but there is no indication of financial concern. The only threat to their charmed life comes in the form of Émilie (Marie-France Boyer), a blonde Post Office secretary whom François meets while out of town on a job, and quickly falls for. But oddly enough, François' infidelity does not bring with it any guilt or shame, it only makes him happier. For François, "joy works by addition"; he loves both women, but that doesn't present a problem as much as it does an opportunity for more love, more happiness. This is not a story of trouble in paradise, rather it's one of a paradise conspicuously lacking trouble. There is no conflict, only mounting pleasures; the two women are "desserts," and François sees no reason not to endlessly indulge his natural cravings. But as lecherous as his behavior reads on the page, the film's sunny disposition never wavers. Speaking on the film's conception, Varda said that she "imagined a summer peach, with its perfect colors, and inside there is a worm." But unlike the work of, say, David Lynch, to which that quote could also be applied, the worm is never exposed — never seen, only felt. And once again, it's the editing that is most evocative: a late, would-be turning point comes with an innocuous walk in the park that turns tragically fatal, but we experience it as an instantaneous vanishing. Thérèse's death occurs in the elliptical space of a single cut, immediately following François' untroubled confession. And despite his brief period of (sincere) mourning, her absence is ultimately of little consequence. Soon enough autumn's warm earth tones supplant the lush foliage of summer, and Émilie slides almost seamlessly into the vacant role left by Thérèse, any momentary interruption of François' bliss forgotten in the changing of the seasons. Brendan Nagle